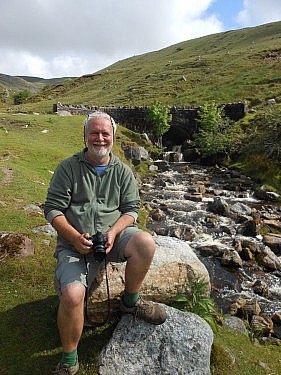 Hello, my name is Chris Gibson, an experienced and enthusiastic all-round naturalist, living in Wivenhoe, Essex, though still a Yorkshireman at heart.
In 2016 I retired (early!) from a long career with Natural England (the Government's advisor on nature conservation). I started notifying SSSIs in Essex, and ended 31 years later dealing with national high-risk casework, helping put sustainability into offshore wind developments, and (rather bizarrely) grappling with the issues around the proposed reintroduction of Eurasian Lynx to our shores….
On the way I have been lucky to have worked with many wonderful people and project teams, and been able to leave a legacy of positive successes, including
the 'invention' of the concept of coastal managed realignment, and its subsequent roll-out to become part of Government policy
the creation of England's first brownfield invertebrate reserve, at Canvey Wick
enabling the expansion of Abberton Reservoir, going 'beyond sustainability' to produce a substantially enhanced site with no drawbacks.
Although a conservationist by profession, and an ecologist by training, everything I have done has been linked to my life-long passion for natural history. In 2009 I was lucky enough to receive the David Bellamy Award of the British Naturalists' Association, recognising 'a naturalist of distinction'. Now I have the time and opportunity to return to my roots as a naturalist, and to do what I do best – trying to enthuse others about the natural world.
I have written and co-written many articles and books (updated in March 2018 to include some of my more recent editorial work with WildGuides) and have given numerous radio and television appearances.  I enjoy leading wildlife tours for small groups to wildlife-rich European destinations, for companies including Honeyguide and Naturetrek, where I have the opportunity to share my love and knowledge of the natural world. A new venture for summer 2018 was a series of Botany & Bug Walks in and around Wivenhoe – see here for details.
I am an avid photographer – please visit the Galleries to give you some idea of what I have in my image library. Only a tiny fraction is shown here, so please return regularly to see the page as it is updated. Do get in touch if you would like further details: I would be happy to provide digital copies – prices will vary according to requirement and intended use.
My illustrated talks on a wide range of wildlife topics are popular. I am happy to speak to groups large or small, and to travel anywhere if the price is right! For more information please see talks and prices.
It would be a pleasure to discuss any aspect of what I can offer to you, please either get in touch via the Contacts page or email me chrismothman@btinternet.com, or follow me on twitter @Chrismothman1.
Finally, the years 2020 and 2021 have been a challenging time for everyone. One of the main things of the 'lost months' has been a time for reflection, and a recognition that you never know quite what is round the corner. For me that has involved the realisation that I no longer want to be apart from Jude for weeks at a time. Combine that with the realisation that leading/driving on tours is by no means a holiday for the leader, and the urgent need to try and reduce our climate footprint by cutting down on air miles, I am feeling that now is the time largely to retire from leading overseas tours. But of course, one door opens as another closes, and the pandemic has seen great growth in the demand for wildlife tourism closer to home. That I do intend to continue, reserving overseas travel for holidays with Jude, especially by train: once we are safe and able to do so, 'spreading our wings while staying on track'. And other opportunities on our doorstep have arisen – in March 2021, I agreed readily to a request that I should 'join the team' at Beth Chatto Gardens as advocate on wildlife, conservation and sustainability matters. Ever onwards!
Thank you