STOP PRESS! NEW FOR 2019 –
BOTANICAL IDENTIFICATION WORKSHOPS
You may be interested in our new venture – a short series of workshops looking into the inner workings of some of our local plants and learning how to identify them with the aid of keys and books.
We have a few spaces left on both of the courses, which will each run over three weeks ( but with no obligation to attend all three sessions).
Dates :- Sunday afternoons July 21/28 Aug 4 from  2pm – 4pm
or Monday afternoons July 22/29 August 5 from 2pm – 4 pm .
Venue :-   Our flat in Wivenhoe
Cost :-   £8 for each session of 2 hours, or £20 if you attend all 3.  Drink and biscuits included.
Content :- The first session will be a basic introduction to flower parts, nomenclature and classification.  We will show you different methods of identifying plants through visual / written keys of various sorts.  There will be a chance to work on a simple sample of flowers.  The second and third sessions will be in more detail, revising what was learnt in Week one and focusing on (Week two) Flowering plants and (Week three) Grasses, sedges, rushes, ferns, and it would be very advisable to attend Week One to get maximum out of Weeks two and / or three.
We will provide all ID materials and samples, but please bring your own notebooks/pens/ lenses and your own favourite flower book if you have one.
Please let me know if you are interested.

2019
We will again be offering Botany & Bugs walks around Wivenhoe throughout the coming summer. Our first walk of the year will be Saturday 9th March, meeting at 10am at Wivenhoe Station car park for a walk along the trail,  'Looking for the First Signs of Spring'. Many trees and shrubs are in bud and we have even seen our first butterfly, so who knows what we may encounter!
Our expeditions will be on the lines of last year – approx. 2 – 2.5 hours in duration with a cost of £8 per person payable on the day please. Do bring along your cameras/binoculars/hand lenses if you wish.
We have been giving some thought to where best to explore this year and so our outings will be (in no particular order) to Cockaynes; Wivenhoe Wood; Lower Lodge; Old Cemetery, Wildlife Garden, and KGV Meadow; Ferry Marsh plus we wondered if an evening walk in August across Barrier Marsh would be something of interest?
We have had some positive feedback about the Weekday trip to Cambridge  Botanic Gardens and hope this will take place sometime week beginning 10th or 17th June.  Will  keep you posted.
It is important to book a place, so please email Jude on jmgibson1959@btinternet.com to get on the mailing list and receive details of each walk a week or two before they take place. Looking forward to meeting up with old friends, and perhaps making some new ones.
For your diaries, dates planned for later this year:
April 6; May 4; June 1; July 14; Aug 3 probably evening; Sept 7; Oct 5, though any of these may be cancelled/changed due to weather conditions or other unforeseen factors.
Links to blog reports:
2018
This year, I am hoping to complement Richard Allen's popular Bird Walks in Wivenhoe (see http://www.richardallenillustrator.com/) with a series of Wildlife Walks, to focus on the botanical and entomological riches of the  area. For details of dates and locations, please see the flier below. 
Note that I will not be sending out details of these walks via the regular Wivenhoe Watching Wildlife mailing list. Jude will be maintaining the Botany & Bug Walk mailing list and handling bookings for the walks: if you would like to be on that mailing list please contact her on jmgibson1959@btinternet.com. And please feel free to pass this onto anyone else who may be interested. 
Hoping to see some of you in the coming months…
PLEASE NOTE: The July walk has been moved to the following day Sunday July 15th; and the September walk has been moved to the following week, September 15th.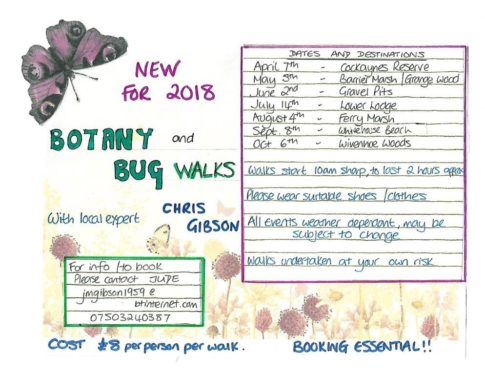 You can read about the things we saw on past walks here: