I am a conservationist by profession, with 30+ years experience of statutory nature conservation in Britain; an ecologist by training; and a naturalist by inclination. My passion is communication, as a lecturer, tour leader, author and broadcaster, trying to convey some of my enthusiasm for the natural world.
My talks are fully illustrated with my own images, and typically last 1-1.5 hours, according to need. PLEASE NOTE I AM VERY HAPPY TO DELIVER TALKS BY ZOOM (ESPECIALLY FOR GROUPS WITH THEIR OWN PRO ACCOUNT, ALLOWING MORE THAN 40 MINUTES). See below for prices
Example titles are given below (although all can be tailored to the audience or location):
Gardening with Wildlife in Mind
Wildlife & Conservation of the Essex Coast
Wildlife & Conservation in Essex
East Anglian Wildlife & its Conservation
The British coastline – its natural history
An East Anglian story – the influence of geology, history, climate and other factors on our present-day wildlife and landscape
Wild flowers of Essex
Botanical hotspots of the British Isles
Moths & Butterflies of Britain
Mediterranean Wildlife
 The Balearics in Bloom
 Wildlife & Wild Places of Menorca
 The magic of the Pyrenees
 The Western Rhodope mountains
 Our changing wildlife – the influence of the climate crisis
 The world in a grain of sand – a close-up look at the insects and other wildlife we often miss in search of the bigger picture
 Fingerprints on the Landscape – 30 years of conserving Essex wildlife
 Life by the Sea: how to survive and thrive in the maritime fringe
In addition, talks can be built around other geographic localities: the Cevennes; the Burren; the Algarve; the Danube Delta; North-east Italy & Slovenia; Greece; Crete; Cyprus; Kenya; Cape May.
Also, more specialised talks and courses can be arranged covering Coastal Ecology; Breckland; Nature Conservation – principles and practice; Parasitic Plants and any combination or subset of the topics above!
We are very happy to offer daytime events, anything from an hour to a full day, especially outside the winter months, under our banner of #BringingNatureToYOU. Please click here for prices and further details.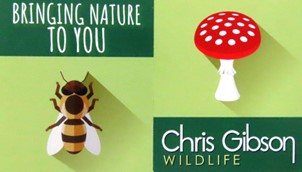 Costs
North Essex/south Suffolk – £100 plus expenses
Elsewhere in East Anglia – £150 plus expenses
Further afield – please ask for quotation
Zoom talks – £50 for 30 minute talk using free account
                           £80 for hour talk using the group's pro account
                           £100 for hour talk if I need to use my pro account
Please contact me at
Email: chrismothman@btinternet.com
Tel:     07887 351596
or through the Contact link of this website
BOOKINGS FOR 2022
January 07 – Essex Birdwatching Society – 'Wildlife and Wild Places of Menorca'
February 03 – Hedingham Heritage Society – 'Insects  – friend or foe?'
February 09 – Bromley RSPB group – 'Our changing wildlife – the influence of the climate crisis'
April 09 – Essex Birdwatching Society Conference – 'The History of Essex Woodlands'
BOOKINGS FOR 2021
January 12 – Wivenhoe Watching Wildlife (by Zoom) – 'Gardening with Wildlife in Mind'
January 20 – Cornards & Chilton Horticultural Society – 'Our changing wildlife – the influence of the climate crisis' CANCELLED DUE TO CORONAVIRUS
February 5 – Brightlingsea U3A  – 'Gardening with Wildlife in Mind' (by Zoom)
February 18 – Lawford Horticultural Society – 'Gardening with Wildlife in Mind' CANCELLED DUE TO CORONAVIRUS
April 12 – Three Villages Gardening Club – 'Gardening with Wildlife in Mind' (by Zoom)
July 29 – Little Baddow Society – 'The Essex Coast' (by Zoom)
September 16 – Lawford Horticultural Society – 'Gardening with Wildlife in Mind' 
November 3 – Stansted Mountfichet Gardening Club – 'Our changing wildlife – the influence of the climate crisis'
November 4 – Cockfield WI – 'Gardening with Wildlife in Mind'
November 11 – Kirton & Falkenham Gardeners' Club  – 'Parasitic Plants'
November 25 – Thorley U3A – 'Gardening with Wildlife in Mind'
December 02 – Tiptree Gardening Club 'The What, Why and Where of Essex wild flowers'
BOOKINGS FOR 2020
Felixstowe Horticulture Society – 'Gardening with Wildlife in Mind'; Kirton U3A Garden Group – 'Gardening with Wildlife in Mind'; Love Lincs Plants – How to survive and thrive in a coastal environment (by Zoom
Cancelled/postponed by COVID:
Lawford Horticultural Society – 'Gardening with Wildlife in Mind'; Essex Birdwatching Society Conference – 'The History of Essex Woodlands'; Little Cornard Conservation Society – 'Gardening with Wildlife in Mind' ; Braintree Organic Gardening Club – 'Our changing wildlife – the influence of the climate crisis' ;  Stansted Mountfichet Gardening Club – 'Our changing wildlife – the influence of the climate crisis' ;  Cockfield WI – 'Gardening with Wildlife in Mind'; Four Parishes Gardening Club – 'Gardening with Wildlife in Mind'; Mersea Museum – 'Abberton Reservoir, Managed Realignment and Offshore Wind: sustainable development in action'; Three Villages Gardening Club – 'Gardening with Wildlife in Mind'
BOOKINGS FOR 2019
Mersea Island Horticultural Society – 'Gardening with Wildlife in Mind'; Cockaynes Wood Trust Open Meeting – 'Cockaynes Wildlife in Close Up – the Good of Small Things'; Tendring Eco Group – 'Climate change: the issues and some solutions'; St Lawrence Wildlife Talks – 'Gardening with Wildlife in Mind'; Great Tey Women's Institute – 'Gardening with Wildlife in Mind'; Suffolk Wildlife Trust, Ipswich Group – 'An East Anglian Story'
BOOKINGS FOR 2018
Great Bentley Gardening Club – 'Gardening with Wildlife in Mind'; Tiptree Gardening Club – 'Gardening with Wildlife in Mind'; Ipswich Suffolk Wildlife Trust – 'Wildlife & Wild Places of Menorca'; Essex Birdwatching Society Conference – 'Conserving the Coastal Birds of Essex – Reflections from 30-years on the front line'; Wheathampstead Horticultural Society – 'Gardening with Wildlife in Mind'; Castle Hedingham Garden Club – 'Gardening with Wildlife in Mind'; West Bergholt Gardeners' Association – 'The What, Why & Where of Essex Wildflowers'