This year, I am hoping to complement Richard Allen's popular Bird Walks in Wivenhoe (see http://www.richardallenillustrator.com/) with a series of Wildlife Walks, to focus on the botanical and entomological riches of the  area. For details of dates and locations, please see the flier below. 
Note that I will not be sending out details of these walks via the regular Wivenhoe Watching Wildlife mailing list. Jude will be maintaining the Botany & Bug Walk mailing list and handling bookings for the walks: if you would like to be on that mailing list please contact her on jmgibson1959@btinternet.com. And please feel free to pass this onto anyone else who may be interested. 
Hoping to see some of you in the coming months…
PLEASE NOTE: The July walk has been moved to the following day Sunday July 15th; and the September walk has been moved to the following week, September 15th.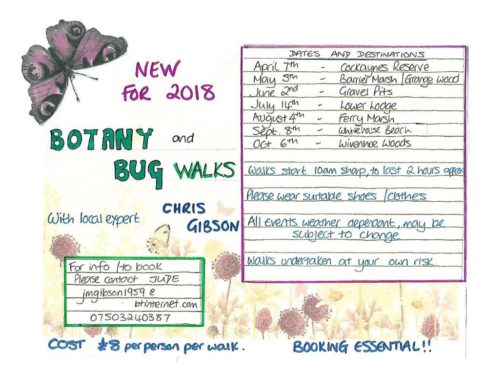 You can read about the things we saw on past walks here: