2022 has been a busy year publication-wise, although the fruits of most are not expected until next year! 
Planned for next year is Teesdale's Special Flora (much of which we copy-edited, and more) –  Princeton University Press/WILDGuides now have this in their catalogue for Feb 2023, and its publication will be a huge tribute to a true botanical and conservation legend, one of few to be recognised just by her initials 'MEB'!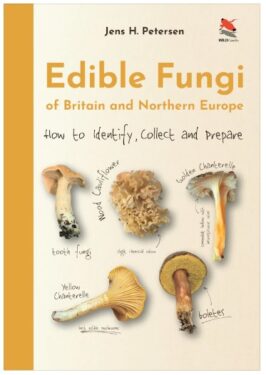 Also from the PUP/WILDGuides stable is the interesting and wonderfully illustrated Edible Fungi – on this one we copy-edited the Danish translation, and this too is  expected in February 2023. This is a book which might even make us feel brave enough to eat foraged fungi!
There are also a couple of DK offerings on both of which we have acted as consultants. First is a reissue with corrections and updates  of Pocket Nature Wildlife of Britain & Ireland (due April 2023, see here) and secondly a new book How to Attract Wildlife to your Garden (due March 2023, see here) by Dan Rouse.
And last but not least is the first PUP/WildGuides volume on which I appear as one of the authors, British & Irish Wild Flowers and Plants, expected April 2023   
Having seen early pages in development, I really think this will be a game-changer for the identification of commoner plants (but I would say that…), and it is a springboard to becoming a 'real' botanist (by which time you might like to buy the three-volume guide to all the British & Irish species in a couple of years' time.
All that has not left a lot of time for other writing, although that was one thing that could carry on while I was bed-bound!
The one article published this year, although dated next, is a bit of a thinkpiece, mulling over the idea of rewilding and connectedness of the landscape. GIBSON, C. (2023) Rewilding the skeleton: A vision for nature's rebounding on a crowded island. The Ecological Citizen Vol 6 No 1: epub-076-1 to epub-076-4  available here: Rewilding the skeleton
In addition, we have written or contributed to a couple of papers in the forthcoming volume of Colchester Natural History Society's journal Nature in North East Essex, about the Wivenhoe Green Spaces project and Great Bentley Green 'rewildling'. And. keeping it local, contributed a short chapter on Tendring Rock Sea-lavender, our local endemic subspecies, to a new book about Colne Point, celebrating the retirement of the long-term warden, Bob Seago. All of these coming soon….
GIBSON, C. (2023)  Unique to our part of Essex: Tendring Rock Sea-lavender. p.206 in Colne Point: Life between Land, Sea and Sky, eds. Marsden. K. & Bain. D. pp 290. Essex Wildlife Trust, Tendring Local Group