Why Coventry? The question we were often asked when we said we were going away for a couple of days there. Pretty much the same as most people's view of our home, Essex. But always with an open mind and a sense of urban adventure, we went…and loved it! Helped by two days of glorious winter sunshine and cloudless cobalt skies, good food and drink, welcoming locals and a tangible Christmas spirit as the first hard frosts of winter were unleashed.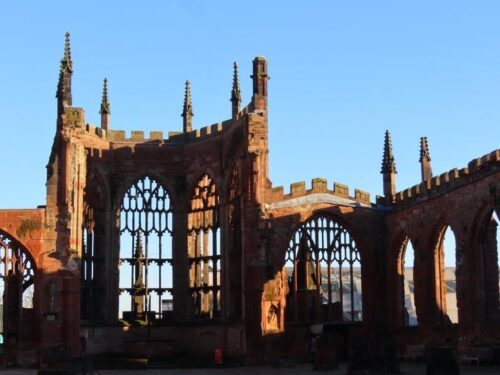 Of course the two cathedrals were always going to be a centrepiece, the old, bombed one embracing the modern in a much-needed gesture of reconciliation. Particularly beautiful and poignant in the sunlight were the remnant fragments of stained glass in the mediaeval window tracery…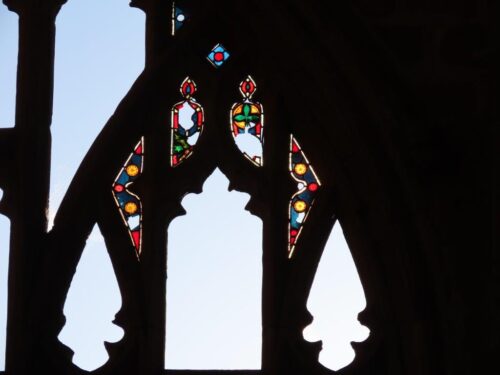 … but the ruins exuded a tranquility that transcends its troubled past, a great place to contemplate the sculptures and watch the Peregrines on the still-standing steeple.
The new cathedral was no less stunning, with a warm welcome and the ever-changing play of light, shadow and colour from the amazing stained glass and internal architecture:
Elsewhere in the city, an array of unexpected treasures, buildings old and new, the Art Deco interior of our Premier Inn, and even guerrilla shadow-art…
As so often in urban areas, it was the waterways that provided the green arteries of life. The Canal Basin we sought out would probably have merited more time (and a few extra degrees Centigrade!)…
… while the River Sherbourne we stumbled upon by accident, apparently a project area for Warwickshire Wildlife Trust and partners to bring nature into the lives of the city residents. How thankful we should be for such initiatives, giving us the chance to see the surprising (to us) sight of a Little Egret flying out of the shallows into a riverside tree. All very unexpected so close to the city centre, and rendered even more magical with its early morning tracery of frost.