Welcome to the latest instalment of our Lockdown Diaries. As always a big thank you to everybody who has been kind enough to get in touch  – we really couldn't do it without you, as they say!
I must begin, however, with an apology. Chris had an unfortunate malfunction last time and misidentified a plant ☹. In case you didn't notice, the 'Bur Chervil' flower seen on a local 'green' area ( currently a sickly shade of brown) was in fact 'Knotted Hedge Parsley'.  But the good news is that this is actually less common than the Chervil, so a reason to celebrate! (As long as he doesn't make a habit of it).
We had an uplifting email from our correspondent in Hadleigh, Suffolk, telling us about the Heath Spotted and Southern Marsh Orchids growing in his local wood, 'a glorious exotic marvel' as he poetically put it. In his garden he had ' Bees going nuts …. bumbles fighting over access to our flame red poppies, while honeys browsing over thyme & oxalis'. Love it.
We mentioned Stag Beetles last time, and thank you for your reports and sightings. We have had this fabulous picture of a very handsome male taken in a Wivenhoe garden, and had an interesting report from Suffolk  of 'not one but 2 staggies emerging from the garden (one still had a thin layer of mud on her 'head & shoulders', having just tunnelled out of the earth). The other was clattering around in the air beside me, and the real novelty was that they were both female!' A female Lesser Stag Beetle has been seen locally too. Let us know if any turn up where you are…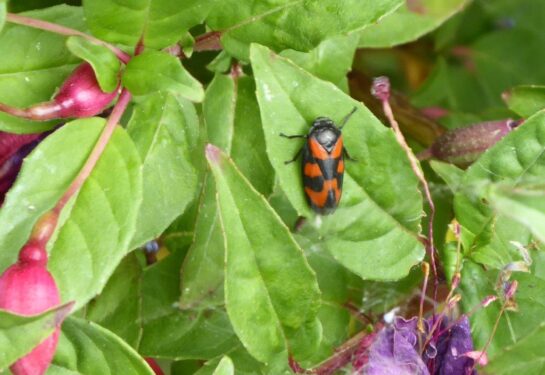 Following on from the Red-and-black bug theme in the last 'Diary' we had a smashing picture sent to us of a different insect which employs this colour-way –  the Red and Black Froghopper, friendly and totally harmless to us, although perhaps not to something that may try to eat it …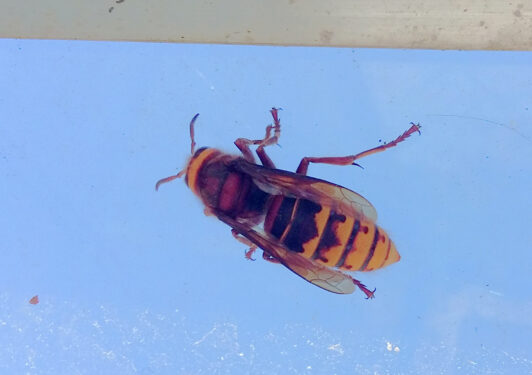 Other insects that you have seen include a Hornet (much maligned, but generally non-aggressive and harmless if left alone. Poking sticks into their nests not recommended however!). This photo was taken before it escaped from a greenhouse.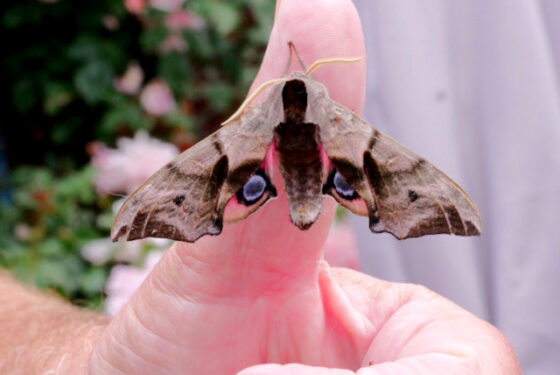 A couple of friends borrowed our little portable moth trap one evening and included in the catch the following morning was this stunning Eyed Hawkmoth. This creature tries to bamboozle any would-be predator by flashing it's 'eyes', pretending it is a big beastie.
Another rather attractive, but it turns out not particularly welcome due to its predilection for Box bushes, moth was seen sunning itself, rather artistically-posed, in a local garden last weekend.
Demoiselles were seen flying in a Suffolk garden – these are stunning creatures – large damselflies in effect,  and in Frating these beautifully crafted little 'pots' were discovered, part of a Potter Wasp's nest.
One of my favourite plants is White Bryony, with its beautifully  understated colours, and it is also much loved by a couple of not-so-common insects – this picture-winged fly and bee were seen on a plant on the edge of KGV last week.
Spiders are not everyone's thing, we appreciate (we love them as you would expect due to their clever design, ingenuity and general usefulness), so look away now if you aren't a fan. But  I  wanted to include this picture of a real beauty – a Crab Spider sitting hopefully on a Hydrangea waiting for a careless fly to land so she can have her dinner in a wildlife-friendly garden in Wivenhoe. Her colours perfectly blend with the petal.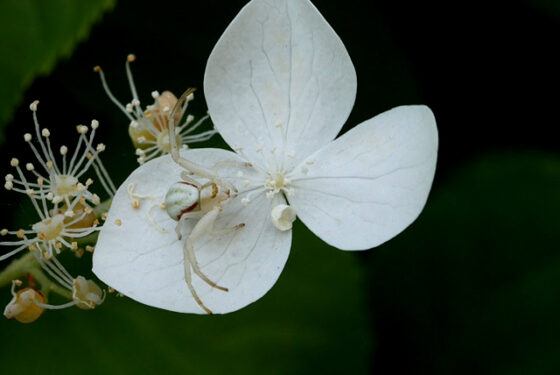 Flies, as we know, are important pollinators, and although we appreciate they are all an important part of the ecosystem, some are definitely  more attractive than others. A particularly handsome family of flies are the 'Hovers', with which we are all familiar. All harmless, they generally use the natural 'warning' colours of yellow and black, thus mimicking the more 'dangerous' wasps and bees – giving them a certain amount of protection from predators. This particular one (a Helophilus species) was photographed in an Elmstead garden,  where the sender of the picture spends lots of time watching the goings on in and around his pond. It is a hotspot for dragonflies and damselflies, and he tells us a very entertaining story of how he rescued a dragonfly nymph from the jaws of a Sparrow, only for it then to scuttle off and hide in the undergrowth before emerging as a beautiful Broad-bodied Chaser some five hours later.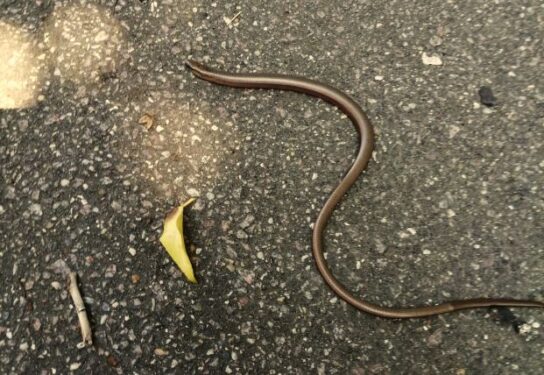 Slow Worms are out and about – this one was photographed in Dovercourt, and we have had sighting of one in Brighton, together with Common Lizards, Grass snakes and Common Newts in various parts of Essex.
As usual we keep an eye on birds from our window, their sights and sounds are a great joy.  We are still hearing Cuckoos, and we know that some of you have been delighted with seeing Buzzards so near us, over town. A local nature lover told us of his sightings of Little Owls, Common Whitethroats, Blackcaps and a Willow Warbler.  He was chatting with someone who has Barn Owls on his land who reported that the female hunts during the evening and the male overnight and early morning. Interesting division of labour. Before signing off, I must attach this amazing photo of a male Sparrowhawk having a bath on the South Coast.  What a stunning creature!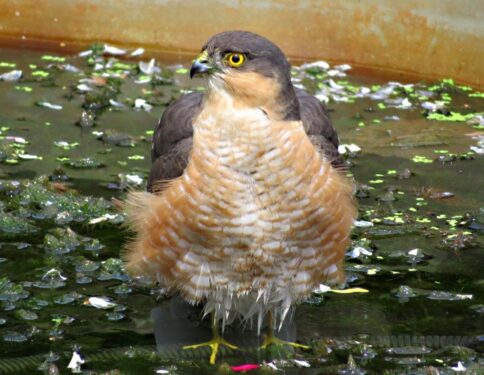 Here is a link to the latest email from Buglife which you may find of interest.  This important charity is one we like to support through sales of our cards etc.
Wishing you all a safe and measured emergence out of lockdown. And as always please keep in touch with any observations and pictures of nature in your world. Thank you.
ADDITIONAL IMAGES by Val Appleyard, Sue Minta, Jen Poyser, Martin Forth, Eric Strudwick, Andrea Williams, Sally Chandler, Roger Peak and John Goody.