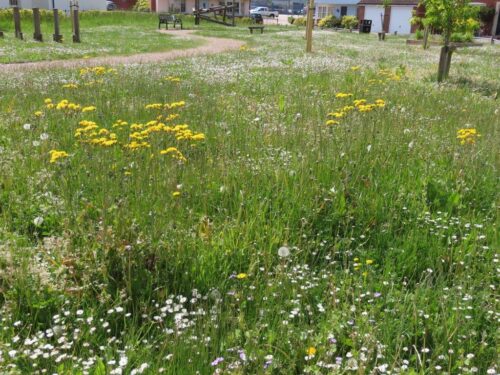 Hope you are all coping with/enjoying Lockdown. Must confess it is the latter for us – the lack of having to be anywhere or do anything is refreshing.  Once again we have been delighted that so many of you have been in touch with your nature sightings, photos and stories, so thank you for your interest.  We have also been made aware of some of your concerns – more of which later.
One story we particularly liked was a Swallow rescue in France.  It wandered into our correspondent's house, became entangled and distressed but, she said, after employing 'tea towel and careful hands it was as good as new'. We love a happy ending 😊
Birds are very prevalent just now, and their song more audiologically 'visible' than I can ever remember, thanks to the welcome reduction in cars and aircraft.  We are very privileged to live high enough to have eye-to-eye encounters with Swifts which are circling all around and screaming in their frenzied manner.  It is incredible to think that these creatures set foot on land only during the breeding process – the rest of their lives they spend on the wing, eating, sleeping, migrating, feeding and mating, in no particular order!   House Martins are prospecting for suitable nest sites on the Shipyard, and many of you have told us of birds that you have encountered –  Nuthatch (Suffolk), Hoopoe (France), Great Spotted Woodpecker (Islington) and Wryneck (Wivenhoe), as well as Cuckoos and Nightingales.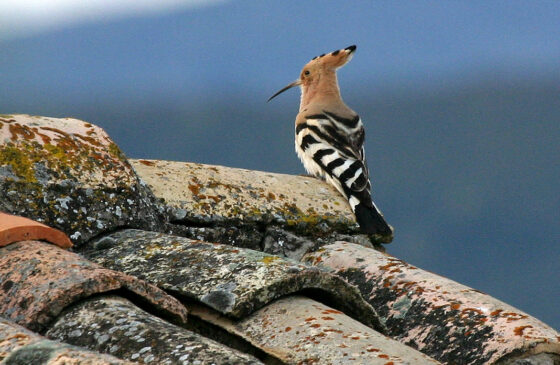 Flowers too are all around – as one of our friends eloquently put it 'Lovely to see & smell lilac & honeysuckle, while our garden is awash with columbine, cowslips, bluebells, forget-me-nots and early yellow & orange poppies.  Rosemary has been in flower for a while, and our first glorious salsify are out, as are our peonies.' Great!  Chris has had an exciting week, discovering a nationally scarce plant locally in Wivenhoe, the Mousetail (below), and we have also had a report of this quite unassuming, but interesting-in-its-way flower in a village not too far away.  Its always of interest when something appears to be spreading – or has it always been there but we have never had the time to investigate before now?  Areas of St Mary's churchyard are looking lovely with Wild Garlic, native Bluebells and Lesser Celandines. Thanks must go to Wild About Wivenhoe and the Woodcraft Folk for their efforts in getting the bulbs set.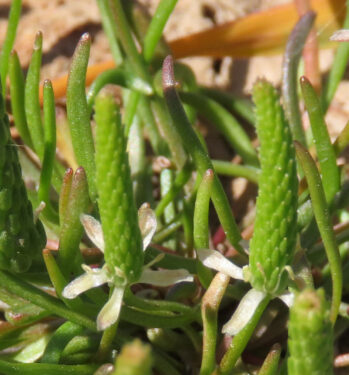 We were heartened to hear of the No Mow May campaign https://www.gardensillustrated.com/feature/lawn-mowing-when-flowers-may/ ('to transform your lawns into havens of biodiversity') and would love it if Councils and gardeners generally could take inspiration from this.  Until a few days ago a playing area not far away from us had been left and was full of wild flowers, brilliant for bees and looking glorious (see picture at the top of the page), until a man with a large mower came along that is….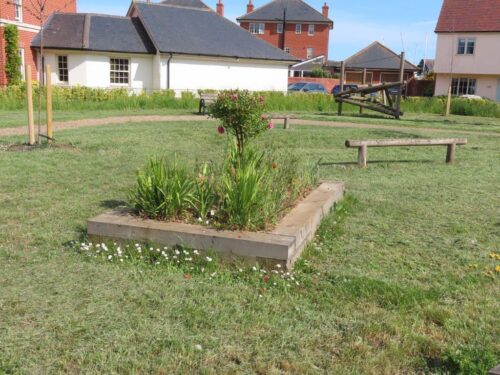 Our favourite flying jewels, butterflies, are  delighting us, and this year I have seen my first ever Green Hairstreaks. A Wivenhoe garden has had visits from 'Holly Blue, Comma, Peacock, Brimstone and Orange-tip'.  Our nature-spotter also saw 'Muslin and Mint-moths'.  We have been trying a spot of moth-trapping from our borrowed balcony – not a huge success, but it's fun and we may well get more of a catch as the summer progresses. This Nut-tree Tussock was definitely having a bad 'Lockdown hair' moment when we released him unharmed from the trap on Saturday morning. We have been listening out for bats with our gizmo, but nothing detected as yet.
Other insects have been on your minds too – a really whacky nymph of the bug Issus coleoptratus was seen in Brighton, a collection of jostling Hairy Shield bugs, and Buff-tailed Bumble Bee in Wivenhoe, plus a Violet Carpenter Bee in France (which are occasional visitors to Britain).  We discovered a new-to-us ladybird last week – a Water Ladybird.  This isn't particularly rare – we obviously hadn't been looking in the right places before!  This one is a buff colour, but as the season progresses it will become redder.  Ladybirds aren't bothered about disguising themselves in the way that many insects do, as they are poisonous and birds know not to eat anything coloured red and black.  Interestingly other, non-poisonous, insects adopt this colour-way too – they are in a way protected by the 'reputation' of the ladybird.
The Brown-tail moth lays its eggs in nests which are quite often seen on Hawthorn or Blackthorn, but recently an observant nature fan contacted us to say there was a nest on a local Oak sapling.  This is very unusual, to our knowledge, and we wonder why the moth chose to lay her eggs on the Oak as there was plenty of the supposed preferred plants nearby.  The caterpillars didn't seem to be complaining though…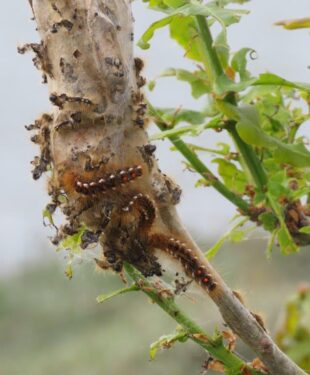 It is now dragonfly time and we have had some smashing photos sent to us, this one is a Scarce Chaser.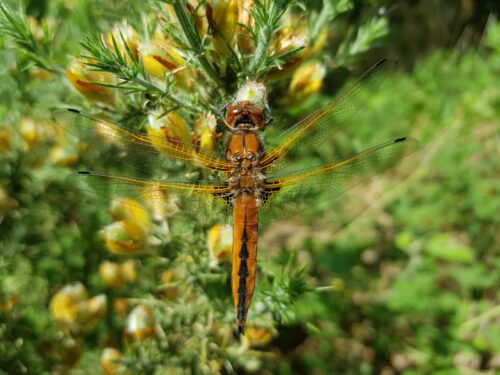 Other creatures have caught your eye – we have had a record of a Grass snake in Elmstead, and a local gang of Hedgehogs have been causing much interest to our friends who have a night-time camera set up in their garden.  Two males were seen pushing and shoving, the larger one edging the smaller nearer and nearer to their pond until it bull-dozed it in!  Luckily there were no little floating bodies in the morning, so the injured party must have managed to get out OK to live to fight another day (or night).  Another pond has a charming family of frogs.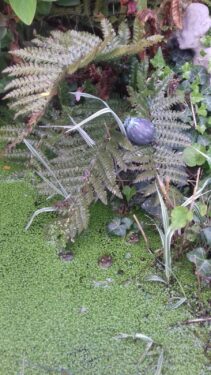 Our newsletters are meant to be fun, happy and inspirational and a celebration of the natural world, but sometimes there are serious issues which we feel are worth airing.  A couple of concerns have been brought to light this month…:
First is the mowing of grasslands during May, as mentioned above.  Unless this is private land, it would generally be the local council responsible for mowing regimes. As per the link, not mowing at this flowerful time of year is of extreme benefit to pollinators, insects on which we all depend.
Secondly, the spraying of herbicides on our paths, which are under the jurisdiction of Essex County Council Highways.  I have been in touch with them to ask about their current policy  (and was told, rather proudly I felt, that they spray everywhere at least three times per year ) and to ask what substances they actually use for this (no answer on this point as yet).  As many of you know Wivenhoe Town and Colchester Borough Councils have banned the use of glyphosate (which a research arm of WHO states is 'probably' cancer-causing – the particles of which we certainly don't want to inhale), and we are concerned in case we are all still being subjected to this toxic stuff, even though our councils have seen the sense to ban it.
If you feel moved to follow up either of these issues please contact the relevant body – WTC re Town council-managed grasslands (enquiries@wivenhoe.gov.uk), Colchester Borough Council re the grasslands they manage (www.colchester.gov.uk/contact/) or ECC re footpath spraying via their 'Comments' form on their website. www.essex.gov.uk or on twitter to  @essexhighways.  Copies of correspondence may be usefully sent to  Mark Cory (leader of CBC and instrumental in getting them to ban glyphosates cllr.mark.cory@colchester.gov.uk), Mark Goacher (Colchester Green Councillor,  cllr.mark.goacher@colchester.gov.uk), Julie Young (Wivenhoe County Councillor cllr.julie.young@essex.gov.uk), and our local councillor Glyn Evans cllrglyn.evans@wivenhoe.gov.uk.
That's enough moaning!   Just to finish by saying Keep Well Everyone and hope we can meet up for a nature walk some sunny day!  We will let you know if and when this may be possible.  Please keep sending us your nature-sightings as well as your super photos and we will happily incorporate as many as we can into the next newsletter.
Happy Nature watching.
PS We are delighted to now have some fab 'Bringing Nature To You' bookmarks, a set of six, each of which highlights a specific aspect of nature.  If you would like some/a set let us know.  There is no charge, but any donations to Buglife gratefully received.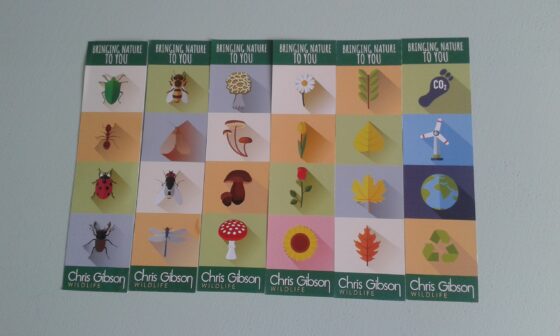 Photo credits: Andrea Williams (bugs),  Val Appleyard (Issus nymph), Helen Chambers (bumblebee), Anne Simcox (frogs), Glyn Evans (Scarce Chaser), Chris (the rest).