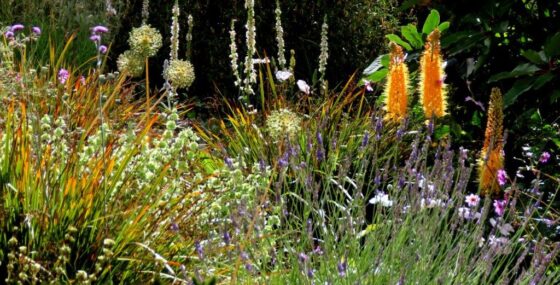 This week, it was planned that I should be leading my regular midsummer trip to the Spanish Pyrenees for Naturetrek, but understandably, COVID has seen the cancellation of all summer plans. So by way of compensation, we headed out to the Beth Chatto Gardens. Could we tell the difference? Well, apart from the absence of mountains, it was sometimes difficult: the gardens contain a wide range of the exciting plants I seek out in the wild for clients. Here is a selection of my old friends from there to here, perhaps not the showiest plants in the garden, but all redolent of the herb-infused air of the mountains and maquis:
And not just the flowers with exotic overtones….while the insects were neither as showy nor as numerous as in the wilds of Aragon, they did include our only Hummingbird Hawk-moth of the year so far, gently sipping at Buddleia crispa. Usually a feature of our Pyrenean garden surrounds, numbers fluctuate from year to year there as here in Essex, and it is remarkable to think that the one we were watching may well have originated from so distant a clime.
Of course it was actually the insects which attracted us to Beth Chatto's, rather than the evocative hints of half-remembered shores, given that we were supposed to have been running a Garden Invertebrates course there recently. A bit of advance preparation for (hopefully) next year – no names below, so if you want to know, you might like to keep an eye open for future events!
But of course we could not overlook the flowers, a sumptuous display in spite of the past drought, and with enticing sunlight and shadows, a chance as always to delve into the hidden heart of the flowers, as well as more standard portraits.
A different viewpoint always produces surprises, but the most remarkable shouldn't really have been so surprising. Why is the plant Linaria triornithophora so named…where are the 'three birds'?. Well, peering through a camera revealed all when the unopened buds magically and mischievously mutated into budgies!
A breath of fresh air, as rejuvenating as a mountain.