Three tours this month, spanning the transition from summer to autumn, and the weather reflected that. The first was unremittingly grey, but warm and humid, increasingly breezy and ultimately very wet. The second was blessed with liquid autumnal sunlight, at times intensifying into summery fire, which bathed the landscape in welcome warmth. And the third, a misty, moisty, windless day, in stark contrast to two days' previously when a gale swept through, leaves falling ahead of their time, and branches, whole trees and even power lines felled. The woodland birds seemed subdued by this, save for mournful Robin song, ululating Woodpigeons and the occasional half-hearted Chiffchaffing in the storm-tossed woods.
On the estuary, waterbird numbers were swelling towards their winter peak. Downstream, it was possible to see a thousand Black-tailed Godwits socially distanced on the water's edge, with other waders for easy comparison, usually including a sprinkling of Avocets, sometimes a twinkling flurry of two hundred or more. Upstream, numbers are always fewer, but the views can be better, and included the first returning Teals and Dabchicks, along with a few Kingfishers, one one memorable occasion being aggressively chased by a male Yellowhammer. A Kingfisher was also seen well on the Wivenhoe Park lake.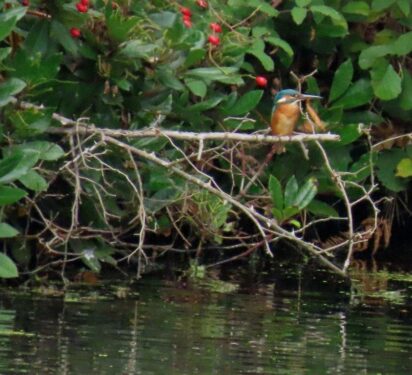 Autumn time is migration time, and visible migration was a feature of every walk, whether hirundines of three species, Meadow Pipits, Lapwings or Greenshank. Other migrants to or through Essex included White Wagtails and a Stonechat, but the biggest surprise was a lone Guillemot in the heart of town. Almost as surprising was a Harbour Seal, right up the river, in shallow water, presumably hunting Mullet.
This autumn has been mild so far, and only by the end of the month were the leaves beginning to colour, Norway Maples and the first few Red Oaks heralding cooler days in Wivenhoe Park. But the fruits of the landscape have been simply magnificent, hips, haws, sloes, acorns and so many other fruits seemingly larger and more numerous than for many a year.
Likewise galls, especially those on Oak leaves, buds and acorns. Such abundance, such diversity, without ever even seeing the causal creatures!
The couple of downpours in the month have done little so far to offset the spring and summer droughts: fungi, other than microfungi and brackets, groups which have a lower reliance on moist soils, were few and far between. Until the end of the month at least, when blue-staining Rooting Boletes and Parasols to Shaggy Ink-caps, Beefsteak and Giant Polypore to Chicken-of-the-woods, earthballs to puffballs and Sycamore Tar-spot to Oak Mildew started to appear. And of course, frosts permitting, the season is far from over…
Insects declined as the month progressed, apart from social wasps nesting everywhere on the sea wall, and thronging the flowering Ivies, along with hoverflies and Ivy Bees. Lots of Common Darters and Migrant Hawkers were still active, and even at the month end, there were Willow Emerald damselflies active round the Wivenhoe Park lakes.
Heather Bees (rare in Essex) around Cockaynes and Sea Aster Bees on their eponymous plants completed the triumvirate of late season bees, while butterflies have faded away almost entirely, save for a straggler Meadow Brown, and Speckled Woods in their favoured dappled shade. By the end of the month, Vapourer moths became obvious in all wooded areas, foxy males flying around to try and locate the flightless females.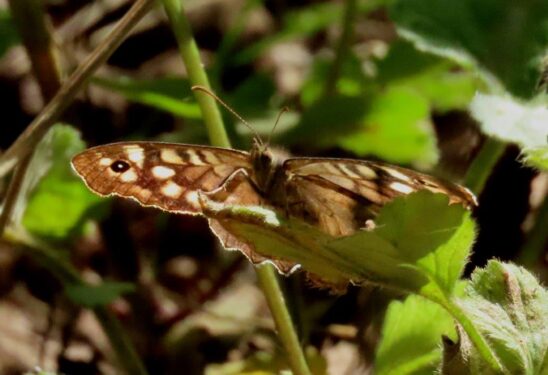 All groups enjoyed the 'pavement plants' (NOT weeds) of Wivenhoe waterfront, including Four-leaved Allseed, Jersey Cudweed, Spotted Spurge, and both Canadian and Guernsey Fleabanes. The saltmarshes were still flowering, with Sea Aster, Cord-grass and Golden Samphire, while Shrubby Sea-blite and the glassworts were just assuming autumn tints.
On the downstream itinerary, we found some lovely patches of our local specialities Strawberry Clover and  Lesser Calamint, and other spectacular nectar and pollen resources included included Common Toadflax, Bugloss on the margins of sandy arable fields, and on the sea wall, Sea Beet in full 'glorious' bloom…
In Cockaynes reserve, wafts of Epilobium brachycarpum above Creeping St. John's Wort covered the former weighbridge area. A new alien plant here, Stace calls it 'Panicled Willowherb'. We begged to differ, and coined the much more descriptive and euphonious 'Wispy Willowherb'.
And finally, garden plants do have their uses, even ones apparently designed by committee – the Passion-flowers of Wivenhoe were being assiduously searched for nectar and pollen. And in the gardens of Wivenhoe House Hotel, Strawberry Trees, simultaneously in full fruit and flower, attracted bumblebees, while the incredible citrussy scent of Magnolia grandiflora proved a complete 'nose-opener' to me at least. We live and learn every day in the natural world!