The largest contiguous ancient woodlands in the county, Hockley Woods sit astride the 'southern Essex Alps', a ridge of London Clay capped with sands and gravels. They were the focus for the latest Naturetrek day trip, searching especially for Heath Fritillaries. I must admit to being worried – this spring has been especially poor for butterflies and insects in general, a combination of persistent cool north-easterlies over the past two months delaying the season by at least two weeks, and the hangover from last year's record, larval-frying summer temperatures. Would they be out yet? And more worryingly, would there be any to come out?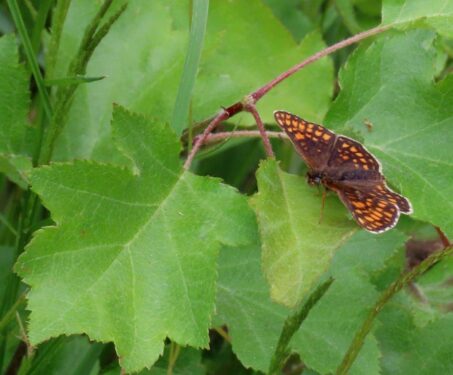 In the end all was well, albeit our total count of 80–100 being a fifth of last year's bonanza. The distribution seems to have consolidated back to the core coppice, rather than the outlying rides, despite healthy populations of Common Cow-wheat, the larval food plant, in most of the rides.
Perhaps I should say 'the normal larval foodplant': in one new coppice area, with barely a sprig of Cow-wheat to be seen, it was a patch of Foxgloves (in a suspiciously seed-packet array of shades) that  was the focus of fritillary action. As we conjectured, Foxglove is a near-familial relative of Cow-wheat: could it provide an alternative food source, helping to give the butterfly a greater degree of resilience against environmental stress? And then I read on the Butterfly Conservation website 'Foxglove can be a secondary foodplant, especially on Exmoor.'
It has been a long, complex story of neglect, extinction, research and reintroduction but we do now have a thriving population of the fritillaries. And now perhaps evolution is playing a part in ensuring its survival into an uncertain future.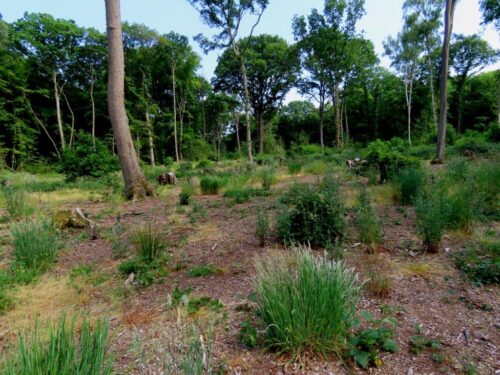 But it is a measure of the season that more than 95% of all the butterflies we saw were fritillaries. Otherwise, there was a handful of Speckled Woods, a small handful of Holly Blues and just a single Meadow Brown. So too with other insects – quality rather than quantity. Some of the highlights included a Red-headed Cardinal-beetle, Large Pied Hoverflies and mating Tiger-craneflies….
… Speckled and Dark Bush-cricket nymphs, click-beetles and dance-flies…
…a Hawthorn Shield-bug and several Dock Bugs, mostly mating, including this orgy…
…and best of all, after a few bits of identity and nomenclatural confusion from yours truly (I blame the increasingly intense heat and humidity, that culminated just before lunch in a big rumble of thunder and a sharp shower), no less than three Horned Treehoppers Centrotus cornutus, a scarce species for which this complex of woods is an Essex stronghold.
Wood Ants' nests were numerous, and Wood Ants themselves everywhere, including milking the colonies of Black Bean Aphids for their honeydew.
Moths included the attractive, variable Aleimma loeflingiana, and the larval stages of Brown-tail, Common Bagworm and Spindle Ermine…
… while a selection of spiders included Nursery-web and Cucumber Spiders, and a female Neottiura bimaculata with her egg sac suspended under a leaf from a single strand of silk. We concluded this was probably a defence against the marauding swarms of Wood Ants on the leaves above, as when she saw us approaching with cameras, she rapidly hauled the sac up, presumably believing us to be the greater threat.
The woods were full of bird song, apart from in the hottest part of the day, with Robins and Chiffchaffs, Blackbirds and Blackcaps, one of the latter semi-duetting with a Garden Warbler, and family parties of Long-tailed, Great and Blue Tits. First bird we saw was a Treecreeper just as we left the car park (excuse the poor photo – it was very shady), followed by a Stock Dove visiting its nest hole, while another tree hole at the end of the day was the site of a free-range Honeybee nest.
Dead timber and trees provided for fungi, like Birch Bracket and Chicken-of-the-Woods…
… while a seemingly random selection of trees was washed with the orange terrestrial alga Trentepohlia, and a couple of reproducing slime-moulds sat atop cut stumps.
And so to the plants: Hornbeams in abundant fruit, Sweet Chestnut and Honeysuckle just coming into flower, and deep in the shade, the shiny leaves of Woodland Hawthorn:
But most remarkable of all were the carpets of Oak seedlings, covering the woodland floor in vast swathes, testament no doubt to last autumn's mast and to the low number of Muntjac due to the high number of dogs.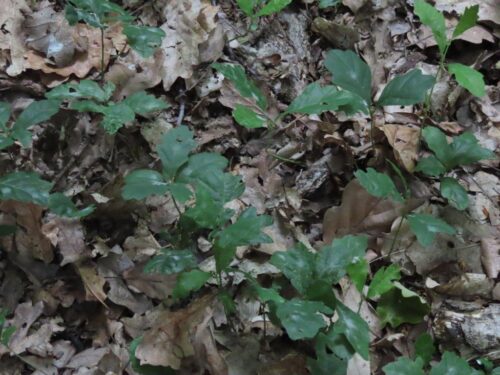 In the rides, there were patches of Bush Vetch and Wood Avens…
… while on the wood edge, with Skylarks singing overhead, a good show of Oxeye Daisies and Hairy Buttercups …
… and in the main fritillary clearing, a trio of Heath plants (Speedwell, Woodrush and Groundsel) that along with Wavy Hair-grass and Wood Sage are as good an indication as any to the  reason for the Heath Fritillary's English name.
All kinds of everything: rich biodiversity in the heart of suburban south Essex. More than 30 years since I notified the woods as an SSSI, I am very happy to see they are now in a better state than when I moved on (even after years of pandemic pressure), thanks to the management work of Rochford District Council.