A first for #WildEssex – a few days away to a place far enough away to make it seem like a holiday, but not too far, with the necessities – both good wildlife and pleasant pubs 😊.  What more could we have wanted?  Well, Chris' leg being in better shape may have speeded up the whole thing, but actually a slow pace with frequent opportunities to stop, look and listen fitted perfectly with the whole ethos of Wild Essex. The weather played ball, our group of ladies gelled brilliantly and made the whole experience a lot of fun. So thank you all!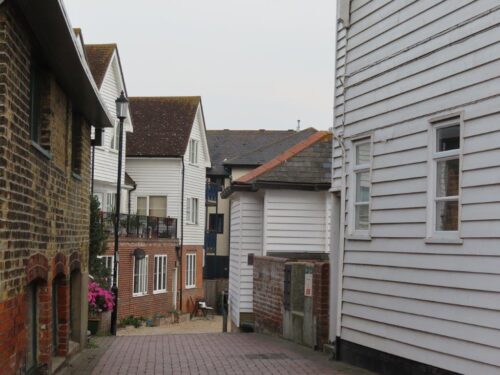 Burnham-on-Crouch is a pretty place with maritime running through all its veins. Some of us resided in one of the ancient waterside pubs, Ye Olde White Harte, complete with lots of beams and quirkiness. Others chose to set up camp together 'The Camper Van Three' in their delightful touring vans.  The weather was pretty kind to us – one evening having the best sunset ever (even by Wivenhoe standards)…
… and that on the second evening was almost as impressive!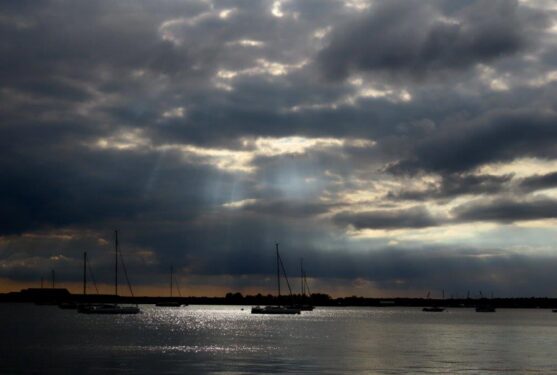 The ever-changing tides gave us constantly shifting views of the River Crouch – both for the birdlife and for the yachts and other boats moored along the riverside and at the yacht harbour.
Our amblings took us both east and west from Burnham and on the final morning we took a short but very enjoyable boat trip over to Wallasea island, now an RSPB reserve fashioned out of Crossrail spoil on top of a low-lying island previously used for intensive agriculture.
The birdlife here was somewhat disappointing, although we know that come the wintertime it will be teeming with birdlife. We were hoping to spend a whole day there but that was thwarted by the ferry not running the day we had planned; as it happened, the lack of a ferry was serendipitous given the dearth of birds.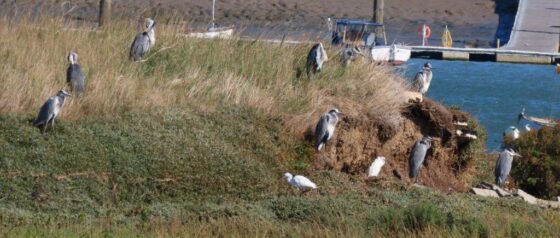 On other days, Riverside Park, part of which is a brownfield site (so important for invertebrate life especially) and a de facto Nature Reserve, provided us with lots to admire, and we were impressed with Burnham Wick Farm, a working farm which strives to promote and help wildlife along with their daily raison d'etre of growing food.
During Chris' 'Sit-down Sessions' we had the chance to think about and discuss tides and the moon; the importance of oysters, both in the past and now trying to restore Native Oyster stocks; the conflicts about how best to use our land – food, solar power, wind power, wild spaces, housing? – plus a lot else besides.
So what did we actually see?  We have compiled a list (see here Burnham lists)…., but some of the highlights included:
PLANTS – Sea Buckthorn with its cacophony of Starlings, the berries of the plant now sometimes used in superfood cooking (as an interested passer-by told us) which we tasted but were not particularly impressed with; Sea Aster in all its forms on the marshes; the 'menagerie' of plants, Bristly Ox-tongue, Common Fleabane, Goat's Rue, Slender Hare's-ear, Buck's-horn Plantain, Autumn Hawkbit, Dogwood and more; many other fruiting species, often abundantly, including Buckthorn and Holm Oak; whole swards of Strawberry Clover and Narrow-leaved Bird's-foot-trefoil; plus the beautiful Common Reed, its leaves showing the Devil's teeth marks – and one of the few plants you can actually identify from the sound it makes in the breeze – known as 'psithurisim '  (thanks Annie!).
INVERTEBRATES – Garden Spider, an amazingly bright Clouded Yellow butterfly, burnet moth cocoons, plus Ivy Bees homing in on the abundant Ivy flowers, Long-winged Cone-head, Forest Bug and Parent Bugs in a variety of colourways.
BIRDS – shore birds including Little Egret, Black Tailed Godwits and Ringed Plovers, Sandwich Terns, gulls and Cormorants; woodland species including several kinds of tit, Meadow Pipits and Swallows migrating through, noisy Cettis Warblers plus overhead Buzzard, Marsh Harrier and Kestrel.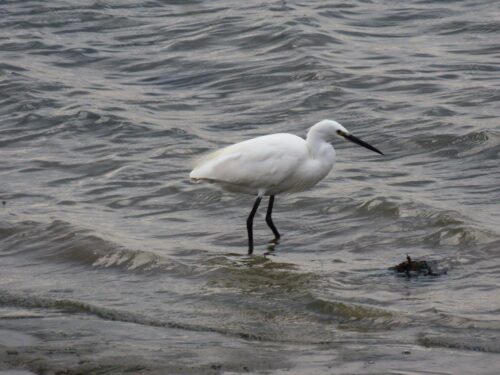 OTHER wildlife delights included fungi (the bracket fungus on Sea Buckthorn proved to be Fomitiporia hippophaeicola, with no previous Essex records shown on the National Biodiversity Network map) and lichens, galls, a Harbour Seal bobbing about, a Brown Hare, a Harvest Mouse nest and various kinds of poo!
So all in all, although things didn't go entirely to our original plan, we had a great time and really hoping we can organise another Wild Essex On Tour trip next year. Please let us know if you would be interested in being kept in touch about this.