When the day dawned for our annual Fungi walk at the Uni, we were slightly less than optimistic….the rain was beating down on our velux windows, and we knew from a recce a couple of days previously that the fungi were not going to be at their best this year, no doubt due to the long, hot, dry summer and subsequent lack of rain.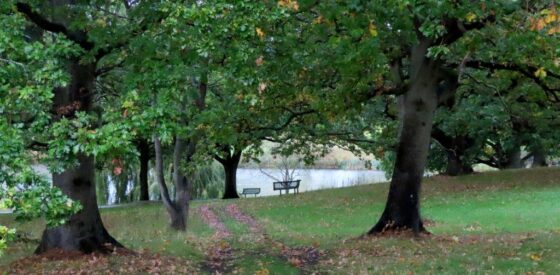 However, we need not have worried!  Our fantastic group of friends old and new cared not about the weather (no such thing as wrong weather, only wrong clothes) and still enjoyed a couple of hours in Wivenhoe Park, happy to learn about the trees/galls/leaves and history of the park as well as searching for fungi.
The trees never fail to delight at this wonderful place – specimen trees from all continents of the world, selected for the parkland when Wivenhoe House was first built in the 1750s and added to ever since then – plus many natives including Pedunculate Oaks, Beech and Silver Birch, including a few specimen oaks which probably predate the Park and Hall by half a millennium.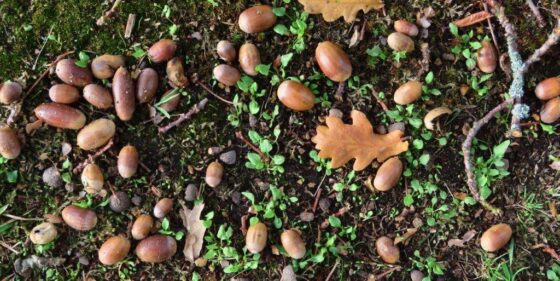 The vast quantity of acorns on the ground was noticeable, this year having been a 'mast' year, when the trees put lots of energy into producing fruit, a mechanism to ensure survival of the species by periodically swamping all the seed eaters such as Jays. (Rather overkill as it only takes one acorn to replace a tree!). However, it is an interesting phenomenon, and one that is happening more frequently (three times in the past four years when just a short few years ago, once a decade was more expected), due to the climate chaos encircling us all: the venerable trees are crying out for help, sensing perhaps a premature end as droughts and other stresses make them vulnerable to disease.
A Tree Trail has been put together to take in some of the best examples in the Park, well worth a look…University of Essex Tree Trail – Walking Route in Colchester, Colchester – Visit Colchester. Here are just a couple of the trees – Cork Oaks brought back from the Peninsular Wars by the Park's owner Major General Rebow, and a couple of Swamp Cypresses growing in the lake, and using snorkel roots to breathe.
But once again, weather conspired against us: the lack of any frost in October means that the sometimes vibrant autumn colours have simply not developed. Compare these two pictures of the leaves of North American Red Oaks in Wivenhoe Park – first in 2019, and then this year, on almost the same date: from autumnal fire to subdued embers…
As expected the fungi were not great (no Fly Agarics this year for example), but other favourites were discovered including Parasols, Beefsteak, Chicken of the Woods and Birch Bracket, as well as lots of 'LBJs'  (Little Brown Jobs!). Here are a few photos of what we did find:
Galls are a particular interest of ours, and we were pleased to have discovered a couple of days ago Neuroterus saliens,  a rarely seen gall on Turkey Oak. Discovered in UK only in 2006 it has spread in the south east, although we think our record is the first for this part of Essex (probably just that nobody has looked for it, as all Turkey Oaks we saw were covered in it).
Oak trees are particularly blessed/cursed with galls, over 50 different types can be found on these species, though galls, caused by a variety of minute wasps/mites/flies etc do not generally damage their hosts. But again it was noticeable just how few spangle-galls there were: these are normally very obvious at this time of year – once again the suspicion has to be that the freakish weather of 2022 is to blame. Weather that may be responsible for other anomalous sites on a dreary day at the very end of October, Chicory in flower and a welcome beacon of colour.
For those interested in finding out more about which fungi are edible (some are, and delicious, whilst others are deadly poisonous), we would recommend a book coming out early in the New Year Edible Fungi of Britain and Northern Europe | Princeton University Press.  We have had a minor role copy-editing it, and so we know just how beautiful – and useful – it is. We are also hosting a free zoom session 'The Magic of Mushrooms' on Sunday 6th November at 7pm.  If you would like the link contact jmgibson1959@btinternet.com.
Thanks to all who braved the weather today, and hope you all enjoyed as much as we did.