This month's walks, in the cemeteries Old and New, were spread over two days. The warmth and short-lived dry spell on Monday morning brought out a myriad of insects; on Saturday there had been virtually none, but we were instead rewarded with the accentuated smells and colours of the wild flowers in the rain. The Cow Parsley was at its heady best, and the Bluebells, creating a swathe of blue, dotted with yellow buttercups, a feast for the eyes.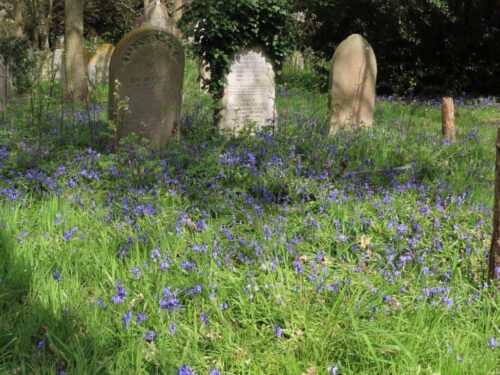 This special, sacred,  place has suffered from mismanagement at the hands of man over the years, but nature is fighting back to provide us with a refuge in these uncertain times.  The ancient gravestones, each of interest and worth a read – if only we had had the time! – themselves are mini-nature reserves, covered in lichens, and homes for mini-creatures, including four types of 'bagworms'.  These are moths which live at least some of their lives in little 'bags' –  in the case of Psyche casta the bags are covered in little bits of grass; whilst the 'Virgin bagworm' is covered in lichen and grit, and remarkably spends its whole life in The Bag on its own (or rather 'she' spends her whole life there – no males needed in this species)!  Two other varieties seen on Monday were Narycia duplicella with the pupal exuvium sticking out of the end of the larval case, and the long Taleporia tubulosa.
Other insects found by the Monday group (sorry Saturday folk) included both Green and Hairy Shieldbugs, the Cinnamon Bug and Red-and-Black Froghopper (both in the 'warning' coloration combination of red and black, signifying that they are probably pretty nasty to eat), the Umbellifer Longhorn beetle, and a rather beautiful picture-winged fly Euleia heraclei.
A well-recognised plant occurring in our woody areas is Wild Arum/Lords and Ladies/Cuckoo Pint (to rhyme with Lint)/ Jack-in-the-Pulpit as well as being known by many other names – lots of them quite 'naughty' as the flowers are rather, erm, shall we say anatomical-looking!  A few other botanical delights caught our eye –  a delicate little flower, Hairy Tare growing alongside Common Vetch; Thale Cress, rather like the well-known Shepherd's Purse, but with very different seed pods; whilst Shining Cranesbill with its varnished-looking leaves is certainly at home in the Old Cemetery, as is Garlic Mustard.
Of the larger vegetation a number of splendid trees create height, shelter and lend the place a certain grandeur – these include Himalayan Pine, Horse Chestnut and two species of oak, whereas shrubs like  Viburnum tinus provide valuable nectar early in the year when newly emerging insects need fuel.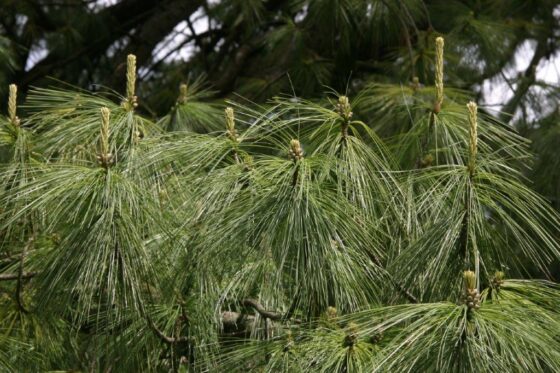 We finished our hour in the newer Cemetery which is celebrating 'No Mow May' and the wild flowers are numerous and a joy to behold.  Many leaves on the Lime tree have unmistakable red 'needles' sticking out of them – these are fascinating little nail galls, created by gall mites (arachnids).  Each of these little structures contain many mites.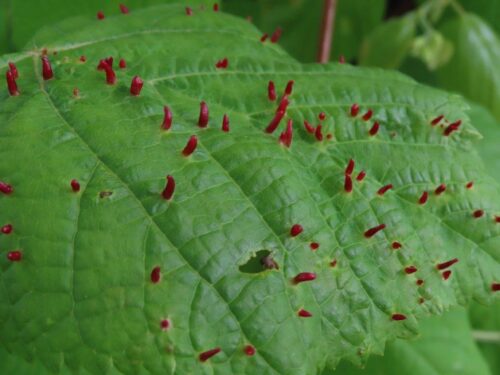 Walking on the lush grass certainly put a Spring in Our Steps – the mossy structure beneath your feet is unmistakable, and we hope that those who at first may have been unhappy that Grandpa's grave had a few 'weeds' near it, will instead come to feel uplifted by the power and beauty of nature.
Thank you to all of you who came along ( and to those who had intended to be there but were unable to do so).  The weather left something to be desired, but we all made the best of things.  We have included some photos in this report, but some were taken on our recce a few days before the walk (when it was at least bright though not necessarily sunny). See you all soon.