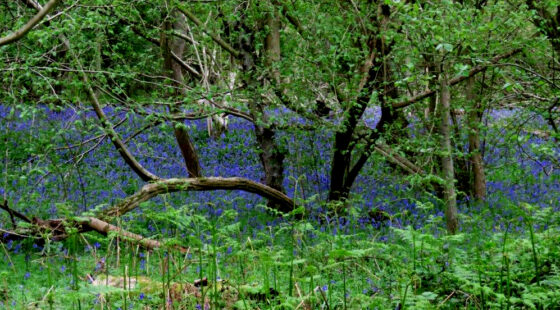 As often when we offer two dates for a walk, the weather is vastly different each day.  This was definitely the case with our little forays to Cockaynes for this month's Wild Essex events. Monday was blowy and cold, whilst on Tuesday the sun shone, and the wind had dropped.  (Sorry Keith!).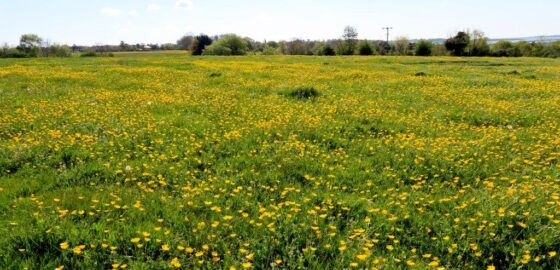 This report covers some of the highlights that we saw, heard and smelled over both days. As to be expected, the warmer conditions on Tuesday brought out more of our insect friends. In line with the calendar (how do they know?) a St Mark's Fly was seen, slightly askew with one wing out and the other not.  Possibly it had just emerged and not fully 'filled out'. St Mark's Day is 25th April! The following day we witnessed two 'in cop' doing what they need to do in the few days that they are alive as adults.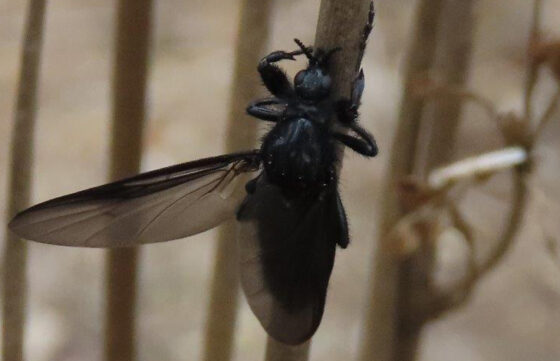 A little Pine Ladybird was busying itself keeping warm on a woodland leaf, and we found some Brown Tail moth caterpillars, new escapees from their conspicuous nest-webs. Their body hairs contain an unpleasant irritant and so contact should be avoided.  The only birds that can eat them are Cuckoos which have specially designed digestive processes to cope.
Famous and important residents to this site are the 'Bunny Bees' (Colletes cunicularis) which make holes in the sandy banks on the reserve. These are rare and it is always a pleasure to see that they are still enjoying living near us in Wivenhoe. And a host of other solitary bees were out and about in the sun including this 'mini-miner':
Evidence of other insect life was found, without seeing the critters themselves – leaf miner moths which lay their eggs between the surfaces of leaves and the larvae eat and grow, making patterns in leaves as they go, before emerging when fully fed, and also little cases of micro moths which were easy to spot on the rushes.
An Acorn Weevil showed its snout within the unfurling wings of an aquiline Bracken, and a tiny Dyseriocrania subpurpurella micromoth nestled into a Cow Parsley umbel. The warmer sunshine brought out butterflies on Tuesday, including Speckled Woods, Orange Tips, Large Whites and a Peacock.
We were privileged to hear lots of bird song in the couple of hours, and this varied day-to-day too.  We caught the dulcet tones of numerous Mediterranean Gulls (did I say dulcet?  – more like a posh squawk!)  – numbers in this area at the moment are at an all-time-high.  Add to that Chiffchaffs, Song Thrushes with their three-song call,  angry Cetti's Warblers, rhythmic Reed Warblers, liquid Blackcaps, the increasingly rare Willow Warbler, Robins, Great Tits, Wrens, a bit-of-bread-and-no- cheese Yellowhammer, Linnet (below), Goldfinches and the odd snatch of Nightingale song, but sadly we did not witness its full and beautiful melodious warble.
Happily there was plenty of plant life to enjoy on both days.  This whole area was once woodland, and fortunately after the gravel extraction programme in the 80s, it was not merely filled in, capped with clay and turned over to agriculture, but was allowed to remain and rewild, giving us the reserve we know and love today. Working parties do great stuff in keeping some of the scrub under control to allow the important (and unusual in Essex) stands of Heather to thrive. These would soon be crowded out if Silver Birch and other trees were allowed to take hold.  Other interesting flora included Gorse at its peak, Town Hall Clock,  Opposite Leaved Golden Saxifrage, Thyme-leaved Speedwell, Wavy Bittercress, Greater Stitchwort, Ground Ivy and Heath Woodrush…
…and of course Bluebells, albeit a little worryingly with quite a few hybrids with Spanish Bluebell, paler, less delicate and of lower value to native pollinators.
Fungi are always fascinating, and we were delighted to find examples of King Alfred's Cakes and a Mazegill bracket fungus.
As always we enjoyed the company of our groups – always willing to listen to Chris' stories and ask questions and generally join in.  Thank you all!  Look forward to another walk with you before too long. Some of you asked about our fantastic close-up binoculars: they are Pentax Papilio II 8.5 x 21. We would recommend them thoroughly, and it is just a pity we are not on commission, given the number of pairs that have been bought by our 'bug and botters' over the past four years!