Don't be fooled by the serene image in support of Ukraine,  the #WildSideofEssex walk at the Naze  lived up to its billing. Fearsome winds and sandblasting on the beach, although we missed by a whisker the torrential downpours that passed either side.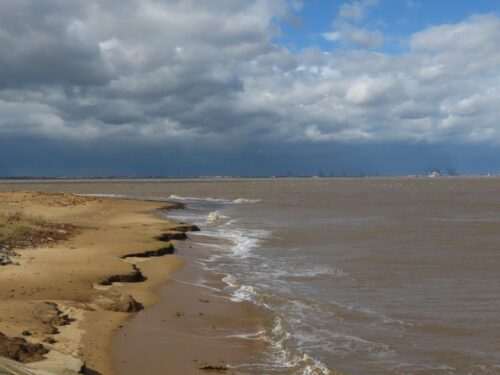 Even the Sanderlings and Turnstones were taking shelter behind piles of flotsam, while Oystercatchers roosted down to minimise the wind-chill. Small birds stayed deep in the scrub, though there was still plenty of song from Chiffchaffs, Cetti's Warblers, Dunnocks and Wrens, making up for their unassuming plumage with the power of their voices, and  demonstrating that the advance of Spring is immune to the vagaries of the weather. And it was great to see the first returning Sandwich Terns, a small fluffy of incomers, totalling seven birds in 15 minutes, while a Harbour Seal teased with sporadic surfacings.
Searching out shelter, we explored the clifftop scrublands, now at their blooming best with Gorse and Blackthorn.
Somewhat protected from the wind, we found plenty of interest, from lichens and Cucumber Spider to sprouting Hog's Fennel and the larval webs of Brown-tail Moths. Alexanders is now coming into its own, attracting a few visitors even when windblown. And there were always the trees, many now sprouting leaves and Field Maple, Alder, Wild Cherry and Silver Birch in flower. Queen Buff-tailed Bumblebees were scouting for next cavities and a Muntjac showed briefly.
Of course the outstanding, active geology, another aspect of the untamed nature of this coast, were unaffected by the wind. Fossils, septaria nodules, volcanic ash bands and erosion in action were all the more appealing as the cliff provided us with a degree of shelter!
But it was the ferocious weather that will linger long in the memory, along with the hardiness of nature trying to carry on with their lives despite the best efforts of an unruly planet.