A largely photographic record of three wonderful autumnal days, albeit feeling more like high summer, exploring the capital, tasting the architectural, artistic and natural riches it has to offer.
Canyons of glass and steel, capturing but not quite taming the sky:
Surprising juxtapositions  of old with new, like a choral discord unsettling but thrilling. Churches everywhere, the legacy edifices of Wren and Hawksmoor, each subtly different, both inside and out: some uplifting, others deflating:
From spiritual to secular, a cathedral to power: Wapping Hydraulic Power Station, Victorian engineering predating the practicality of electricity transmission. Now hosting an art gallery, but in reality the rusting fabric is art in itself:
Always the River, lifeblood of London and its maritime and mercantile history. Once we oversaw its death, but the Thames is now reborn: we even saw a Seal swimming through Tower Bridge!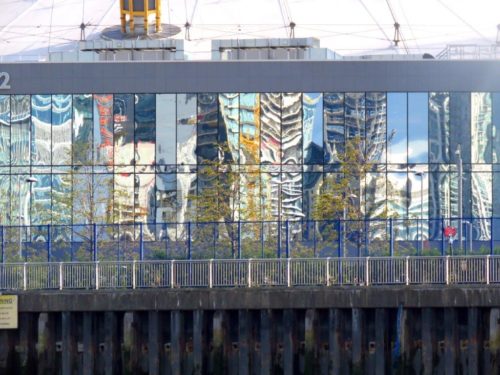 And for our green needs, not a Royal Park or the wilder stretches of the Thames Path, but this time – and for our first time – the London Wetland Centre. And mightily impressed we were too! Birds from all over the globe, some brought in, others attracted there by its abundant resources: a metaphor for the melting-pot that is London.