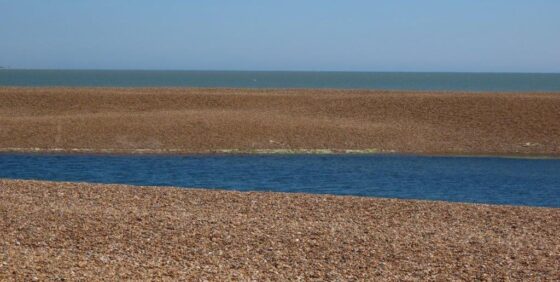 Early June and thoughts turn to the night-life of the Suffolk coastal heaths. But dusk comes late, and that gave plenty of time for a hot potter around some of the sites  on the peninsula 'around the corner' from Woodbridge…
Starting at Shingle Street, the clarity of the light was perfect for seeing many of the special native plants, from Sea Kale to Sea Campion, and Yellow Vetch to Bur Medick.
Sea Pea was at its glorious best, and Thrift formed a pink mantle across the saltmarshes.
Shingle structures are always vulnerable to invasion by non-native plants, and here is no exception with Red Valerian in particular.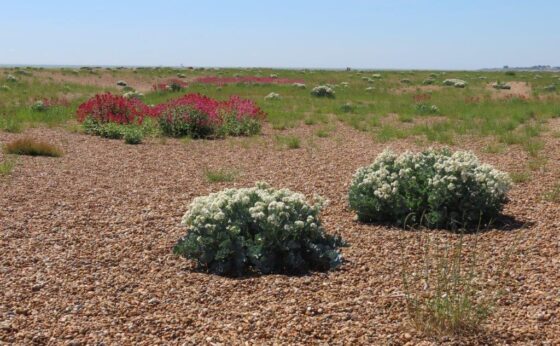 As elsewhere, the cool early spring has delayed flowering times (although nature is running hard to catch up with itself). Viper's-bugloss and the stonecrops are only just coming into flower; Yellow Horned-poppies are still a long way off, but a good stand of the orange-red Long-headed Poppy was some compensation.
Crossing the peninsula to its western seaboard, the Deben Estuary, Ramsholt was, as ever, out on a limb and peaceful.
Seeing a signpost to the church, and following there on a whim, proved very rewarding: the churchyard, as well as having an enviably picturesque prospect, seems to have taken 'No Mow May (and beyond)' to its heart.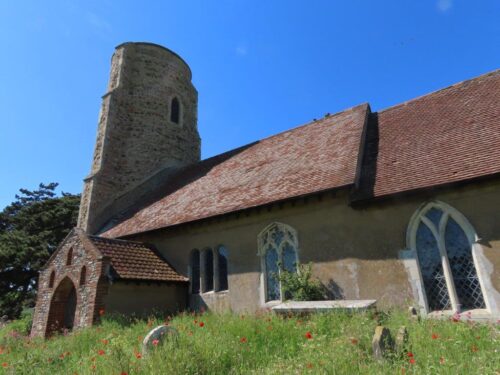 And so to the Sandlings, Sutton Heath and Upper Hollesley Common. By now it was so hot that insects were essentially unphotographable, and in actual fact there were rather few anyway. Butterflies seem to have hit the 'June Gap', and Painted Ladies outnumbered greatly the Small Coppers, Snall Heaths and whites put together.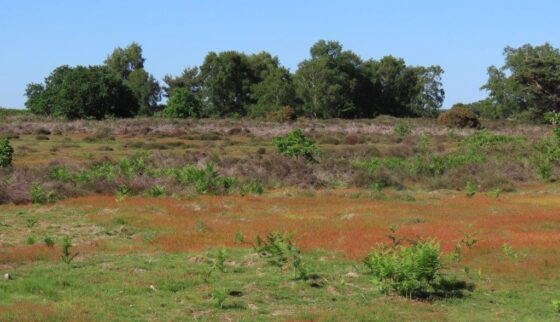 But perhaps the most obvious insects are the sand wasps, actively seeking  (and creating) holes in which to nest.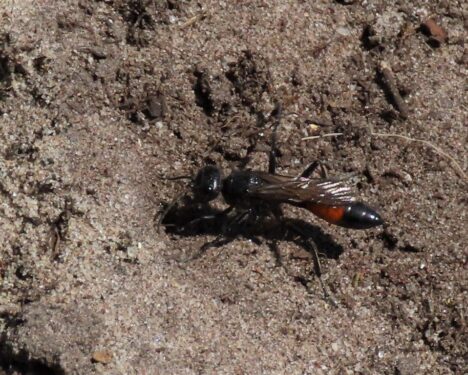 While the earliest heathers are only just starting to flower, Sheep's Sorrel, Heath Bedstraw, Heath Speedwell and Climbing Corydalis are starting to look good, with more locally Heart's-ease, Sand Sedge, Spring Beauty, Mossy Stonecrop and Star-of-Bethlehem.
As the temperature dropped in the evening, so the insects started to appear, including Fan-bristled and other robber-flies.
And as the sun set the hues of the landscape intensified, with backlit Bracken and the last embers of the day playing on the pine plantation.
The light faded very slowly, but by a quarter to ten, and after the helicopter had buzzed off, the churring began: at least six churring Nightjars were round the heath in front of us, with an additional three as we walked back to the cars, their song interspersed with more distant wailing Stone Curlews. But even better, a Nightjar song post just happened to be on a bough in full view just ten metres from where we were standing – and the bird came in twice!