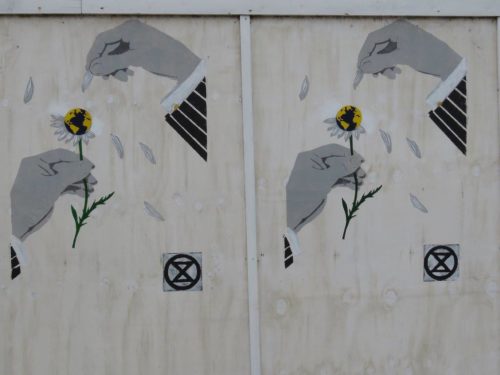 Extinction Rebellion? You must have been living on another planet not to have heard of this environmental movement, and the impact it has been making not only on our capital, but all over the UK and the world in the past few days.  And depending on which press you choose to read, you will probably already have a pre-conceived idea of what the Rebels are all about…. litter-dropping, destructive and disruptive louts? or peace-loving people, caring about all of our futures?
We decided to find out for ourselves and went up to the old smoke on Tuesday.  On the approach to Parliament Square the rhythmic drumming of samba drums could be heard, beckoning us, but our first attempt at reaching the large crowd was foiled by a chain of police in hi-viz jackets blocking the route from Westminster station.  Frustration!  But we were spurred on by the many gently swaying flags held aloft by protestors in the square itself, particularly by a most beautiful one of a Garden Tiger Moth.  A very special creature to me, a fond reminder of my childhood when they were plentiful, but now sadly  now very rare, and possibly heading for extinction along with so many other species.
Undaunted, we found an alternative way in and discovered the Square to be full of many hundreds of gentle 'rebellers' –  individuals, couples, families and groups.  The drumming had temporarily ceased, and all were listening to the MC outlining the plan for the day (namely the writing of letters to our individual MPs and using our democratic right to request an audience with them, or at least to get the chance to deliver a letter).  Guest speakers provided inspiration and hope – Rupert Read, Green activist; Clive Lewis, MP for Norwich South,  and Lloyd Russell-Moyle, MP for Brighton Kemptown; we sang and listened to poetry.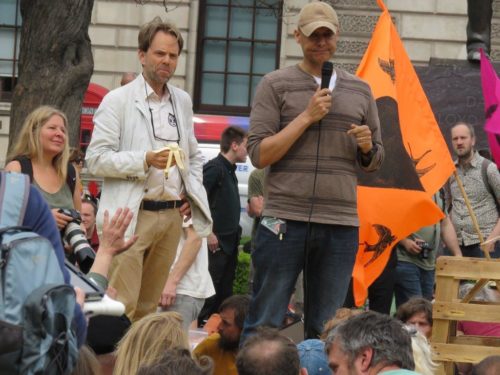 The 'sharing attitude' of this movement was very apparent – total strangers offering suntan lotion, pens and paper to write letters, or just stopping to chat.  Free vegan food was available to all – served on paper plates with non-plastic cutlery.  Even with the lunch-time eating and drinking, no scrap of litter could be seen anywhere. Yes!!  A David Attenborough life-size cut-out figure looked down benignly on us all, and at least three protesters had set up camp high in the trees, complete with hammocks and ropes. Chris remarkably found himself sitting next to the son of a former colleague, whose website banner detailed the plight of the arctic ice. See www.arcticdeathspiral.org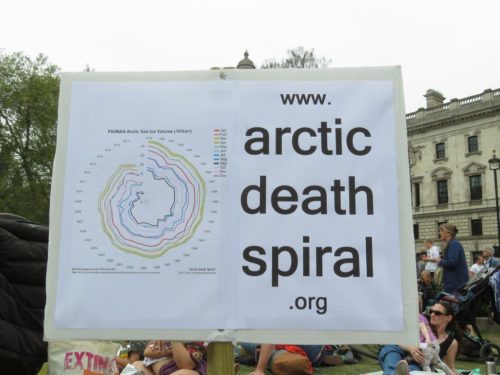 Having written our letters, with polite demands to support Caroline Lucas' Early Day Motion 2177 signalling a UK-wide climate emergency, for radical rethinking of carbon policies, the formation of a People's Assembly and most importantly for 'them' to tell the truth, we were shepherded over to Parliament House to (hopefully) get the chance to lobby our MP.  Fortunately being near the front of the queue meant only (!) an hour and a half's wait but our fellow queuers were great company and the police and liaison officers are to be commended on their humour and efficiency – certainly no sign of heavy-handedness, but of course there was no need as everyone was perfectly calm and peaceful.
Unfortunately our MP, Bernard Jenkin, was 'unavailable' (as, shamefully, Theresa May was earlier in the day when Greta Thunberg dropped into the Houses of Parliament) but a group of us was addressed (and listened to) by Gillian Keegan, MP for Chichester.  And she did take on board some of our thoughts and proposals – eg why can't all new properties be required to be built with solar roofs.  It seems so obvious, doesn't it?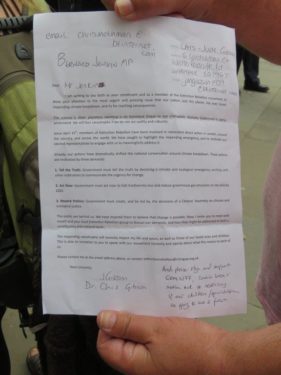 Whilst we were all in the waiting room as MPs were contacted but few materialised, a live screening of the climate change debate was being aired, in which Ed Miliband had asked searching questions of the Minister. It was disappointing to see how few MPs (particularly Tories it must be said) were actually in attendance at this most important of issues (surely?). However we must all rise above party politics in this emergency situation. We found the red-tape involved in trying to contact our elected representatives tiresome; unfortunately were ultimately unable even to leave a letter due to possible contamination and so instead we will be emailing and tweeting and posting our letter, so Mr Jenkin will be able to see how we are feeling.  If anyone reading this is minded to do similar then please do!
Despite these niggles, it was a fabulous, heart-warming day, well organised, calm, friendly with everyone on the same side.  Long may the movement continue; we shall support it as much as we can.
Such an important message held aloft for all to see here……and as another banner proclaimed ' Respect Existence, or Expect Resistance'.  Couldn't have put it better myself…