A Paean to Green, inspired by Cockaynes Wood

Sea green, pea green, spring green, olive green
mint green, lime green, jade green, forest green
Green is the colour of nature, of life itself.
Or rather greens are the colours of nature and life, a whole spectrum of hues revealed in breathtaking splendour when fresh foliage is drenched in the new light of spring:
And not just the leaves. While many spring woodland  flowers scream for attention, others show  the art of the subtle.  Acid green April Acers bursting forth in the canopy, copper-tinged catkins of Oak and Birch draping down: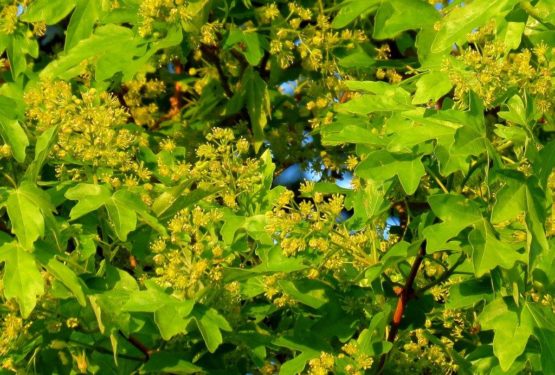 At the ground, cushions of Golden-Saxifrage, and dangles of Redcurrants:
And Moschatel. Stories of green giving glory to green. How to describe Moschatel?   A musky smell? Not really, at least to my nose. Unique? Certainly, at least until recently treated as the sole species in its family, in the world.
In part that uniqueness is down to the disportment if its five flowers, four (five-petalled) like the faces of a clock tower, one (four-petalled) on the top pointing upwards, as I was told recently 'so the Spitfire pilots could tell the time'. Hence its alter ego Town-Hall Clock: now that's a name which does as it says on the tin. But its scientific name Adoxa (Greek for 'without glory'): a travesty for one of the most delightful, unassuming spring woodland blooms.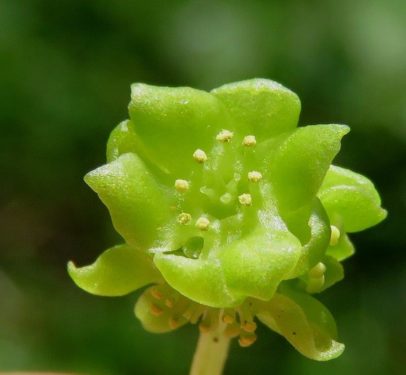 Sea green, pea green, spring green, olive green
mint green, lime green, jade green, forest green
      the colours of life … of spring … of now
Vote Green : the colour with a future…