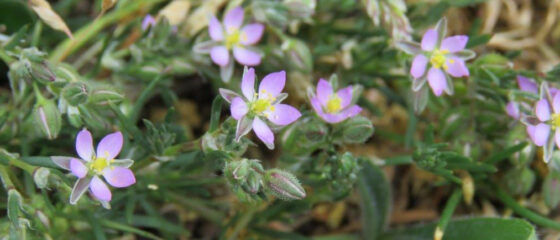 Hello once again – hope you enjoy this, our fifth Lockdown Diary. Thanks to everyone who has been in touch with anecdotes, observations and photos.
Where to start?  Plants are all around, although of course many are suffering from the continued drought.  The Haymeadow on KGV is looking quite sparse in places.  Interestingly since it has been left to its own devices, bare patches are appearing where the grasses are not doing well due to the drought, but this is allowing space for annuals, e.g.  rare annual clovers,  and Sand Spurrey (see above) which normally would not have the opportunity to germinate.  All contributing to biodiversity –  the loss of which is a major concern of our time.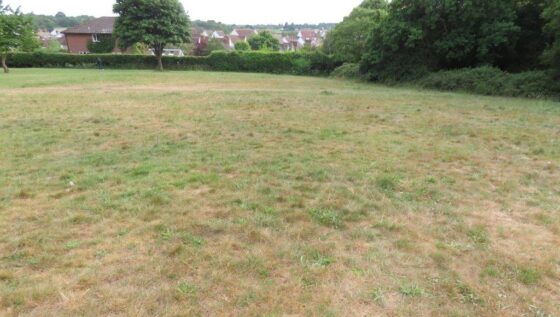 Some dear friends in Wivenhoe (who have an amazing garden), sent us a lovely olfactory picture: 'Wisteria smells strongest with the sun on it, the honeysuckle only scented in the morning after the cold night air. An excuse to have our noses in flowers at all times of the day'. Delicious! A locally scarce plant, Knotted Hedge-parsley, was discovered on one of the grassy areas in Wivenhoe. Some interested folk are doing a survey of the (as it turns out quite a few) grassy areas in Wivenhoe. Until now all of them have just been mown regularly through the summer and left as short grassland, but it could be that with some thoughtful management at least some of these could have a new life – with some areas left unmown for certain periods of time new plants will emerge, creating a more interesting place for both human , and of course wildlife visitors. Watch this space for more information about this as the data are collected.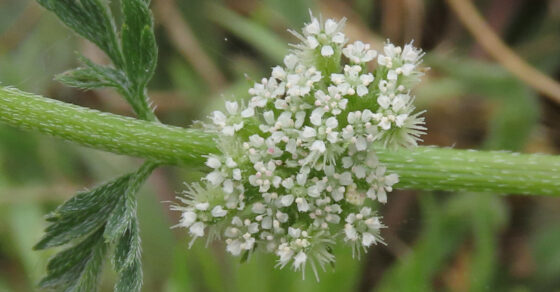 Birds are also very abundant.  We are rejoicing in so many House Martins this year, and Sparrows are more numerous around the Shipyard too. The drought must be making things hard for the House Martins to find mud for their nests (although there is abundant salty mud here on the estuary, they much prefer the salt-less variety). Anything we can do to provide water for birds right now is to be encouraged.
We were sent this amusing shot of a Sparrowhawk investigating a remote camera (you might need to look carefully!):
Great Spotted Woodpeckers have been seen in gardens, and a marauding bunch of Jackdaws were heard making a nuisance of themselves in lower Wivenhoe, before taking themselves off elsewhere. A fan of this newsletter sent in an entertaining story of birds in his garden, all of them interested in the mealworms he had put out….Robin followed by Blackbird followed by Magpie followed by Pigeon….
… and whilst not everyone's favourite, pigeons have a certain charm, and friends in South Woodham Ferrers have sent in pictures of a mum and her (rather ugly) babies. She obviously loves them, however they look, as any good mother should!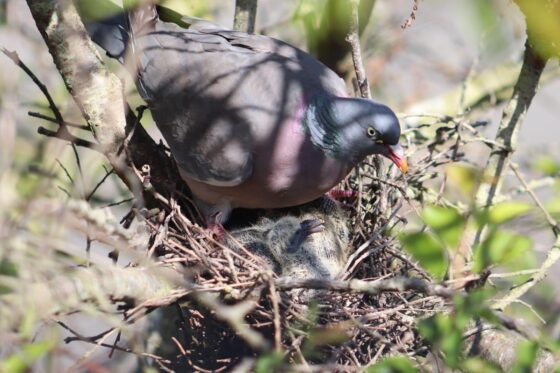 Hedgehogs have been noisy in a local garden – our correspondent tells us that two large ones were in her feeding station 'Lots of huffing as one had blocked the other in.  I had to take the lid off so that one of them could climb out.  Very noisy'
This tiny Grass snake was found in a local garden, and having been offered food (which it ignored) was released back to join the rest of its family.  This sized individual at this time of year is probably last year's baby.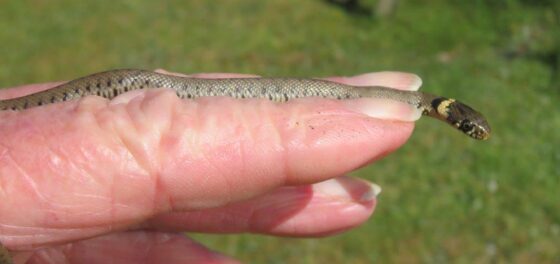 The section of the natural world that has been the most exciting (at least for us) this time is the insects. So many of you have sent in interesting information and pictures, thank you.   Very excitingly we have had our first reports of Stag Beetles in a Wivenhoe garden. Let us know if you find any – alive or dead! Wivenhoe is a nationally important area for these most odd creatures – their flight pattern is so awkward it is incredible that they ever actually get to where they want to go. And that after spending literally years underground chewing their way through dead wood before they emerge for only a few weeks at most this time of year. You couldn't make it up really!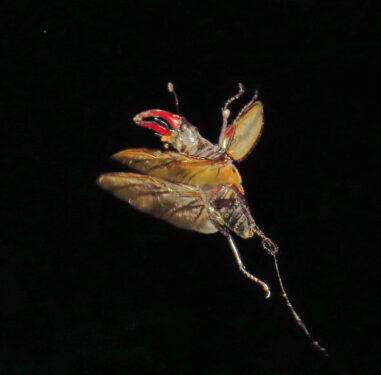 This smart 22-spot Ladybird was seen checking out a nature-watcher's Kindle, whilst a mayfly was found on a garden wall, near a pond. These small creatures live as adults only for about a day. Their scientific Order name 'Ephemeroptera'  has the same Greek root as  'ephemera' meaning 'short-lived or not to be preserved'. There are 51 species in UK and arequite difficult to identify to species level.
Say 'Red and Black Bugs' to Chris these days and he burst into a grin. The reason(s)?  Well a couple of weeks ago he came home with a photograph (below, left) of a very splendid bug indeed, seen near Ferry Marsh. We immediately recognised it from wildlife holidays abroad as an Ornate Shield Bug.  Our books said it was only a rare and recent arrival in the UK, and none of the online maps showed it had been found around here. We were pleased when it was confirmed by a national bug expert that this was the first sighting in Essex!
We sent photos to our nearest and dearest (not to boast you understand….) and daughter #2 responded by saying she too had seen unusual red-and-black bugs in her local churchyard in Dovercourt. Her photos (above, right) showed this to be a totally different insect,  but once more a first for Essex! This is the Fire-bug – again a common species in Europe, but only a rare visitor to UK. Chris discovered an interesting paper about it https://www.inaturalist.org/taxa/55610-Pyrrhocoris-apterus.  I'm feeling a little left out as haven't yet discovered a rarity!
Our friends on the south coast sent us a picture of a rather fine beetle which goes under the catchy name of Drilus flavescens. It is not yet found in Essex, but keep looking!  The male has these wonderful comb-like antennae.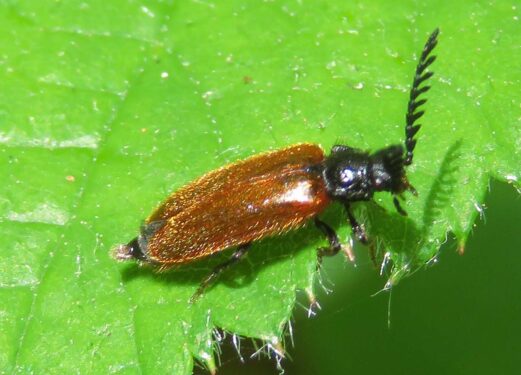 Not so many butterflies around at the moment (known as the 'June gap – the hiatus between the disappearance of spring broods and the emergence of the summer generations'  **), but some lovely moths have been found and photos sent to us – Small Yellow Underwing in Brighton, and Mother Shipton in Wrabness. This is a particularly interestingly patterned moth – on close inspection you can see that it looks rather like a witch with a big nose  ie Mother Shipton.
Following on from last time's comments about the (in our opinion) over-zealous mowing of grassy areas and spraying of herbicides, we have some news.  Colchester Borough Council have said that 'we  are starting to look at mowing regimes across the Borough and we will take the opportunity to look at how we could manage them differently' ( we hope that means there may be less mowing in future rather than more!), but as yet Essex County Council have/will not confirm whether they use Glyphosates to spray the pavements, although they were quick to joyously say that they sprayed at least three times a year.  We will let you know of any developments.
Just to leave you with some lovely musings from a local nature fan   'I've been enchanted by the songs of Nightingales.  Everything in nature is so beautiful'.  Exactly.  If only everyone could see …we are the lucky ones.
Until next time – please keep in touch with us and let us know what you discover.
Jude and Chris 07503240387
**  This passage was quoted from a brilliant book 'Wonderland – A Year of Britain's Wildlife Day by Day' by Brett Westwood and Stephen Moss. A lovely present from daughter #1, it has an entry for each day of the year – highlighting a specific plant/animal/bird that would typically be found on that day.  Thoroughly recommended.
ADDITIONAL IMAGES BY Val Appleyard, Clive Dykes, Margie Finn, Mark Halladay, Leonie Henderson, Bradley Marnes, Sue Minta and Jen Poyser.