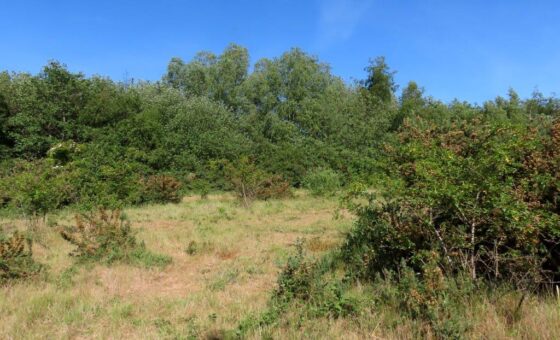 Our last report on the reserve was nearly a month ago, when it was looking greener and flowery after some long-awaited rain. But that is the last time it rained in these parts – the semi-arid Essex coast living up to its meteorological reputation – so throughout May, a month of almost unbroken sun and 7% of average rainfall, the reserve has dried to a crisp, situated as it is on free-draining gravels and sands.
Consequently the flowering is now much less profuse, mostly comprising deep-rooted shrubs and plants protected by a degree of shade. Honeysuckle is in full flower, drenching the early morning air in  its heavy fragrance, and Cow-wheat has shown a surprising dash out of its usual woodland habitat onto the heathy slopes, where it may be extending its root-parasitic behaviour to include Heather as a host.
Even the ubiquitous Stinging Nettle , much maligned, is coming into its own, as the tiny green flowers on dangling whorls burst forth, a fluffy aura which catches backlight very fetchingly.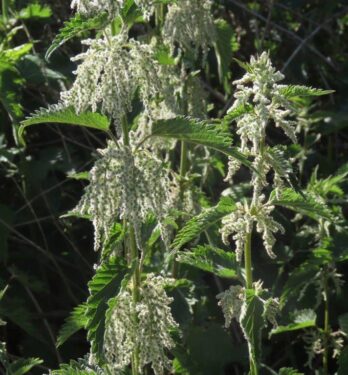 And perhaps the main beneficiary of the drought, renowned for favouring hot dry sandy areas, is Smooth Cat's-ear. Although a great rarity in Essex, in the same general sandy area where we found a couple in April, about twenty plants were flowering, although the scattering of hairs on the leaves of some plants suggested they may be hybridising with the much more frequent Common Cat's-ear.
Now is the time for munching, when newly-emerging leaves are at their most nutritious, and herbivorous insect larvae take advantage:
The identificaton of moth larvae has taken a great leap forward recently with the publication of a new field guide. Many of those we found on Birch proved to be Mottled Umbers, very variable, but a Blossom Underwing was distinctive and a good  find.
But one we could not track down, and it also baffled Richard Lewington, illustrator of the new guide. It took Phil Sterling, one author of the book, to point out it was actually the large caterpillar of a micromoth Phycita roborella (and so not covered in the book). The distinctive eye-pattern of this larva makes me wonder if more could be made of such details in the always tricky field of larval identification.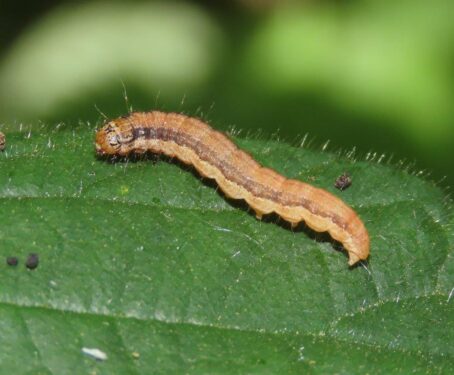 May is also the month for emergence of dragonflies and damselflies, and Cockaynes did not disappoint: its mosaic of wetland habitats and scrubby, flowery, sheltered edges area ideal. In fact, by the end of the month, these had become the most obvious insect group, the butterflies having already fallen into the traditional 'June gap' a week or two early.
As always though there were plenty of other invertebrates to be found:
But one or two merit special mention: the White Crab Spider, devouring a Green-veined White…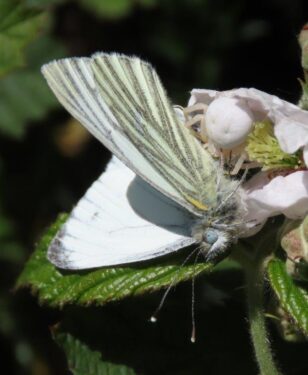 …the newly-emerged Bird's-wing moth, still drying its wings out…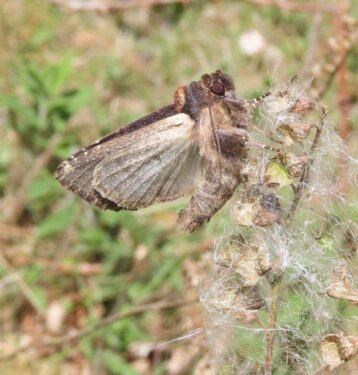 …the distinctive planthopper Ditropis pteridis, which is restricted to feeding on Bracken, but (perhaps surprisingly) known from only eight sites in Essex previously, and never before from Cockaynes….
…and best of all (just look at those rapacious front legs!), a male Ballus chalybeius, a small jumping spider, nationally scarce but with a strongly south-easterly distribution.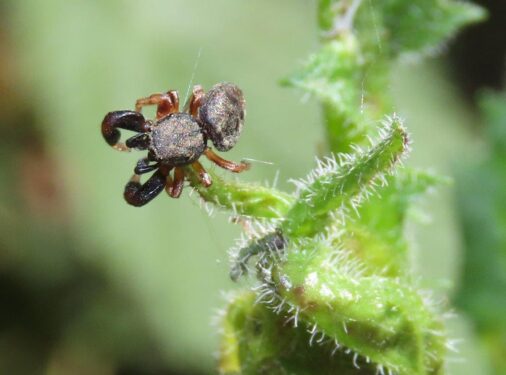 Even in challenging weather conditions, Cockaynes maintains its role in supporting the physical and mental well-being of Alresford and Wivenhoe #NaturaHealthService!