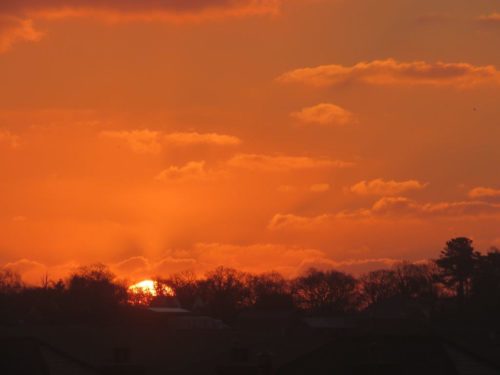 As the meteorologists' Spring approaches, we head out to Villa Wood, part of the Cockaynes Wood Reserve, at first light, feet crunching icy puddles. Sunrise now before 7AM: as soon as it rises high enough to penetrate the trees and illuminate the interior, the stark beauty of a bare woodland unfolds before us.
Paradoxically perhaps, one of the defining features of a good, living woodland is death, dead wood being recycled by the actions of innumerable decay organisms, from wood-boring beetles to fungi and bacteria. And Villa Wood has dead wood in abundance, together with the decayers. Perennial fungi, King Alfred's Cakes and Turkey-tail for example, are always to be found, but one of its real specialities appears, and dramatically so, only in early Spring – Scarlet Elf-cup.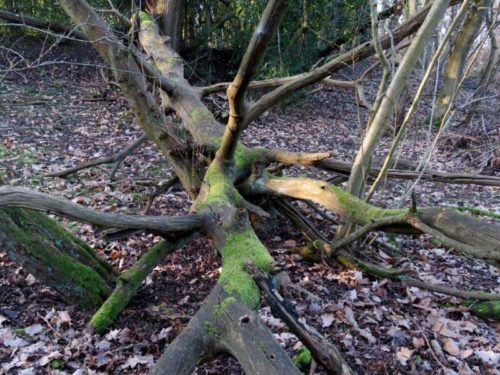 Each time I spot it, I get that thrill of incongruity, the splash of vivid red against a backdrop of muted brown leaf-mould. And remember the time, now thirty years ago, I first spied it here, then the only known site in north-east Essex. I had been invited in by the gravel company to give my thoughts on what they might do for wildlife…once they had destroyed (quite legally) most of the ancient woodland. Well, at least the pits are now managed for wildlife, Villa Wood still features the delightful meandering course of Sixpenny Brook, and has its complement of Elf-cups, seemingly increasing year on year. What I didn't notice all those years ago was the bark of trees becoming covered in orange, a terrestrial alga called Trentepohlia: such sights are becoming ever more familiar as the climate changes before our eyes.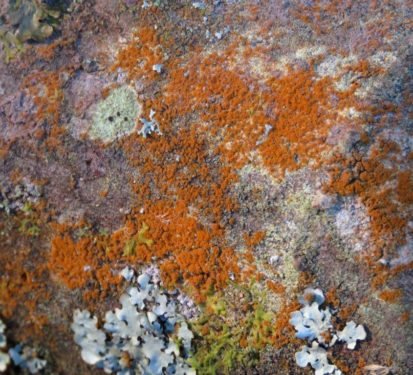 Down by the Brook, flower buds on the carpets of Golden-saxifrage have still to burst, but the first Lesser Celandines have made it, while Hazels in the understorey and Elms in the hedges are in profuse flower.
We expect the Golden-saxifrage to be at its best in mid-March, a couple of weeks time….unless the  forecast fury of the 'Beast from the East' ushers in Spring with a blanket of snow. For our birds then, it is good to see the Ivy berries now ripe. Flowering late and so fruiting late, Ivy berries are one of the few remaining natural food sources available at this time of year: a plant to celebrate, not destroy, and one which can only grow in importance as our climate tumbles into human-driven chaos.