Normal service is restored! After a week of deep snow and fearsome Siberian winds, Spring is once again proceeding apace. Just three days of above-freezing temperatures and the 'Beast from the East' is but a distant memory, except of course for the birds needing to make up for condition they lost when their food was frozen up. And while catching up they are still vulnerable – a decapitated Snipe on Lower Lodge, probably a Peregrine kill, was testament to that.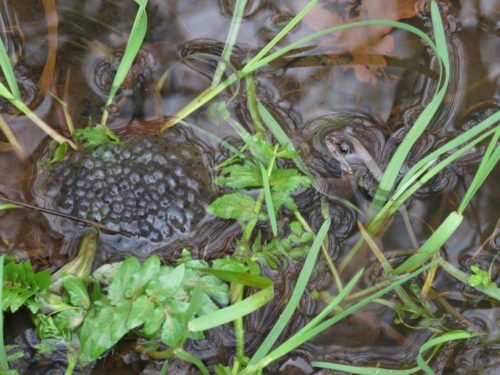 Snow melt has replenished the springs along the valley slopes of the Colne, perhaps even over-replenished them. Pools and rivulets have appeared in unexpected places, but already the Frogs have found them. Whether these temporary spates will last long enough to see the tadpoles complete their development remains to be seen.
The woodland floor, before the snow with barely a green shoot, is transformed with the new emerald-shot leaves of sprouting Cow Parsley, seeking the light in the brief window before the tree leaf canopy closes. Already leaf buds are bursting, Hazel starting to unfurl as the female flowers fade, whether through frosting or fertilisation, while the flower buds of Willow reveal the silky catkins, soon to become a magnet for early-emerging insects. And shining like a beacon, a clump of Orange Brain Fungus speaks of the rich array of colours coming to our woodland vista over the next few weeks….