Anyone looking for a walk on the wild side might like to head north to Mistley. After park at the Village Hall, or just a short walk from Mistley Station, you are on Furze Hill, named presumably from the blaze of Gorse flowering on the gravel-topped slopes overlooking the Stour Estuary – at least in former times.
Part of the parkland associated with Mistley Hall, it is now remarkable for its numerous ancient, gnarled Oak trees, each a wildlife habitat, natural sculpture, and source of legend. With last year's leaves blown to the ground floor by winter winds and the new season's offering yet to unfold, March is possibly the best time of year to appreciate their full, magnificent glory.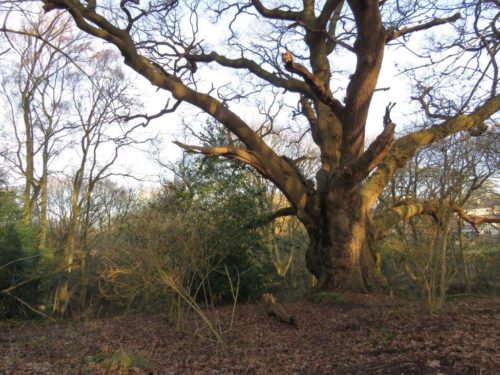 These trees could tell many stories, but we can read some of them. The woodland which envelops many of the veterans is a relatively new feature. Widely-spread branching patterns of the oldest trees tell of a time when they were developing out in the open, in fact in a deer park, the bounds of which are easily seen on the Chapman & André Map of 1777. And the lowest branches above head height suggest they are pollards, long since abandoned, signs of Mediaeval multitasking, working the land for timber and aristocratic deer hunting at the same time.
Pride of place goes to Old Knobbley, the tree with its own Twitter account @OldKnobbley. Largest, perhaps oldest of the Ancients, it is also the most abused. At maybe 800 years of age, it deserves more respect than shown by the mindless idiots who set it alight a month ago. But such things have happened before; hopefully it will cling on to life, and continue to be a focus for local myths, including possible connections (possibly more in hope than truth) with the nefarious activities of Matthew Hopkins.