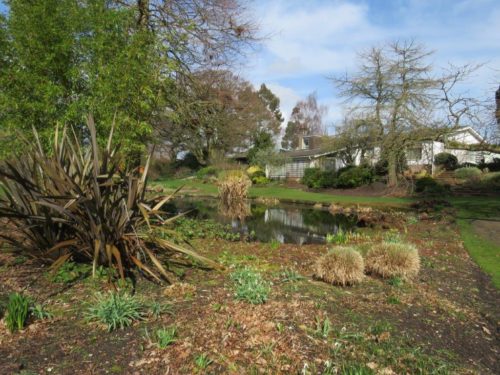 A few days ago Prof. Jules Pretty in one of his delightful series of Tweets celebrating #TheEastCountry inspired the idea of the Trapdoor Day of Spring, that precious moment, usually between start of meteorological spring and the Equinox, when Spring changes from a worry (that it may still go horribly wrong) to an unstoppable promise.
At wetlands were a hundred whistling wigeon
Their calls caught between flat sky & grey water.
There was a single saffron daffodil
Awaiting warmth

One day, the trapdoor tipped
It spilled the blue light of spring
And crystal sunlight blushed the land with promise.#TheEastCountry pic.twitter.com/Ph0IoonL96

— Jules Pretty (@JulesPretty1) March 15, 2018
Today was that day for us, in spite of the knowledge of the return of snow tomorrow. With the first flush of Spring – Snowdrop season – already fading, The Beth Chatto Gardens were simply delightful in the sunshine and warmth. And quite apart from the flowers, the insects and spiders were taking advantage – feeding, foraging and basking – a selection of which are below. No names; some beyond my skills to identify easily; but they don't need names to gladden the heart. 'Biodiversity without labels' is still vital, for the world and for our mental health
But of course, I cannot sign off without a peek at some of the flowers….It's on our doorstep, and a delight at any time of year!