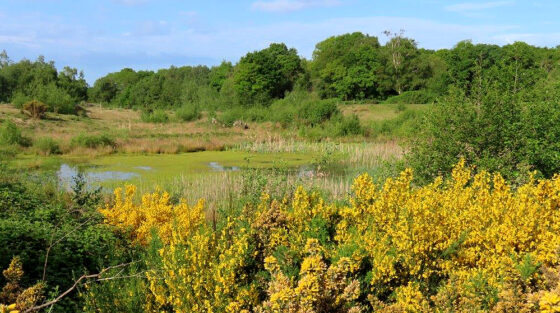 It was a wonderful morning for a walk. The Cuckoos were calling and more Speckled Yellows were on the wing than I have ever seen before. The newly-minted wildlife was performing superbly, and the following is a selection of the pictures. Few words: just enjoy the bounty!
Best find of the day, however, deserves a mention: a Slender-horned Leatherbug, a species we have never seen before and a rather local insect of dry habitats in south-eastern England.
A selection of other bugs included the eggs of a Gorse Shield-bug and dancing Birch Aphids at the end of many twigs:
In addition to the flighty Speckled Yellows,  Latticed Heaths were on the wing, and the mass of munchers included Drinker, Lackey and Dunbar moths:
Fresh dragons and damsels were on the wing, at least six species in total:
And on top of all that, a kaleidoscope of beetles, flies and spiders…
Not forgetting the mini delights of the flowers on the bare gravels, including Smooth Catsear ('the smallest "dandelion" in the world') at one of its very few Essex sites.
All in all, a May morning to remember.