I've written before about 'accidental nature reserves' – see Canvey Wick – where by virtue of accidents of geography, history or simply timing , nature has survived and thrived, often providing a striking counterpoint to the noise, bustle and stress of modern life.
Gunnersbury Triangle is one such place: in the heart of west London, its 'accidental birth' began in the late 19th century when it was isolated from the wider world, from the march of civilisation, by the creation of a triumvirate of railway lines. It remained in low-key use as allotments for railway workers for some time thereafter, and was partly moulded by gravel extraction. But all that ended long ago – presumably the railways became too busy to permit easy and regular access – and nature was allowed to reclaim its former domain.
The next accident – of timing – came in the 1980s, when as land values soared, it was threatened with development. Fortunately, this was one of the heydays of the Greater London Ecology Unit, and  our friend David Goode and his colleagues, supporting an active grass-roots campaign group, convinced a public inquiry in a landmark planning decision for the natural world, that it should, indeed must, be spared as an essential urban green space.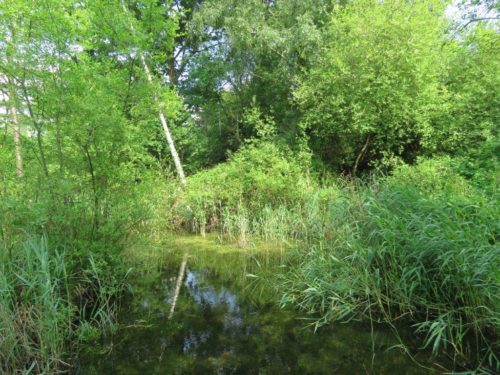 We made our belated first visit yesterday, and immediately realised how valuable those efforts were, as well as the more recent, far from accidental, management activities of the London Wildlife Trust. To sit by the pond in mid-afternoon was a revelation. Virtually all the sound of the city was damped by the foliage, save for the occasional low rumble of a passing train, or a plane descending into Heathrow. But not just damped by the leaves, also masked by the volume of bird-song: Blackbird, Robin, Dunnock, Wren, Chiffchaff and Blackcap. Best of all a duet of Song Thrushes, one of which at least was sampling the sounds of the city in its repertoire.
And not just birds, but a whole ecosystem of plants and animals, cushioning us from the world. Orange-tip and Speckled Wood butterflies; Wasp-beetle; a Heliophanus jumping-spider; Hemlock Water-dropwort and Pendulous Sedge; and a whole raft of other beetles, bugs, galls, hoverflies, damselflies and mayflies to mention but a few. Like a lost world on a distant mountain plateau, life going on seeming oblivious to the constraints of its geography.
Never have I been so struck by the positive effect of nature's sights and sounds in providing refuge from the world. Gunnersbury Triangle and places like it, of which there are examples in every town or city, are and must continue to be havens, shelters, places to which one can retreat, either physically or mentally, when the 'real world' gets too much.
Or perhaps we should reverse that thinking: a real world refuge from the artifice of modern life…