Heading across the border into Suffolk for the first time since early March, it was good to reacquaint myself with both similarities and differences between the Sutton Heath area and wild Wivenhoe.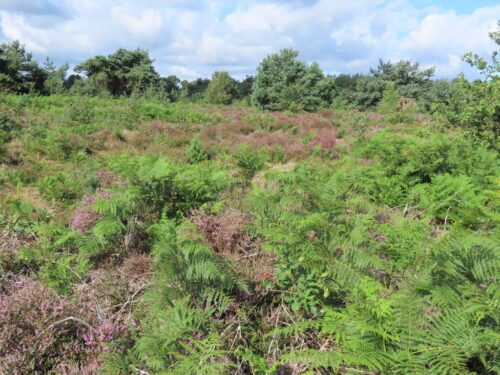 Only some 40km apart as the crow flies, on stepping out of the car it was immediately apparent just how different these spots are, at least in great part due to the intensely droughty nature of the aptly-named Sandlings, much more extreme than anything we have around us.
While the butterflies were much as we are seeing at home, with numerous Peacocks, Commas, Ringlets, Gatekeepers and Small Coppers, the sandy patches of the heaths were thronged with Graylings. On the brink of extinction in Essex, Graylings are well camouflaged on lichen-covered heaths, reinforced by their habit of never landing with wings open, and tilting towards the sun on a sunny day to minimize a tell-tale shadow. And it seems, they just love nectar from Bell Heather!
Another exciting find was the parasitic Tachinis grossa,  a magnificent bumble-brute of a fly, of which half-a-dozen were working a line of flowering Brambles by Upper Hollesley Common. Although widely distributed across western Britain, it is always local, and more-or-less absent from East Anglia, apart from parts of the north Norfolk coast, Breckland and the Sandlings. In Essex, it has been found in only four sites since its initial discovery in 2003, so the chance to stand among this lumbering orgy of nectaring was a real privilege.
One other species previously unknown to me was a very distinctive gall on the fronds of Bracken, shaped like a cigar, caused by the gall-midge Dasineura pteridis, its larvae occupying the appropriately named Little Black Pudding Galls.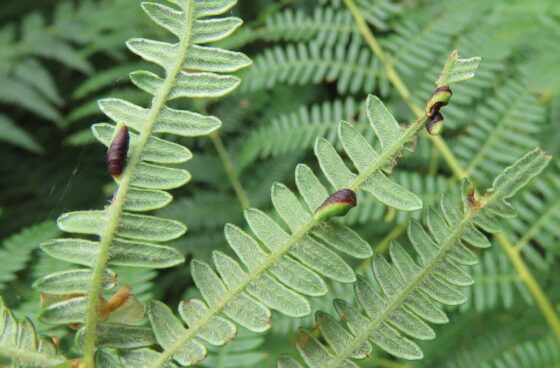 Despite the near-ubiquity of its host plant, the midge appears to be rather scarce, scattered across Britain, but in East Anglia seemingly known mainly from the northern Sandlings. Another dot on the map, and some way from previously known sites.
These were the highlights, but of course there was much much more, as evidenced by the photo selection below. Robber-flies everywhere, doing the three things they do best – staring, killing and mating…
… hunch-backed Gargoyle-flies …
… a kaleidoscope of Hymenoptera …
… long-horn beetles …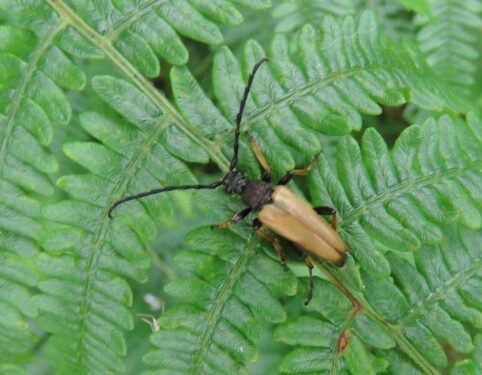 … Forest Bugs and Parent Bugs alongside nymphal Birch Shield-bugs …
… and grasshoppers bounding and abounding with every footfall: the list goes on.
All-in-all, a very productive venture over the border!