How we enjoyed our foray into the natural world with our Botany and Bug friends this weekend. The past few months have seemed long and difficult at times, and I think we all felt it was good to get back to a shade of 'normality' (whatever that will come to mean). So thank you to everyone who came along and supported us. 'Social distance' was no problem and we all saw lots. The small groups for an hour worked well and we look forward to arranging some more events soon. Our outings took place on two separate days, so the following report is a compilation of the 'best bits'.
Our place of discovery was Lower Lodge, somewhere that is bounding with insect life and botanical interest. Important nectar sources at this time of year include Knapweed, Wild Carrot and Scabious. Many insects could be found enjoying these in the sunshine – butterflies such as Meadow Brown, Gatekeeper, Whites and even a Purple Hairstreak, as well as the rather smart Burnet moths,  both 5- and 6-spotted varieties, which are not as numerous as in some years, a probable result of the drought in April/May. One of their major food plants is Bird's Foot Trefoil, a pretty, low-growing plant which suffered during the dry weather, thus not being there when the moths needed it. Another insect not to have done well this summer seems to be the Common Blue Butterfly which also depends on this particular flower.
Bees were out and about in force – Buff tailed Bumblebees, Leaf-cutter Bees ('bum in the air' trademark), plus tiny but charismatic Green-eyed Flower-bees. These can often be heard before being seen – their loud (for their size) buzz heralds their arrival, and then when they come into view their green eyes are distinctive.
Other insects seen were three kinds of 'true bugs' in various stages of development – an empty clutch of eggs plus 'teenage' versions of Dock Bug, Box Bug and Green Shield-bug.  All quite endearing little critters.  A Candy-striped Spider was enjoying her lunch under a Wild Carrot umbel, and we espied a large funnel web of a spider who was no doubt waiting in her lair to catch anything silly enough to land nearby.  A family of Buff-tip moth caterpillars were seen on one walk, but had mysteriously disappeared the following hour.  We wondered if a bird had had a good feed!
Lower Lodge, part of the Colne Nature Reserve, is a large area divided into patches of grass which are mown on rotation every three to four years allowing closely cropped patches (places of recreation for humans and their canine companions which also provide good ant-digging territories for Green Woodpeckers), plus areas of different levels of growth, all important for biodiversity. Other feathered friends seen and heard included Yellowhammer,  Whitethroat, Blackcap and Buzzard.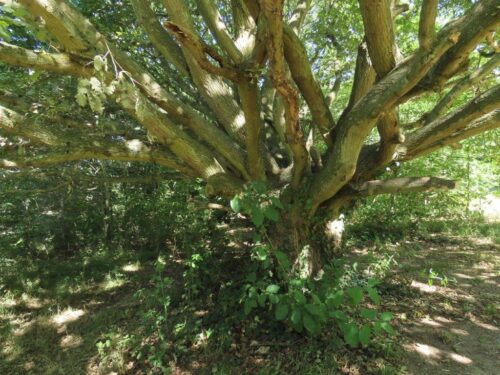 Oaks are an important feature of the landscape here – not only the statuesque mature ones, but also the many self-seeded saplings. Although we tend to revere oaks, when in the wrong place in the wrong quantities they are in effect 'weeds' and should be removed before becoming  too large and start to shade out important nectar plants.  Having said that an oak tree can be home to many kinds of insects, including  small flies, aphids and wasps. Often too small to be seen or identified with the naked eye, these creatures can easily be named by looking at the little 'homes' (galls) they organise for their larvae. These 'gall-causers' introduce a specific chemical into a tree, which carries out a damage-limitation exercise, creating these often remarkably designed growths. Oaks support over 50 gall-causing insects, and we chalked up quite a few different ones – Silk Button and Spangle galls on leaves, Marble galls (a source of tannin for ink and dyeing in days gone by) and Artichoke galls attached to branches, and Knopper galls on acorns.
We observed others on Wild Rose, including the familiar Robin's Pincushion and the slightly  more unusual but delightful Sputnik gall.
Many more of the photos we have taken of wildlife on Lower Lodge over the past month can now be found on a new Gallery on our website – Wivenhoe's Lower Lodge.
Talking of Oaks we would like to plug a book by our friend Dr James Canton 'The Oak Papers' – just published, it is a personal account of his encounter with an ancient tree, the Honywood Oak at Mark's Hall estate. Excitingly it is being serialised on Radio 4 Book of the Week, this week .We are delighted that we were able to help in a small way and we get a mention!.  Whether we are immortalised by Radio 4 remains to be seen (heard) of course!
__________________________________________________________________________
Before we finish the report with details of future events, we just wanted to let you see some of the photos sent to us by nature-watchers now dotted all over UK and Europe. Please keep on sending your images: Poplar Hawk-moth in Spain…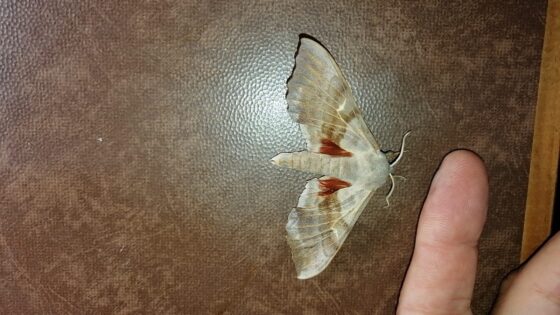 Jersey Tiger moth in Islington…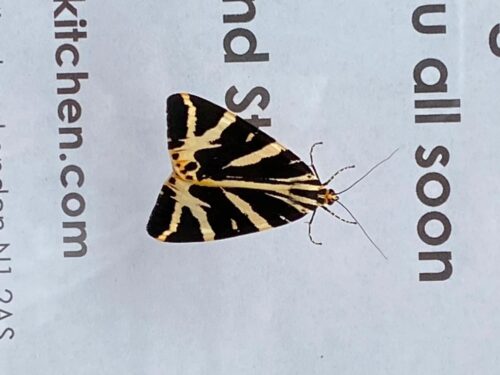 … and touching stories:  a special Red Admiral which brought comfort to a sad lady and landed on her wedding ring.
A rather unusual photo from Wivenhoe (something not witnessed by us before) a Leaf cutter bee with piece of cut-leaf attached…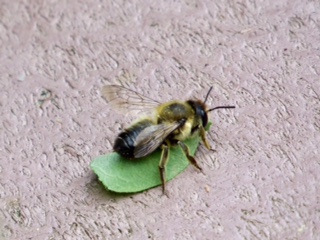 and a most amazing aphid which appears to be sitting on a disc.  As our friend in Brighton told us 'It's an aphid that's been parasitized by a tiny wasp Discritulus planiceps. It lays its egg inside an aphid then changes into an adult in the disc under the aphid's body. The aphid is then just a husk'.  Cracking! We would love to see one here, so whoever shows us our first one round Wivenhoe gets a free Bug & Botany walk!
Additional Photos: Belinda Bamber, Ro Inzani, Sue Minta, Val Appleyard
___________________________________________________________________________
We feel that, unless things go horribly wrong COVID-wise we will go ahead with socially distanced hour-long walks for the remainder of 2020.
So dates for your diary –
Sat  5th/Mon 7th September  10-11 and 11.30-12.30     Barrier Marsh, including walk along The Chase checking out the curious ant hills plus other stuff (see one our Lockdown Diaries for more details).
Sat 3/Mon 5 October 10-11 and 11.30-12.30           The University, looking at some of the interesting trees and (if last year is anything to go by) an incredible variety of fungi.
At the moment each walk will be limited to a maximum of 6 participants, so do please let us know if you would like to book a place.  Cost £5 per person please.
We are also thinking we may offer a few day-long walks in Wivenhoe or Suffolk Coast or the Naze areas.  I will be sending out a separate email with our thoughts soon…
Before we go, we would like to give a mention to 'Wildsmiths Wildlife Services'- our friends Greg and Sarah Smith who are off on adventures to Scotland soon.  They hope to be arranging guided walks and talks on a beautiful Scottish island and will be writing regular blogs and reports.  If you would like to find out about what they get up to, please visit their website www.wildsmiths.co.uk.
So, if you have read thus far many thanks, and hope to hear from or see you soon!