Conditions were pretty much perfect for mothing in Beth Chatto's Garden: a very warm day became humid by night, at least until a cooling breeze sprang up. And it showed in the numbers – some 65 species of moth in and around the trap, as compared with last year a couple of weeks earlier when we found 44 species. But abundance-wise there was little obvious difference, except that the stars of the show, the hawk moths, were fewer.
Indeed three Elephant Hark-moths were the only representative of their family; other perennial favourites included Buff-tip and Black Arches.
The two most localized species nationally were Festoon and Beautiful Hook-tip, both reflecting the abundance of large old Oak trees in and around our garden.
Otherwise it was a mix of the colourful – Brimstone, Yellow-tail, Burnished Brass and Rosy Footman …
… and the more subdued – Peppered Moth, Nut-tree Tussock, Dwarf Cream Wave, Common Footman,…what wonderful names they have!
But even the subdued, like this Dagger, can be fascinating as they meld into their backgrounds…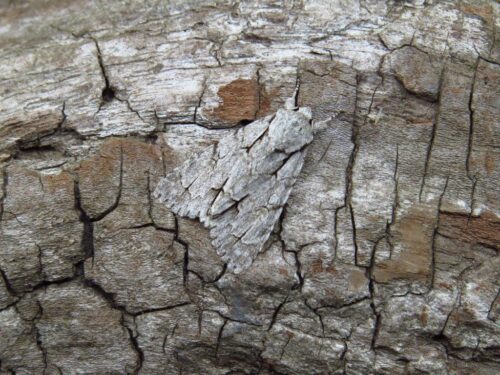 Micromoths too. While generally smaller and posing greater identification challenges, some are very distinctive, including Twenty-plume Moth and Bee Moth.
See here for a full list of what we found : moths BC July 2022
And then there is the bycatch, in many ways just as interesting. Other insects are attracted to light , such as this nymphal Oak Bush-cricket, Summer Chafer and the bug Oncopsis flavicollis.
Credence to the idea that some nocturnal insects are attracted to light thinking it is water was given by the fine Great Diving Beetle which was nestled beneath the trap.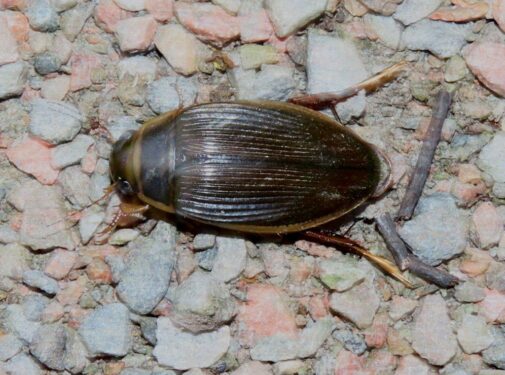 And of course when there are insects gathered, there are also predators attracted too…
All in all, a very pleasant couple of hours before the heat started to build.