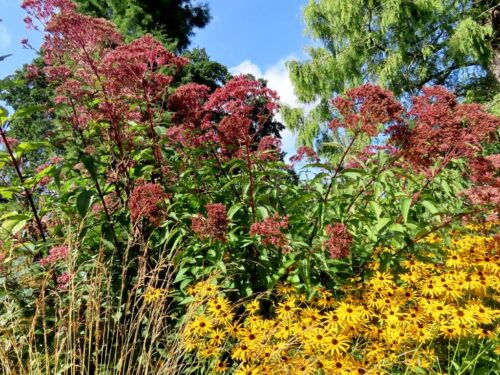 A mixed month, demonstrating the turmoil of seasonal change, September produced several days of  glorious summer sunlight, interspersed with cooler days and sometimes cold nights, and for the first three weeks at least, a near absence of rain. All very typical, and as one would expect, the garden is now burgeoning with seeds and fruits, as increasingly the foliage bronzes…
While fruits are of considerable value to visiting wildlife, the late-flowering nectar and pollen sources are of equal importance, especially to insects putting on a last breeding push or laying down resources for a winter of inactivity. In our 'Twelve-month menu for wildlife' some of the star players are shown here, from  Red-hot Pokers, Colchicums and Persicarias, to the pincushion heads of Succisella, the latter especially  heaving with bees and butterflies.
Commas and Red Admirals have been everywhere, with in mid-month at least several Painted Ladies and a Brown Argus, the latter seemingly not too common in north-east Essex this summer:
Common Darters and Migrant Hawkers have been very numerous around the ponds on warmer days,  and at last (they are late emerging this year), lots of Willow Emeralds, a newish species to these shores, but now one which has become a fixture of the warm autumnal scene.
This month has seen a huge emergence of crane-flies (much to the delight of family parties of Starlings), with hoverflies and robber-flies showing well too.
And our very best insect of the month, a Juniper Shield-bug: once rare in Britain on native Junipers, this is now spreading on garden relatives. But this individual may be only the second ever record from north east Essex, following one we found in May in the nearby Wivenhoe Park. There are always surprises to be found!