The best laid plans….! This was going to be a combined blog of the half-a-dozen planned Naze walks between late October and early December, the late autumn period. Until Covid19 had the last word, as it has throughout 2020, and Lockdown v2.0 descended upon us…
The only trip we managed before being overtaken by events was full, five customers all of whom had been with me on the Colne previously, remarkably on four different occasions.  And it was on a day of lovely autumnal sunshine. Thankfully the heavy showers missed us, but the clouds drifting out to sea left a legacy of wonderful cloudscapes, washed pink from the sun setting behind us.
Bird highlights included some 300 Dark-bellied Brent Geese burbling on the beach (with a goodly proportion of immature birds, in contrast to many recent years), confiding Grey Plovers, Teals flashing electric-green in the late sunlight, and a group of lovely Long-tailed Tits on the undercliff.
This late into the autumn and with south-westerly winds, the cliff-top bushes were unsurprisingly quiet for passerine migrants, although Robins tried their best to fill the silence, along with a few Redwings, Goldcrests and Chaffinches, while small parties of Redpolls trilled over, and five or six Stonechats  perked up the fence-lines on the marshes.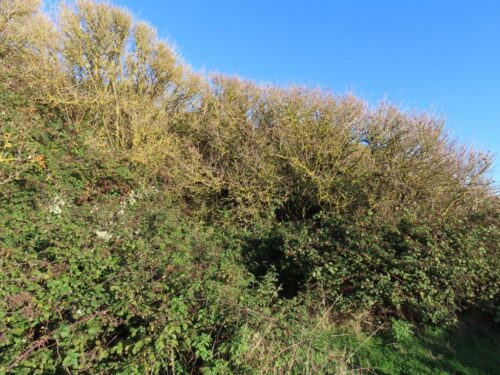 Lingering vestiges of summer included single Peacock and Red Admiral, buffeted in the strong breeze, a late group of three Swallows drifting southwards, Sea Spurge and Sea Rocket still flowering on the low dunes, the spreading alien Narrow-leaved Ragwort colonising the cliff slopes, and our local celebrity rarity Sea Hog's-fennel, some still in flower.
Touched with the low sunlight, sea-walls were transformed into modern art works by radiant lichens, while the salt marshes glowed with Annual Sea-blite and maybe four species of Glasswort, each with distinctive autumn tints. A few sprigs of Common Sea-lavender still in flower were remarkably late, but the most exciting find was the large-fruited Cordgrass Ergot, a fungus I have noticed only a couple of times before, but abundant here.
And last but not least, the internationally important geology: Red Crag shells in profusion on the beach, their surface characteristically stained by iron oxides;  pyritised wood, septaria and copperas from London Clay, with just a few sharks' teeth, the beach having been well picked over by half-term crowds.
Hopefully, walks will be able to restart in December, and dates are now being offered through to the end of February 2021. www.naturetrek.co.uk/tours/the-wild-side-of-essex-the-naze-and-the-walton-backwaters-day-trip