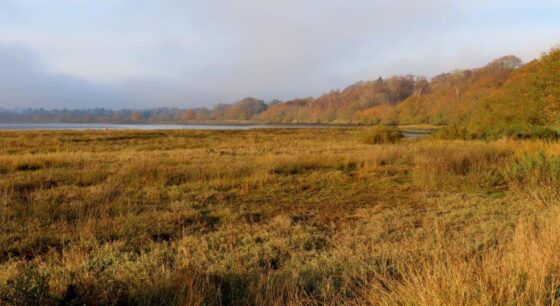 It was good to be back! After a month of Lockdown v2.0, during which the wet weather of early autumn which plagued several of the September and October tours had faded into distant memory, a brighter prospect seemed in order for the first of the December walks.  Nature of course had the final say….
Our first walk, down the Colne started in a peasouper, visibility little more than 50 metres as we set out. Of course that did mean that any birds we did see were close to, like this Black-tailed Godwit, uncharacteristically probing a saltmarsh just 10m from us: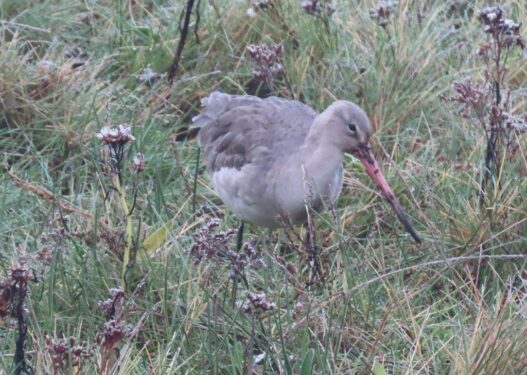 Moving up the Essex Alps to Cockaynes, fog became freezing fog, encrusting every surface in rime. Not a bird stirred; indeed the only sound was ice fall as the temperature lifted a touch at lunchtime.
Heading back down to the estuary, a welcome spurt of sun illuminated Butcher's-broom (in bloom well in advance of its usual February-April flowering season), Cordgrass Ergot and its own parasite Gibberella gordonii (continuing the remarkable showing of these two fungi locally this year), and a host of birds – a thousand babbling Brents, two hundred Avocets, and numerous Knots and Wigeons in the glasslike waters of the rising tide …
… until all too soon, the mist rolled in from Mersea, a chill breeze sprang, the temperature plummeted, the views and birds were enveloped, and twilight stole the day, well before sundown.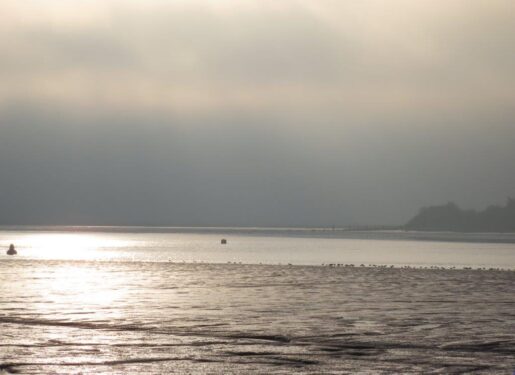 Four days later, the temperature had risen by almost 10°, although it remained still and the estuary sat in a pool of grey, only a distant glimmer reminding us the sun was still out there.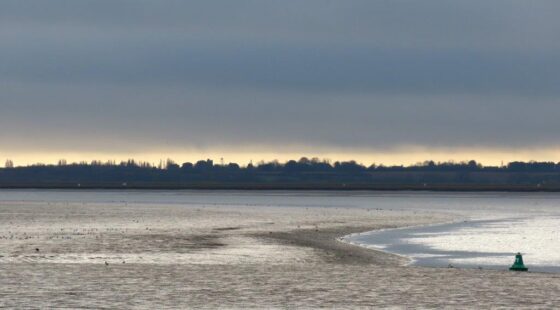 A showy pair of Stonechats graced the grazing marshes as we followed the ebb of the tide, and most of the expected estuarine birds appeared in very good numbers. Several hundred each of Golden Plover, Avocet, Teal and Lapwing were noteworthy, making quite a spectacle. Only Godwits seemed fewer than expected, but in Alresford Creek, midway between the inner estuarine muds and the outer estuarine sands, both Black-tails and Bar-tails were feeding together for instructive comparison between this sometimes tricky species pair.
Despite a couple of (relatively) hard frosts in the past two weeks,  there were still plenty of fungi to see, including Coral Fungus, Jelly Ear, Cramp Balls, Maze-gill and Orange Cup, and the last knockings of an exciting lockdown find, the only example we know of Coral Tooth in north Essex. Elsewhere in the county it is known only from Epping and Writtle Forests.
Dense Blackthorn thickets on the shore, the summer haunt of Nightingales, now devoid of leaves and sloes, revealed their value for an intricate array of lichens, filigree frosting the trunks and branches with seasonal grey and sunburst -yellow.
And finally, a sign of hope in these very dark times – literally, metaphorically, medically and politically – the glowing fruits of Stinking Iris, and the first bloomings of spring flowers including Butcher's-broom and Cow-parsley.
Mid-month it was out to The Naze, the only one of three walks planned there this month that we were able to run.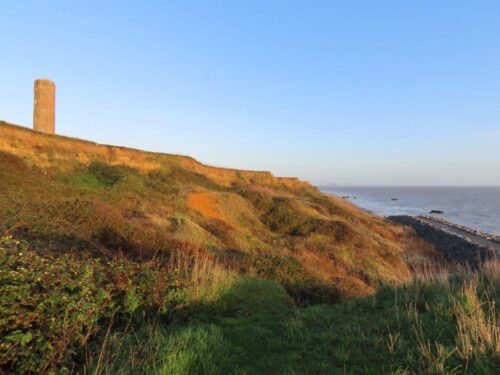 Lovely winter sunlight turned lichens on the salt-blasted clifftop trees into radiant artworks, while new Gorse flowers attracted a few bumblebees and announced to start of 'the kissing season'.
As the tide receded, the beach provided rich pickings for us, from Mermaid's Purses and Piddocks, to mass strandings of Common Whelks…
..and for the sandy foreshore birds: Turnstones, Redshanks, Sanderlings and Bar-tailed Godwits.
And so to the cliffs: recent wet weather had mobilised them into active slumping, mass movement of visceral power, bringing new crops of Red Crag fossils into view for the first time in 2 million years. 'The Wild Side' of our coast at its best!
A last scan, as dusk fell, over what had been a very quiet seascape for wildlife throughout the day revealed two or three Harbour Seals, presumably on a fishing foray from the Backwaters. A fitting end to a fine day out!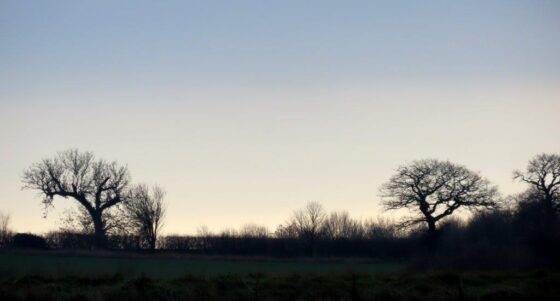 With new Covid restrictions coming into force around Christmas, it may be some time before these walks can recommence. Keep an eye on the Naturetrek web pages for further news:
The Wild Side of Essex: The Colne Estuary (Day Trip) – Naturetrek
The Wild Side of Essex: Exploring The Naze and Walton Backwaters (Day Trip) – Naturetrek