One side effect of Covid19 has been the near-elimination of most overseas travel. Looking positively though, this gives us all chance to reconnect with the wildlife and landscape around us. And so it was that Naturetrek started to offer socially-distanced day tours in Britain, and gave me the chance to continue what I spent much of my working life doing, putting Essex on the wildlife map.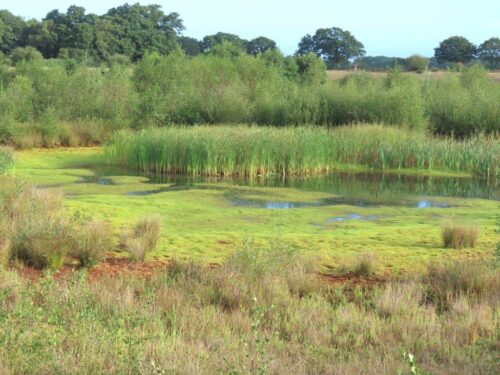 Billed as 'The Wild Side of Essex: Autumn in the Colne Estuary' seemed a little pessimistic given they were starting in August, but as it transpired the weather on both occasions was less than summery. The first coincided with Atlantic Storm Ellen sweeping across the country, 50mph winds buffeting us all day, and the second was as the next named storm, Francis, was subsiding…but leaving turbulent weather in its wake, storms of almost tropical intensity interspersed with hot, humid sunshine, and an abrupt change of wind direction near the end of the day which saw temperatures plummet by several degrees in just a few minutes.
Nevertheless, we had fun in the unseasonal wind and rain, and found plenty of wildlife to keep us interested.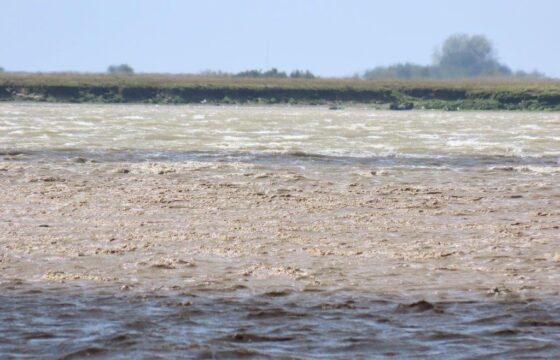 Estuary birds were starting to return from their northern breeding places, with many Black-tailed Godwits in particular still in smart summer plumage, hundreds on the downstream itinerary, but also some, giving much better views, on the upstream walk.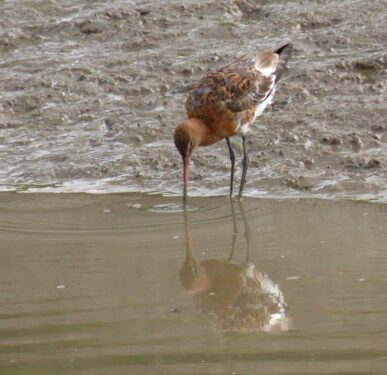 Also downstream, lots of Redshanks, about sixty Avocets, and a few Curlews, Turnstones and Little Egrets gave added spice, as migrating Swallows struggled into the wind, and a couple of White Wagtails completed the migrant roll call.
Smaller birds in general were kept very low by the inclement weather, although the woods and hedges were shrilling to calls of roving Long-tailed and Blue Tit flocks. In Wivenhoe Park, a Green Woodpecker put on a good show of hunting for ants.
Insects were also hard work, given the weather, but by heading for shelter and taking advantage of sunny spells, we came upon seven species of Odonata, mostly Common Darters and Migrant Hawkers. Upstream, the latter were almost swarming in places, and the aggregations included single Brown Hawker and most excitingly given its only recent arrival in these parts, a Southern Migrant Hawker…sadly without providing a photo opportunity.
Butterflies included both summer stragglers (Common Blue, Small Heath, Small Copper and Gatekeeper) and the autumnal fare of Red Admiral and Speckled Wood…
…while moths provided interest in their larval stages – Cinnabar (on Hoary Ragwort), Toadflax Brocade (a recent recolonist of the UK) and the impressive case of Coleophora kuehnella.
Other invertebrates included Green Shield-bug and Scorpion-fly, Batman Hoverfly and Pine Ladybird, while an Elm Zig-zag Sawfly larva was only the second time I have found this recent British arrival around Wivenhoe.
Of course, one doesn't always need to see a creature to know it is there, for example when its activities trigger the formation of a gall in a host plant. Autumn is the best time to find these, and on our walks the most productive hosts were Pedunculate Oak (spangle, silk-button, marble and knopper galls, for example), Dog Rose (smooth pea and Robin's pincushion galls) and willows (bean and camellia galls).
Much the same is true of fungi, microfungi in particular. Some of those do indeed also induce galls: others however, while not distorting the leaf growth, do give rise to distinctive symptoms – take for example the mildew Erysiphe alphitoides on the summer leaves of Oak, and tar-spot Rhytisma acerinum on Sycamore.
Large fungi though were few and far between, the main ones being long-lived bracket fungi like Chicken-of-the-Woods in Wivenhoe Park. No doubt this reflects the two intense drought periods of spring and summer this year: perhaps the late August rains bode well for the rest of the autumn?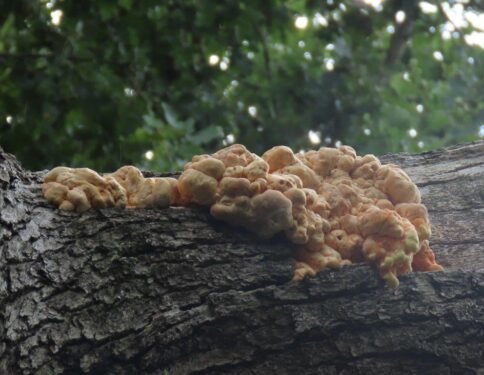 The final flowerings of summer included all sorts of specialities, from block-paving rarities (Jersey Cudweed and Four-leaved Allseed)…
… to salt and grazing marsh specialities like Sea Wormwood, Strawberry Clover, Golden Samphire, Sea Aster and Perennial Glasswort …
… showy remnants of the summer meadows (Chicory and Field Scabious) mingling with autumnal nectar sources (Common Toadflax and Perforate St John's-wort) and nationally scarce Lesser Calamint, feast for the nose as well as the eyes …
… to the colonisers of 'life after gravel extraction' at Cockaynes Reserve,  such as Common Fleabane, Trailing St John's Wort, the non-native Epilobium brachycarpum, Smooth Hawkbit (at its only known Essex site), and Heather at its last locality in the area, this year more magnificent then ever before.
A feature of this year seems to be the early and heavy fruiting of trees and shrubs, Nature's autumnal bounty writ large. No doubt these will feature heavily in the next few walks:
And last but not least, the one things pretty much immune to the vagaries of the wild weather (we hope!) there were magnificent trees everywhere, especially in Wivenhoe Park with its historic 200 year-old Cork Oaks.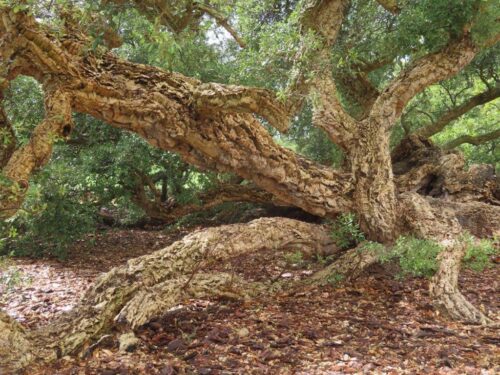 All part of the Wild Side of Essex, from birds to botany, galls to geology!