The largest contiguous ancient woodlands in the county, Hockley Woods sit astride the 'southern Essex Alps', a ridge of London Clay capped with sands and gravels. They were the focus for the latest Naturetrek day trip, searching for Heath Fritillaries.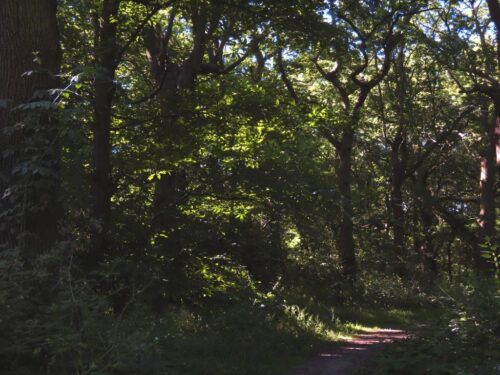 And what a treat the steaming hot day provided! Fritillaries flitting en masse throughout the main coppice in numbers greater than I have ever seen before, an estimated 500 on the wing, possibly more than anyone else has seen on one day in Essex since well before their extinction in the mid-20th century. What a pity that this spectacle was witnessed by just our select group of three of us…
Some had clearly been on the wing for a while, maybe a week or so, to judge by  the fading and wear, but there were many  fresh, pristine ones, rapidly getting on with the business of making next year's generation.
It has been a long, complex story of neglect, extinction, research and reintroduction but we do now have a thriving population of the fritillaries. But we should not rest on our laurels – the main arena will start to lose its allure as coppice regrows and the food plant is shaded, and some of the rides are showing the signs of missed management. So more ride work and more new coppices is the answer.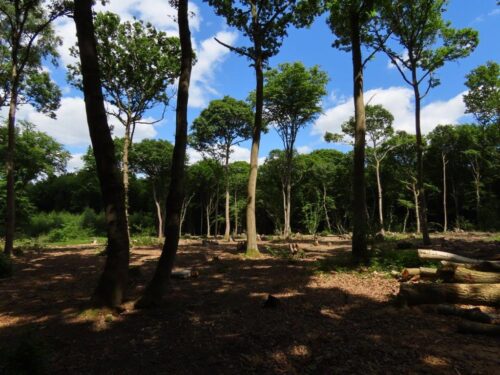 Other butterflies were few and far between – we are firmly in the 'June Gap' – but included Holly Blues and Speckled Woods, and single Meadow Brown and White Admiral.
Micromoths included a few Green Oak-rollers and lots of Gold-barred Longhorns, albeit too warm for dancing displays.
The frit fest may have been the main course, but there were plenty of other rich pickings as well. Although late in the season for woodland flowers, there was plenty of interest in the open ride sides, with Bush Vetch, Foxglove, Heath Speedwell and Yellow Pimpernel, along with flowering Honeysuckle, and of course Common Cow-wheat, foodplant for the fritillary.
Some old Silver Birch trees were heavily infested with Birch Bracket fungus…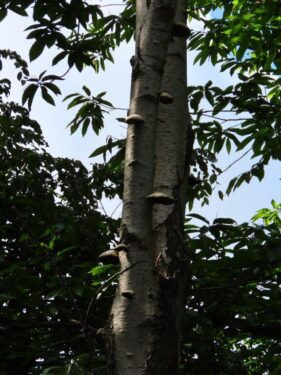 … while Birds, mostly heard, included Chiffchaff and Blackcap, singing Stock Dove and displaying Common Buzzard, and family parties of Long-tailed, Great and Blue Tits.
And then the remainder of the insects and invertebrates. Emanating from the numerous Wood Ants' nests was a Four-spotted Leaf-beetle…
…. and other sightings included Black-striped Longhorn beetle, Figwort Weevil and Spear-thistle Lacebug along with hoverflies, bush cricket nymphs, spiders and much more.
All kinds of everything: rich biodiversity in the heart of suburban south Essex. More than 30 years since I notified the woods as an SSSI, I am very happy to report they are now in an even better state than when I moved on (even after years of pandemic pressure), thanks to the management work of Rochford District Council.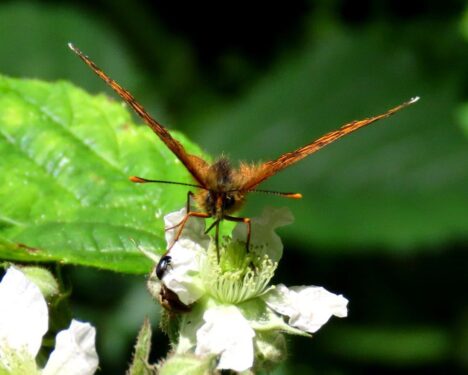 .