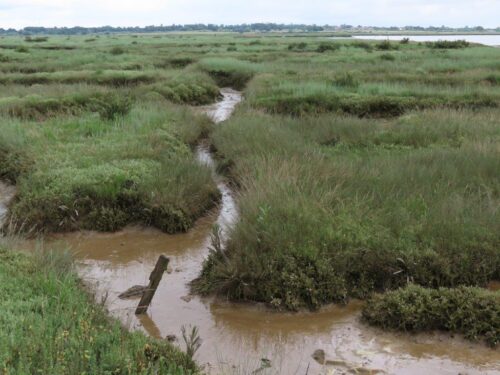 It is amazing how much there is to be discovered on a short walk along the lanes and salt-marsh edge, even on a damp and dark morning.
There was no shortage of plants! Closest to the town, as always, there was the 'Dog wee plant community' – Common Mallow, Wall Barley and Hedge Mustard, all of which thrive on the high nutrient-levels.
Other plants we noticed in this area included the Hairy Bindweed, which is not at all common and it is good to know where it has a stronghold. It occurs here in two forms, including the 'split-trumpet' type.
Along the field margin we saw Hairy Buttercup and False Fox-sedge …
… and here we were also treated to a few insect delights: a Striped Slender Robberfly enjoying his (substantial) lunch, a Small Heath butterfly and the unmistakeable red-and-black Cinnabar moth. The combination of red-and-black (as well as yellow-and-black) in nature acts as a warning, and a deterrent to would-be predators – in the case of Cinnabars their larvae (yellow-and-black) feed on Ragwort which is known to contain toxins.
Along the sea wall more insects were waiting to be noticed (and not trodden on…some insisted on sitting in the middle of the path!).  These included the Nationally Scarce weevil Liparus coronatus (wonder if it is 'coronatus' due to the gold ring around its neck?) plus a rather splendid Ground Lackey caterpillar – again Nationally Scarce and a specialist of coastal and salt-marsh areas – and a magnificent Cream-spot Tiger moth, again largely a coastal species.
Two plants stood out as particularly interesting – Crow Garlic and the Duke of Argyll's Tea-tree.
Important salt-marsh plants which we discovered at the furthest point of our expedition included Golden Samphire, Sea Wormwood, Shrubby Sea-blite, Sea Purslane and Sea-lavender. Each has different mechanisms for coping with living in salty conditions – some are more succulent-like and preserve fresh water in their stems, whilst others excrete salt onto their leaves – desalination plants in the true sense!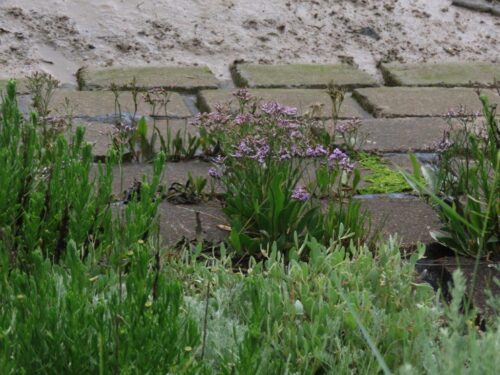 Birdsong accompanied us throughout the morning – amongst other avian life we heard Whitethroats and Skylarks, and saw Swallows, a Little Egret and an Oystercatcher chasing Crows away from its nest.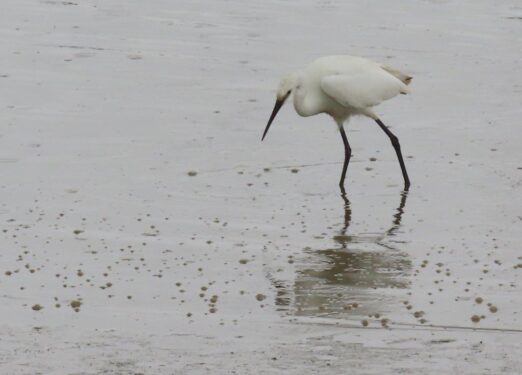 We so enjoyed the tranquility of the walk, thank you all, and hope that your efforts (and hopefully also our joint discoveries) will help to prevent the area being spoiled by yet more unsustainable and intrusive human activity.