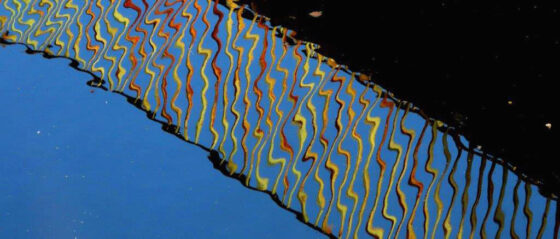 After the success of last year's three-day event to Burnham-on-Crouch, we decided a second one was in order – this time to the not-usually-associated-with-wildlife Essex town of Harlow.  Our band of enthusiastic ladies were game for anything, and we'd like to thank them all for their interest in all we arranged and their sense of fun!
Our base at the Harlow Mill Premier Inn was most comfortable, and sitting outside with a drink hearing the running water from the mill pond into the Stort Navigation Canal was just delightful.
We mixed some walking along canals with visits to gardens, a mill, a museum, churchyards and pubs, plus a train ride and a walk to the most odd, brutalist, (but exciting to Chris!) zig-zag bridge…
The main focus of course was the wildlife which we found at every turn – from our second-only sighting of a Southern Green Shieldbug to the exploding seed pods of Himalayan Balsam to Ivy Bees enjoying every Ivy bush we encountered.
Everywhere were bushes and trees absolutely laden with fruits and berries. And plenty of those fascinating structures, galls and leaf-mines, too.
Water played an important part of the trip, us spending a considerable part of the first two days enjoying walking along the banks of the River Stort and Canal.  Listening out for birds we heard the 'peep' and then the blue flash of a Kingfisher or two, the high pitched tinkling of Goldcrests, the screech of Parakeets (though no sightings, sorry Jean!), plus ubiquitous Robins and Chiffchaffs performing their autumn songs.  Ducks and Moorhens on the river were showing signs of Spring-friskiness – no doubt due to the day-length being similar to that of Spring when they would be getting up to such activities!
Insects along the way included dragonflies and damselflies, bees, hoverflies, grasshoppers, and an Alder Leaf-beetle (only the third record for Essex, but well established here judging from the number of holes in the leaves) and ladybirds of many types in various stages of their development.
The flowering season is coming to a close, but along with the beautiful but invasive Himalayan and Orange Balsams, there was plenty to see from festoons of Hops to strong-smelling Water Mint, and emerging fungi hinted at what looks like shaping up to be a bumper autumn.
A pleasant walk away from our hotel was the famous Gibberd Garden – a mixture of wild and more-tended areas, lots of sculpture and a castle with its own moat.  My heart went into my boots when, on arrival, the board outside stated it was 'Closed for Private Function' but that turned out to be an admin error  (phew) – so we got in OK and were virtually all alone to explore as we wished. Coffee and cake in the Barn were very welcome as the afternoon went on.
En route to the garden we had encountered several Juniper Shieldbugs (one trapped in a web, which we of course rescued) on an Ivy bush.  This is puzzling given that they are meant to spend their lives on Juniper and related species, and so we will be asking the experts about this unusual behaviour. There was a Cypress tree across the road, but why they should be branching out we don't know.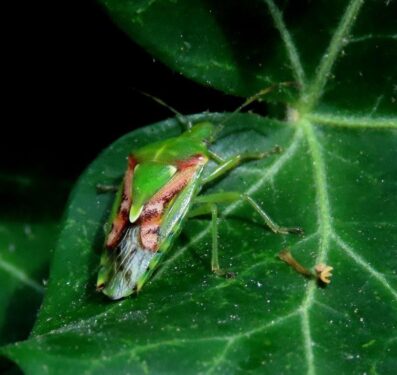 On the final morning we went into the heart of Old Harlow, through the Greenway and on into Gibberd's New Harlow  for a tour of some of the many green spaces, 'The Lawn' Uk's first residential tower block The Lawn (Harlow) – Wikipedia,  and a churchyard full of gravestones covered in colourful lichens where many interesting stories were revealed by the two ladies working in the grounds.
We concluded our mini-break in the delightful Harlow Museum.  This has so much to enjoy – from a walled garden full of interesting plantings, (where Chris saw evidence of the Figleaf Skeletonizer moth for the first time, it only recently having arrived in the UK), to a gin still, to an unusual exhibition of Penny Farthings and other bicycles. It really is the epitome of a good local museum, and a credit to Harlow Council.
As organisers, we were thrilled with how the trip went, not only for the camaraderie and pleasure of being in each other's company, but also for the excitement of discovering new things.  We will be sending records of the Southern Green Shieldbug, Alder Beetle and Figleaf Skeletonizer moth to county and national databases so evidence of our trip will be set down in the annals of history!
During our last evening's meal we discussed the possibility of a 3rd Wild Essex on Tour trip next year – who knows we may even cross the border into another County!  Do get in touch if it is something you may be interested in.