A rather murky February morning saw us and our enthusiastic group gather for our annual foray to Cockayne's Nature Reserve. Well-managed by the Cockaynes Wood Trust, this is one of Wivenhoe's best kept secrets – a tranquil place comprising two sections of wood, with open areas of heathland and ponds in between and which supports a vast variety of wildlife.
Prior to 1986 it had been one continuous stretch of wood but, due to its importance as a sand and gravel resource, was at that time earmarked for destruction and extraction.  Fortunately, the sand and gravel company asked for Chris' professional advice as to how retain some features to be 'best for wildlife'.  The presence of two rare species – the Scarlet Elf-cup fungus (that area being the only known north-east Essex record at that time, and probably still to this date) and Heather (very scarce in Essex) – shaped the final plans and areas containing these were spared the chainsaw. Happenstance is not a great conservation policy, but sometimes as here it works, sowing the seeds of the reserve we see today.
Not only that, the resulting pits from which the gravel was dug were saved from landfill, and allowed to remain open, naturally fill with water and vegetation and have become important habitats for birds, both local and migrating.  Birds using the lakes on our visit included the relatively rare Water Rail with its 'squealing pig' call – these nestle in reedy beds and are rarely seen. Plants including our two types of Reedmace sit happily side-by-side in the lakes, both providing abundant seeds for birds.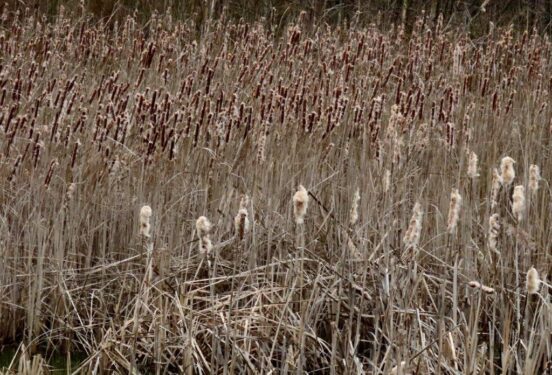 Around the reserve, open heathland is developing well, rewilding itself after the traumas of gravel extraction. It really repays getting down low to see the grey, bristle-branched cushions of Reindeer Lichen, and unique to this time of year the gloriously orange mini-forests of Juniper Hair-cap moss sporophytes.
Whilst sunshine would have been lovely, the still, damp air made the woods most atmospheric, and we were accompanied by the thrice-repeated call of the Song Thrush (a bird which has suffered horrendously through use of slug pellets which poison its food, and therefore it), and two types of Woodpecker, Green and Great Spotted. Bright green mosses carpeted fallen branches and trunks, along with Turkey-tail fungi, and provided swathes of colour, while the little grey-green spikes of Bluebell leaves were spearing through the leaf-mould, and the spring-greens of Cow Parsley – a joyous tapestry of greens all lighting up the banks of Sixpenny Brook.
We were on the look-out for Signs of Spring and were rewarded with the male catkins and female flowers of Hazel, wonderful golden curtains en masse, Gorse flowers and the just-flowering buds of  Pussy Willow.
A few flowers on the woodland floor were beginning to raise their heads, including Lesser Celandines, just about poking through their marvellously marbled leaves.
Otherwise, plants included Red Dead-nettles (one of the species that welcomes the first-emerging bees of the year) and as we walked up Ballast Quay Lane, flowering shrubs like Winter Jasmine, proving just how important wildlife-sensitive planting can help our gardens to 'improve on Nature' at this low-point time of year for the British landscape.
Given the time of year and temperature, we  were not expecting to find much in the way of invertebrate life, but we did find a spider curled up on a rush flowerhead,  Larinoides cornutus.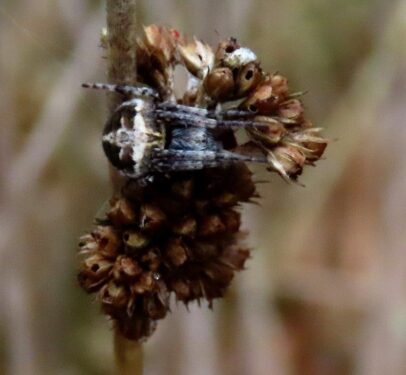 As always we are grateful for local charities including Essex Wildlife Trust (recipients of our donation today) and the Cockaynes Trust for looking after increasingly important sites such as these, for us and future generations to enjoy.