Thank you to all who came along to our inaugural 'Botany and Bug' walk this morning – we hope you enjoyed it as much as we did.  Despite a rainy start, the weather improved and we were able to sample some of the wonderfully diverse wildlife on our doorstep, in Cockaynes Nature Reserve.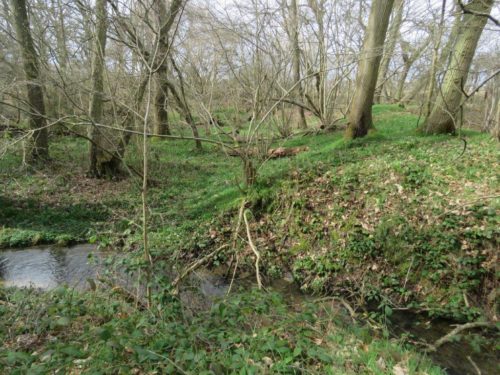 We do not intend these short reports to be a list of all that we saw,  but some highlights include the Scarlet Elf Cap fungus, extremely noticeable amongst the understorey in Villa Wood; other fungi included the Maze-gill, King Alfred's Cakes and Turkey-tail – such wonderful names! 
Woodland flowers included Opposite-leaved Golden-saxifrage; Town-hall-clock in all its unique glory; and Primrose and Wood Anemones bursting forth. 
The woodland edges had good examples of male and female Sallow flowers, attracting passing bees, and the Gorse looked particularly bright, giving off its characteristic coconut fragrance in the sunshine; even the ground-hugging mosses are starting to look their best, covered in flower-like reproductive rosettes.
 Amongst the bug life, we started off with a Green Shield-bug, but one that belies its name as it was in its drab winter colours, just having emerged from hibernation. Likewise, a Hornet was seen emerging from a decaying wood stump; the rare and local mining bee Colletes cunicularis was seen in large numbers (more it seems every year) in the sand banks; and a Zebra Jumping-spider with its fly lunch posed on a gatepost.
An ex-Minotaur beetle (in two halves) was nevertheless an interesting find as this fairly local beetle is able to make its home in this much needed invertebrate-friendly reserve. Sadly, Green Tiger-Beetles were not showing for us (the photo is from last year) – all the more reason to return in the next couple of months!
The next walk will take place on May 5th when we shall be looking to discover some of our local flora and fauna at Barrier Marsh/Grange Wood.  We hope that some of you will be able to join us.  If you are interested please email jmgibson1959@btinternet.com to book your place.  A fee of £8 will be payable on the day please.