We decided to try something new this month – the long warm nights seemed too good an opportunity to miss –  so we spent two very enjoyable evenings with some of you local nature-fans enjoying the beauty that is Wivenhoe, with some wildlife thrown in!
The jetty is a wonderful spot for admiring the river, the salt marshes and the big Essex sky.  Looking heavenwards on Saturday we were privileged to witness a 'Sun dog'.  This phenomenon only occurs when the time of day, year, and weather conditions are just so.  Sun dogs come about when the "22 degree halo round the sun intersects with the parhelic circle centred on a point directly the observer" (phew!) and are manifested as two fleeting bright spots like rainbows, either side of the sun.  And like rainbows we all see our 'own' version of them, directly in line with our visual gaze.
Monday evening was different,  a more traditional cloud- and water-scape sunset, but those who were waiting on the jetty a few moments before we started were lucky enough to hear and see a Kingfisher, quite unusual for this time of year, although a frequent visitor to the dock in the winter months.
We  discussed the history of the river, and the various benefits/ disadvantages of the barrier.  Of course, it keeps Wivenhoe and much of Colchester safe from flooding  (a distinct benefit!), but at the cost of altering river flows. Along with the cessation of dredging now the upstream ports have closed, this means silt is building up.  This in itself is not all bad news of course – the accretion of mud is allowing salt marsh plants to become established.
Some, like Sea Aster, are useful nectar sources; others such as Marsh Samphire are edible for us humans (though possibly being so near the sewage works at the Hythe makes that a  less-than-appetising prospect!). Sea-purslane is noteworthy, being its own desalination plant – it takes in salt water and excretes crystals of salt from its leaves.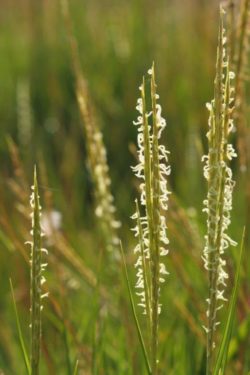 Common Cord-grass has an interesting provenance, being a hybrid of two types of cord-grass, one native and one from America, but unlike most hybrids which are generally infertile has now become able to reproduce by seed and as a consequence is spreading.  At present it is not a problem here in Wivenhoe, but its aggressive growth, at the expense of native plants, is proving troublesome on some salt marshes.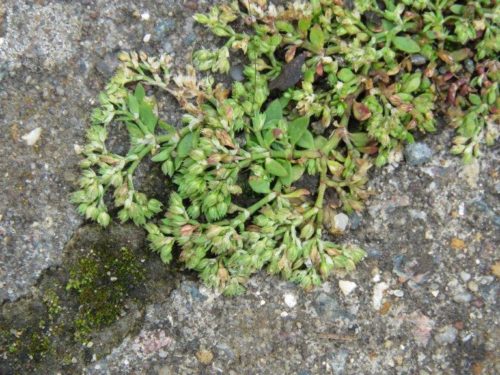 The two-leaved form of the Four-leaved Allseed is a small and unprepossessing plant, but very rare and grows for unknown reasons along patches of Walter Radcliffe Road.  This is despite the best efforts of Trinity Estates to eradicate it  (along with anything else that has the audacity to try to grow along our roadsides) with highly toxic chemicals.  This plant used to be known only in the far south-west of England, but recently been spotted along the Thames Embankment and has now arrived at Wivenhoe.  On boots, boats or car tyres?  We shall never know.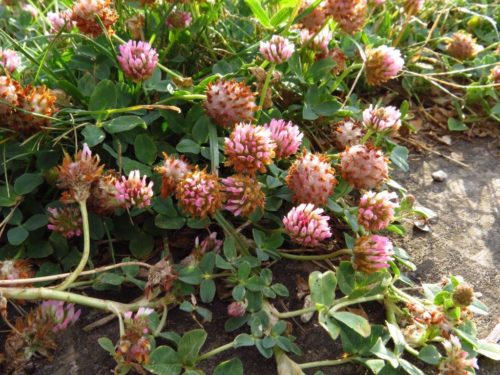 The seawall beyond the Sailing Club is well stocked with plants particularly suited for the salty conditions – including Strawberry Clover and Dittander – which bring some welcome colour and of course food for insects.
On Barrier Marsh itself are myriads of anthills, some very ancient, a good indicator of unploughed and infrequently inundated marshland.  Though we well remember December 2013 when due to the 'perfect storm' conditions of low pressure and spring tide, the sea wall was overtopped – here's a flashback, and perhaps a vision of the future: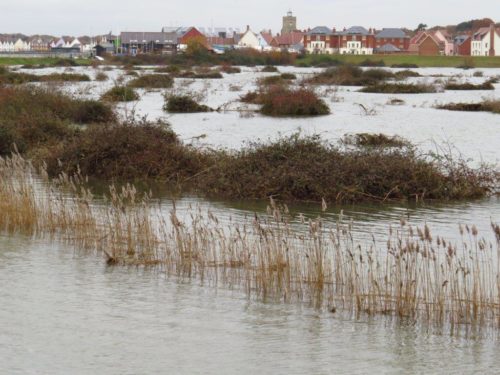 A walk across the marsh did not unfortunately bring forth any Glow-worms on either evening but the presence of three species of bat was picked up thanks to our clever detector.  This 'Batscanner' automatically switches to whichever frequency is being emitted by any passing bat – each species uses a unique frequency to 'echolocate', so if you can find out one you can work out the other.  On Saturday two species of Pipistrelle were picked up, and on Monday the larger, more uncommon Serotine.
Talking of new toys, these evenings  were opportunities  for us to try out our new battery-operated portable LED moth trap.  Not having being road-tested before, we were delighted how far that little candle threw his beams, attracting several species of those most mysterious of nocturnal creatures.  On Saturday a huge number, hundreds in fact,  of tiny white Water Veneer moths, appeared.  These have a very short adult life-span, sometimes only hours, so we were glad to provide an opportunity for lots of them to 'get together' to do what moths do, and hopefully when we turned the light off at 10.30 they all had the opportunity to fly off and lay their resultant eggs (the females anyway!).
Other moths that paid us a visit included Ruby Tiger, Dingy Footman (dubbed by one of our group as the 'Pumpkin seed moth'), Cloaked Minor, Yellow Shell, Maple Prominent and Garden Carpet. Don't they have brilliant English names?  Of course they all have their Latinised scientific names too, but generally moth-ers only refer to the tiny micromoths, which do not have catchy common names, by these.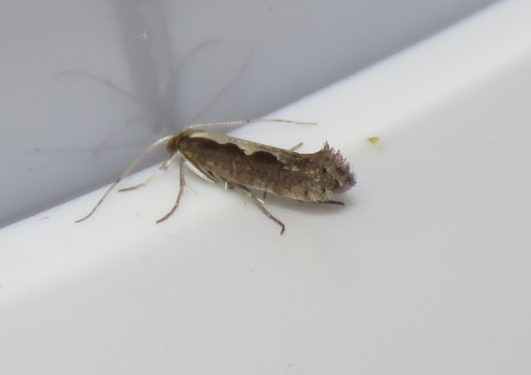 But there are exceptions: Water Veneers have already been mentioned, while the Diamond-back Moth, of which a couple dropped in, deserve a common name by virtue of their distinctive markings and habit of arriving on our shores after migrating from the Continent on wings only 8mm long.
Other creatures popped in to say hello too, attracted by the light – Harlequin Ladybird, caddisflies, a  mayfly and a cute Nut Weevil.   Once everyone had had the chance to have a look, all were released and allowed to carry on their nocturnal business unharmed and undetained.
It was surprising how the difference in conditions (more breeze, less cloud cover resulting in a lighter evening) made the mothing less productive on Monday.  Interestingly there was not one Water Veneer, supporting the theory that these, and many other creatures, all emerge at precisely the same time.  After all, it is no good hoping to mate if there is no one else around to mate with!  A few tiny micromoths fluttered in and out, but the main catch of that evening was a Rosy Rustic.
All photos in this report are our own, but other than the moths and sunsets, most were not actually taken on the nights in question, due to poor light conditions.  We hope that everyone who came along enjoyed this venture into the unknown!