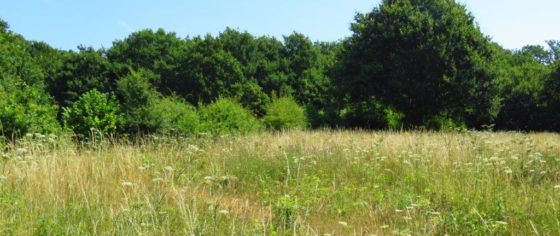 Phew!  What a scorcher!  Thank you to the participants of today's Botany and Bug walk at Lower Lodge, and hope that you enjoyed seeing what is surviving this almost unprecedented dry spell: our last walk six weeks ago followed the last rain recorded in these parts, with no more than a hint of it in the next two weeks' forecast….
Amazingly a lot is hanging on, and in fact doing rather well considering.  The uncut swathes are full of plants and alive with insects.  A vast contrast to the desert-like parched areas of mown grass.  A lesson to us all in what we can do to help the continued survival of our natural world: natural habitats have natural resistance against environmental stresses.
Insects were out in number and love was certainly in the air!  We rather voyeuristically watched the 'goings on' of  various pairs – the stunning Black-and- Yellow Longhorn-beetle; Common Red Soldier (aka Hogweed Bonking) Beetle; and the totally differently positioned Forest ( or Red-legged) Shield-bug.  Following on from this theme, a rather beautiful cache of ladybird eggs was seen glinting in the sun.
Other creatures of interest included several species of butterfly; two sorts of skipper; a long-horned moth;  plus both 5- and 6-spotted Burnet Moths. The egg cases of these beautiful day-fliers are curious affairs, and we were lucky enough to see one clinging to a grass stem.    Caterpillar fans were delighted to see the yellow-and-black Cinnabar Moth larvae out in force, chomping their way through poisonous Ragwort.  In addition a selection of ladybirds, spiders, bees and grasshoppers  made for a varied couple of hours.
We were aware of the presence of microscopically small creatures too – in the form of galls (abnormal growths caused by something living in or on the host plant and causing its cells to enlarge and provide shelter and food for the gall-causer). Oaks are particularly interesting where galls are concerned – in fact in the UK various kinds of Oak support over 50 different kinds of them, on leaves, buds, stems, acorns and sometimes on the trunk. We saw a few of these today – the artichoke;  ram's-horn; marble; knopper and spangle-galls.  Others were no doubt there had we had longer to search.  And it wasn't just the Oak, Willows too supported a variety of gall-causing insects and mites.
On the plant front, a favourite was Wild Carrot – an umbellifer loved by many kinds of insect.  The variety we encountered has a tiny red flower in the middle of each umbel which acts as an attractant to other insects to 'Come on Down and check out my pollen'.  The Jack-Go-to-Bed-At-Noon flower had indeed gone to bed very early, and most were now in rather beautiful seed-head form. Bird's Foot Trefoil and Scabious provided some colour and we were all interested to listen  to the popping seed heads of the Tufted Vetch.  These were exploding in the heat and dryness, popping their seeds into the air to propagate for next year. Who said plants are silent?