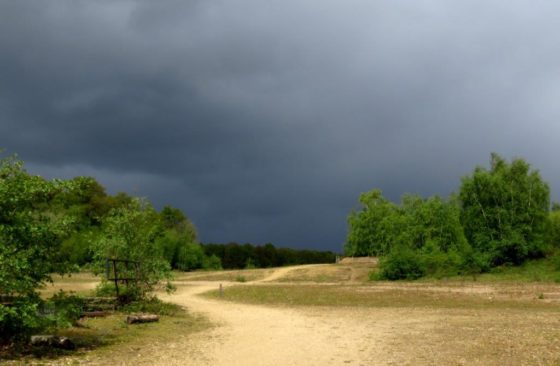 So, which of these is a weed? Dandelion or Silver Birch?  The answer seems pretty obvious, doesn't it, but in reality they both may OR may not be thought of as weeds.  It all depends on where you are and what you want from the land on which they are growing.  A weed is just a plant growing in the wrong place.
This was a topic of discussion on our Botany and Bug Walks this month.  Two groups of hardy souls (given the weather which was thrown at us) enjoyed a visit to one of our least-known beauty spots, namely the Cockaynes Reserve.  This reserve comprises two woods, with a patch of bare sandy soil near lakes which are the happy result of intensive sand and gravel extraction some years ago.  The whole site is a wildlife haven.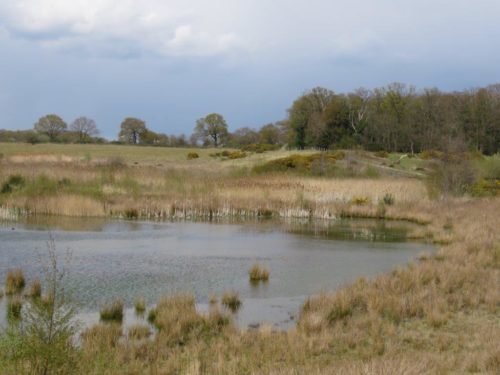 The sandy open ground is well managed by the Cockaynes Wood Trust specifically for our ultra-important (considering the state that we have all got ourselves into) invertebrates.  Without insect life, humans would disappear within a short time.  So….the Birch which naturally wants to grow in the sandy soil area is removed to allow room for insects to move in, nest and generally do what comes naturally to them.  A prize example of the insects is officially called the Early Colletes bee, though we would like to make a case for it to be known as the Bunny Bee.  The second half of its Latin name 'cunicularis'  shares the root with that for Rabbits.  And it does share some rabbit-like characteristics, in that it is furry and burrows in sandy soil ( not sure about the fluffy tail though).   And (at least when the weather is warm) many hundreds of these bees can be seen nesting and buzzing along the sand banks.  This is nationally a very important colony for these useful pollinators.
So what about the Dandelion? Well, this old favourite is 'Welcome at Cockaynes' as one of the most important late-spring sources of nectar and pollen for insects.  A curious fact…what we think of as the dandelion flower, is in fact many closely packed in together.  Each little orange blade is an individual flower, which is easier to comprehend when it has turned itself into a beautiful clock seed-head… each seed comes from an individual flower.
Many other woodland plants were to be seen and enjoyed.  Of course, the favourite, the Bluebell, as well as Wavy Bittercress, Opposite leaved Golden-saxifrage which just loves living near the brook, and Red Campion (which grows as either an all-male or all-female plant) plus a myriad of others.
Three types of fern are found in  Villa Wood – Broad-Buckler and Male Ferns thriving in the lush conditions beside Sixpenny Brook, plus Bracken on the higher, drier soils. 'The degree of pinnation' Chris used to help identify them sound complex, but all it really means is 'ferniness'….
Given the cold wind and sharp hail showers insects generally were pretty thin on the ground.  But our eagle-eyed groups did discover some nice examples – a Squash Bug sunning itself, bumblebees, flies plus a few moths.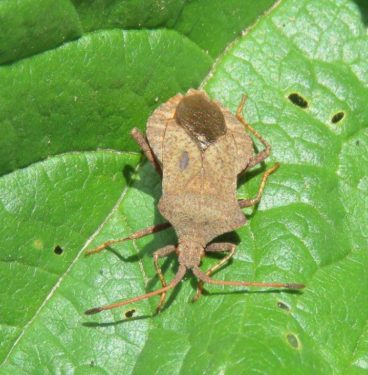 In fact we found the smallest moth in Britain!  Micropterix calthella enjoys spending time in the cups of buttercups. They may only live for a few hours and so have to do what they have to do as a priority.  We caught a couple doing just this…..   Aren't they handsome, and only 4mm or so long!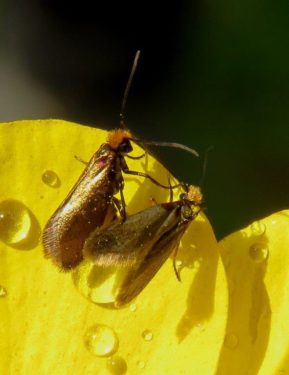 Another rather lovely moth enjoying a brief spell of sunshine was the Clouded Border.  It boldly lies out full view of any passing predator, knowing that it is partially protected by its disguise…it does look rather like a bird poo.  It belongs to the Geometrid group of moths, this term meaning 'earth measurer' and their caterpillars are the 'inchworms'.
Having walked up past the lakes now full of water plants and a few birds, we finished our walk at the top, at Cockaynes Wood.  This is a much drier habitat than the lower, Villa Wood. And near it are a few patches of Heather, a very rare plant to grow in Essex.  Near here is a lovely field, which has been just left and apparently un-herbicided for a while, to allow many pretty annual plants to take root.  Many of these may be considered 'weeds' in a garden…they grow readily in disturbed soil.  But here, they were just delightful to see, and much better thought of as less-prejudicially as 'Arable Plants': Field Pansy, Groundsel, Fumitory, Poppy and Wild Radish.