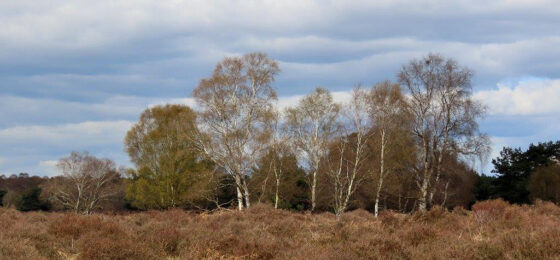 Spring it may be, but it felt more like February, with a Siberian breeze keening across the heaths, continuing the recent cold snap which seems to holding back summer birds, insect emergences, and flowering – the Blackthorn in places still in tight bud, at least three weeks behind schedule.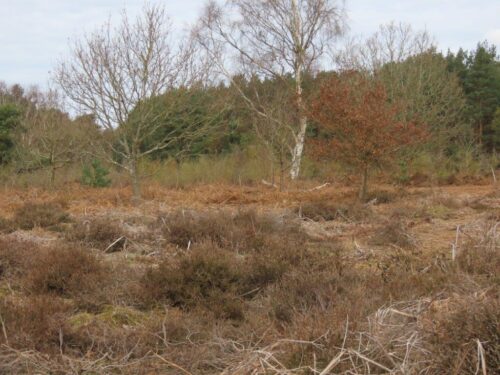 So Woodlarks, whose cadences should now be resounding across the Sandlings: reduced to a few half-hearted attempts in the sunny spells. Pairs each of Stonechats and Dartford Warblers added to the heathland flavour, as Chiffchaffs and Blackcaps sang from the Silver Birches. But for summer visitors at least, that was it, save for a possible, never-confirmed snatch of Redstart. Otherwise, bird-wise, the lingering memory is of the noisy groups of Redpolls flying over all the time, with Siskins and Crossbills too, but in much smaller numbers.
Plants likewise have been held back, but there are at least a group of interesting Sandlings plants identifiable by their distinctive leaf colours and growth forms, from the vivid red splashes of Mossy Stonecrop, to the tight, pinnate rosettes of Bird's-foot and blue-green Buck's-horn Plantain.
Common Stork's-bill and Sand Sedge were just coming into flower in the sandier patches, and on the low trackside banks, Spring Beauty, Spring Whitlow-grass and especially Shepherd's-cress, the mini Shepherd's-purse so characteristic of Sandlings soils. Other specialities included White Horehound and Climbing Corydalis.
Gorse of course was in flower, although not the autumn-flowering Western Gorse here in an easterly enclave, as were the Birch trees, with upright female and dangly male catkins.
And it was Gorse that was the focus of insect activity, insofar as we could find any. During sunny spells, in the lee of a big clump of Gorse, the temperature was perceptibly higher, the coconut scent started to give promise of warmer days. An a few insects duly revealed themselves: Buff-tailed Bumblebees, a few solitary bees and hoverflies, basking Gorse Shield-bugs, tiny Gorse Weevils, smaller than the holes they were biting in the petals. And most numerously, what seemed to be a very fresh emergence of Lesser St Mark's Flies.
Elsewhere warmth-lovers were absent. No sign of Adders, just a couple of Cream-spot Tiger caterpillars trundling their way across warm patches of sand, and also a couple of Viviparous Lizards, finding warmth and shelter on an ant-hill and an old, decaying log respectively.
Not perhaps the riot of Spring we had hoped for. But there is always, but always something to find. And after a long, damp, grey winter of Covid confinement, the sense of space and different scenery felt so good. And we still have the real riches of the season to come…!