Thanks to all who joined in with us for the first B&B sessions for 2021.  We both felt rather rusty, having had so many months off, but hopefully we managed to find enough to show you to make an interesting hour!
Due to the cold weather, particularly on Saturday, insects were very thin on the ground.  The main delight was the bees  – a few prospecting queen bumblebees  looking for a suitable hole to make a nest, plus some entertaining Hairy-footed Flower Bees. These are 'sexually dimorphic', ie the males and females are very different to look at, and they were very interested in each other (the males hovering closely behind the females) and the very important nectar sources of Red Dead-nettle and Blue Alkanet. This latter species is not native to the UK, but along with many other garden plants and escapes is such a lifeline to insects on the occasions when there is not much 'wild' nectar to be had.
This year's season of Spring seems very 'odd' (but when doesn't it?) – some things seem to be out early and others weeks behind what you might expect. For example some areas of Elm scrub have done flowering already and are producing seeds, whilst others have barely started to flower. This could be due, in part at least, to the vestiges of Dutch Elm Disease which has never quite gone away. This malady is caused by a fungus introduced to Elms by the Elm Bark Beetle.
The beetles are only able to burrow into trunks when they reach a certain size, the ingression introducing the fungus that kills the above-ground parts, whilst the roots survive, and suckers continue to sprout afterwards. Hence you will still see lots of small Elms around, but few large trees. A notable exception is in Brighton where a 'fire break' from back in the 1960s meant Elms within a mile or two of the town were felled when the disease was first noted approaching, the potentially damage-causing beetles being unable to fly that far to spread it. Social distancing! As a result the place can boast many fully sized Elms, which nevertheless need constant monitoring (Test, Track and Trace) as the pandemic may reappear at any time.
Back to our walks, we were at times serenaded by avian life including Blackbirds, Dunnocks, Chiffchaffs, Blue Tits and Wrens whilst Golden Plovers, Green Woodpeckers and a Buzzard were seen overhead.
We popped into the Wildlife Garden to see what has been happening.  Lots of hard work has gone into improving the pond which had been suffering from a leaky liner and had become rather overgrown. The overall impression at the moment is that all is rather bare, but lots of plants have been put into the areas surrounding the pond, which will be able to get going once the weather warms up, and a few Kingcups are in the pond itself. Sadly no sign of frogspawn this year, but we are confident that by next spring all will be back to normal as far as the amphibians are concerned and it will once again be a good breeding ground for our croaky friends. It is brilliant that there is a band of concerned individuals locally who are prepared to work hard for this very important site.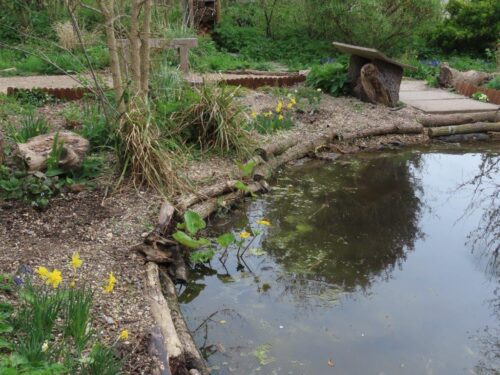 Directly over the field from the garden our attention was caught by the beautiful flowering Blackthorn bushes.  In full snowy-flower they were a sight to behold.  However, their usual promise of sloes to make our much-enjoyed sloe gin may not be guaranteed this year due to the distinct lack of any pollinators at this crucial time (having said that, our Monday group were treated to the sight of lots of hoverflies buzzing from flower to flower).
Other plants don't rely on these third-parties for pollination but employ the powers of the wind – letting their male catkins dangle free and hoping pollen will be blown onto female flowers.  Good examples of this are the Hornbeam and White Poplar both found on KGV.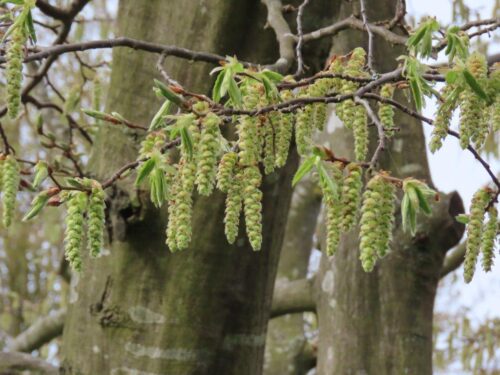 We finished our tour on the 'Hay Meadow' a section of the KGV which has been allowed to escape the regular three-weekly mowing regime for the past three years and is now an interesting area comprising all kinds of grasses, chickweeds, knapweeds and dandelions.  Not much sign of flowering at the moment, due to the extended cold, but we are confident once we have some warmth and refreshing rain all will be well.  We found what we think to be a newly recorded species there too – Field Wood-rush.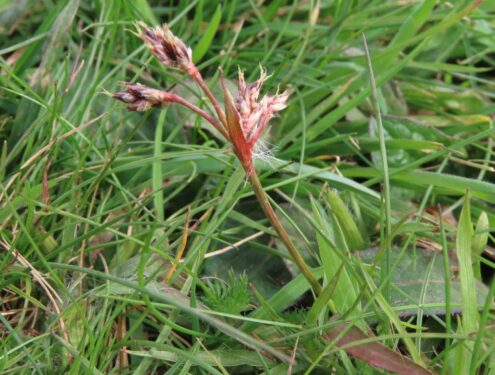 Short and sweet, and at least with its slow start we still have much of Spring to enjoy now we have been allowed out…