A stiff, cool breeze made conditions less-than-optimal for birdwatching by the River Crouch, and certainly there were no large numbers of shorebirds, those presumably keeping their heads down out of the wind, perhaps across the river in the lagoons of Wallasea Island. But for this sort of walk, numbers are not necessary – if starting from a point of little knowledge, what's really needed is enough different types of bird and good enough views to be able to see (and hear) the salient features.
Along the waterfront as we started, the tide was up and the gulls were largely roosting on the various jetties and structures, a great opportunity to compare and contrast the Black-headed Gulls (in a variety of head-moult stages) with Herring Gulls, and just a couple of Common Gulls.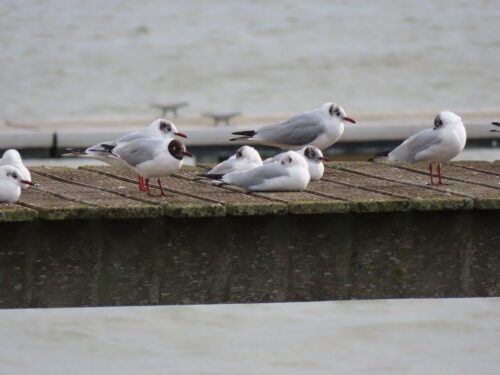 Then as the tide ebbed, out came the waders, including Oystercatchers, Redshanks, a Curlew and (more distantly) Black-tailed Godwits and fly-over Golden Plovers, with additional variety coming from Teals splodging in the mud, Little Egrets and a diving Dabchick hugging the shoreline.
Riverbank gardens also had a range of interesting and important plants, from the decorative, salt-tolerant Silk Tassel-bush to our native Ivy, in fruit, demonstrating its supreme ecological importance at a time when most other shrubs have been stripped by the birds.
Into Riverside Park, there were plenty of perching birds, though only the Woodpigeons and Magpies were showing well; smaller species were keeping warm deep in the scrub or (Greenfinches and Pied Wagtails especially) being swept past aloft at a rate of knots. Robins and Great Tits were in full song, Blue Tits and Long-tailed Tits more restrained…
… the first spring flowers were out, including Red Dead-nettle, Shepherd's-purse and Common Chickweed, and the wholly incongruous sight of Stinking Hellebores apparently fully naturalised among the rip-rap stone facing of the Yacht Harbour.
And the various bushes were also showing signs of springing into life, with Cherry-plum starting to flower and Blackthorn almost there. Hazel catkins wafting the the breeze drew the eye into the glorious little scarlet female flowers, while the various planted trees from its time as a caravan camp provided enough clues to be able to recognise them, such as buds and leaf-scars on Horse-chestnut, catkins and last-year's cones on Alder and the diamond-marked bark of White Poplar. And no mistaking the Dog Roses with its fearsome array of thorns!
Devoid of leaves, the shrubs also showed the fascinating array of other wildlife, including  Sunburst Lichen, always one to brighten a dull day, and Sea-buckthorn Bracket-fungus. An old friend, we found this infected tree last year, but so far as we are aware this is the only example of the species anywhere in Essex.
So, 'Birdwatching for Beginners' and a whole lot more – we don't have any truck with the nonsense of taking a blinkered approach to the diverse wonders of Nature! And as if to underline that, just as this blog was being posted, there arrived from the organiser of the walk the attached list of pretty much everything we saw Wildlife recorded, birds and all: a good all-round day of wildlife and weather, and a splendid lunch in the Anchor!