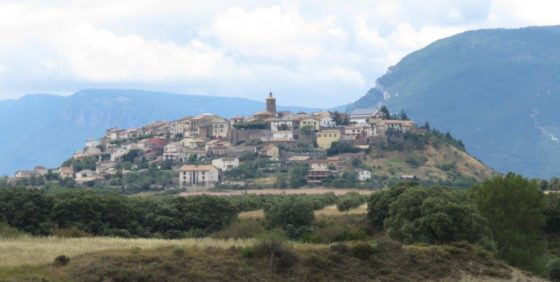 Another successful Naturetrek tour to my 'second home', Berdún in the Spanish Pyrenees, with again the main focus being the lepidopteran delights, both by day and by night. While the number of butterfly species may have been a little lower than in previous years (see here), perhaps a legacy of the 40-degree plus inferno the week before we arrived, and the fact that we had a thundery breakdown towards the end of our stay, the abundance of many species was as high, if not higher, than in previous years. And anyway, who can complain at 105 species and counting, as the images of puzzling puddling blues, skippers and fritillaries are worked through?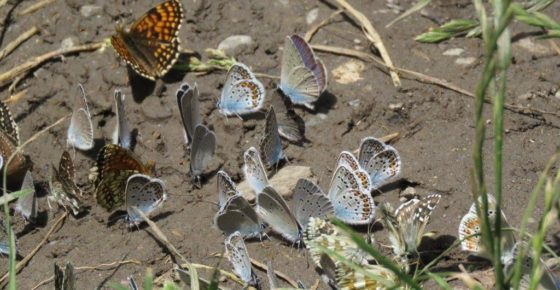 As ever, the garden meadow at Casa Sarasa was heaving with butterflies – probably 25 species over the week – with Marbled Whites, Spanish Gatekeepers, Clouded Yellows and Great-banded Graylings especially numerous – together with a frantic band of pollinators working the Scabious, Knapweed and Chicory from dawn 'til dusk.
[click any image to enlarge to full size]
By night as well: five nights' trapping, when weather conditions permitted, produced a very respectable list, with some stand-out highlight moths and other denizens of the night. And for the first time in four years we were not 'plagued' by thousands of Pine Processionaries. Either we missed the peak emergence, or local control schemes are having an effect.
It would almost have been possible to fill the week effectively without leaving Berdún. But as daytime temperatures peaked at 37°C, the prospect of ten degrees or more cooler at higher altitudes was a good enough reason in itself to chase up the higher mountain specialities.
Not just butterflies, but also those ultra-charismatic day-flying moths, such as burnets, foresters and clearwings…
…and a vast range of other exciting and entrancing invertebrates…
…with a wonderful floral supporting cast.
I could go on. Birds and other vertebrates. The food and wine. The views, weather and good company. All will feature in the comprehensive report to come. So I shall close with tales of serendipity, when the holiday was drawing to a close and circumstances conspired to give us three of the most hoped-for but unexpected and unplannable times of the tour.
On the penultimate full day, the weather was breaking down. Torrential rain was forecast, so we remained close to home, in a meadow at the top of Biniés Gorge, just 5km away. In drenching humidity, the Brambles, Dwarf Elder, Scabious and Knapweed were almost literally dripping with butterflies, burnets, beetles, bugs and flies of every description, such biodiversity and bioabundance it gives hope for the planet once the malign curses of pollution and pesticide drenching are consigned to history.  A cornucopia at every turn, everything seemingly feeding voraciously in advance of the coming deluge. And what a deluge that evening, 70mm or more of rain, so intense it caused a major cliff fall, blocking the road to our Garden of Eden …
The following day, after the storm, the air was fresher and fewer insects ventured out. We ended the final full day at Berdún Marsh, where our last gasp reward, as the butterflies tentatively came back to life, was our one and only, much hoped-for, but never expected Algarve Burnet, almost completing the set of possible Zygaenas.
And then on the way back to the airport, lunch at Agüero, among the Strawberry-trees. For a purpose, as I ruefully explained after lunch, given that the object of our desires had not appeared. But no sooner had I said 'Two-tai….' than Peter shouted 'Two-tailed Pasha' as one sailed around us, up into the treetops and away. No chance of photos, but our passion for pashas somewhat sated, we headed home blessed by happenstance that no amount of planning could have ensured.