The Cockaynes Reserve was a vision in green, in fact in a myriad of greens, Spring springing, almost audibly, from every bud.
Of course we (and the pollinators) are attracted to the showy blooms, but there were also flowers contributing to the palette of greens, from bronzed catkins of Oak, to jade dangles of Redcurrant and acid carpets of Golden-saxifrage.
Another green, and truly insignificant, plant we found in the open sandy plains was a bit of a surprise: Blinks, in abundance. We have never noticed it here before, and it isn't common in Essex. As its usual habitat is winter-wet depressions on sand, its abundance may reflect the wet weather we had for much of the winter (seems a world away!), until COVID-19 lockdown, after which virtually nothing.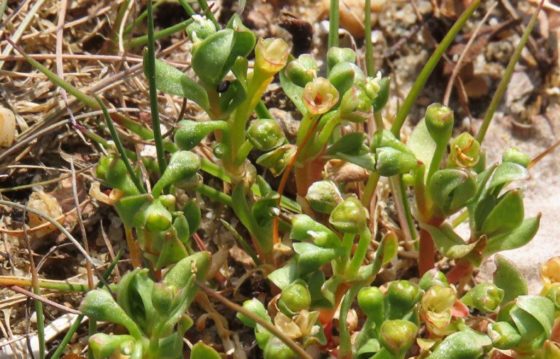 On the pure sand, all the signs are of stress, plants curling up with drought, looking more as if it were mid-summer. Just a few were in flower, with scattered Stork's-bill instead of carpets. and Lesser Dandelions, but very little else…
…apart from the find of the day, a couple of flowering rosettes (and a few non-flowering) of Smooth Cat's-ear. With only four or so previous records this century from Essex, this a truly scarce plant, although its 'tiny dandelion' flowers are open only in full sunlight, so it may be overlooked. It is a plant we have searched Cockaynes for several times as there is a previous single record from the site a few years ago, albeit about 300m from our locality, but hitherto without success.
But in and around the shade of trees, the vernal rainbow (thus far lacking the red end of the spectrum – Red Campion is yet to come) was much more developed:
And especially deep in Villa Wood, down by the Brook, the visual drama was complemented by the rearing cobra-heads of unfurling Male-fern fronds.
Particular mention must go to the prominent Crab-apple on the ancient bank of Cockaynes Wood, in full, perfect flower, a dazzle of pink-shot ivory, and a magnet for foraging bumlebees:
Other insects out and about included Dark-edged Bee-flies everywhere, and each Gorse bush shone with the beacons of Gorse Shield-bugs, sunlight reflecting of the membranous part of their wings:
Quite apart from the bugs though, Gorse is a keystone species on sites like this, harbouring a vast array of other invertebrate life – herbivores, predators and pollinators alike:
On the spider front, we also discovered an egg-sac, like the inflated seed pod of Love-in-Mist, of a Wasp Spider, presumably (hopefully) with the eggs from last summer still inside it. One to look for later in the year!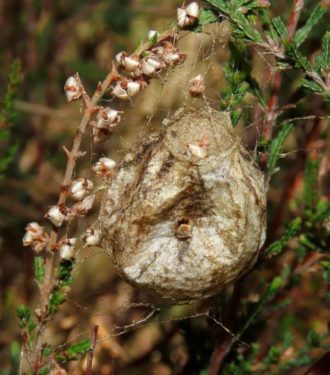 With time to stand and stare, time being the one freedom we now have, it was wonderful to chance upon some of the more lowly denizens of the reserve, including caterpillars of Fox Moth and Dark Arches, and an incredibly camouflaged, tiny grasshopper, the Common Groundhopper, which while not rare in the county is so inconspicuous it is rarely noticed. Groundhoppers are the only members of the Orthoptera which can be found as adults at this time of year; unlike others in the group, grasshoppers and bush-crickets, which spend the winter months as eggs, groundhoppers overwinter in the adult or larger nymphal stages.
An hour of delights: a place to sooth, a place to wonder, a place to wander – #NaturalHealthService at its best, under the watchful guardian eye of the 'Angel of Cockaynes Wood'…