From the point in the COVID-19 pandemic that it became clear than lockdown was going to be necessary, we started a thread on the Wivenhoe Forum on an almost daily basis detailing the progress of Spring, hopefully a ray of sunshine in dark times. Mostly this was a series of tweets, each with a few Natural Health Service highlights which are reproduced below.
March 13
In dark times like we are entering, when we may well find our living space severely curtailed, one thing is likely to be true – there is nowhere safer than being outside and on your own with nature. Please post and share images and thoughts here which can help to brighten up grim times. And maybe we will all get to know and love our local patch even more, and after this horror is over, we might just start to look after that which has sustained us a little better,
A few spring flowers from the past couple of days to start:
March 14
Also yesterday, quite by chance Jude and I were heading out on a litterpick along the riverbank, when we bumped into the litterpicker extraordinaire Wayne Dixon and his lovely dog Koda. They had just reached Wivenhoe after four years walking the coast of Britain, picking litter, raising awareness of Keep Britain Tidy and money for MIND. We had heard of his adventures but had no idea he was here. A privilege and pleasure to meet him.
So, how about another virus bonus: if confined to barracks (and there's a lot worse barracks to be confined in than Wivenhoe), how's about picking up litter as you go, and by the end of the nightmare our environment might be able to breathe once again, freed up from the plastic mantle we are choking it with as a result of the laziness and ignorance of our species.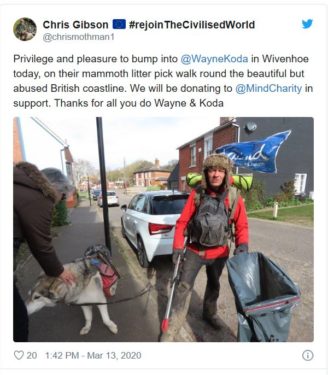 March 16
March 20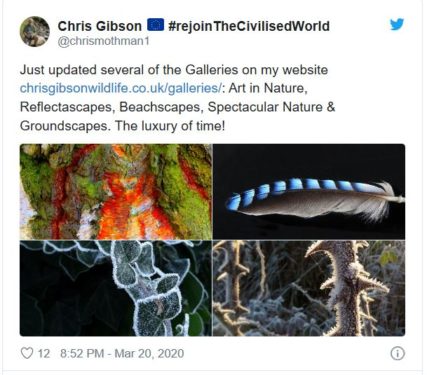 March 21
March 22 – the day the formal lockdown started
Several of us took part in a Wivenhoe Birders' Tweetathon this morning, live tweeting about the birds seen from our windows. From our lofty perch in the Shipyard, we recorded 27 species in two hours. Mny were water birds, with the expected Canada and Grey Lag Geese, Redshank, Mallard, Little Egret and Oystercatcher, plus Wigeon and Black-tailed Godwit flying over. Several Buzzards were in the air, including two displaying over Wivenhoe Wood, and they were joined in the thermals by a soaring Cormorant. With no Church bell activity, the tower was frequented all morning by a noisy gaggle of Jackdaws. And there were a surprising number of unexpected small birds moving past at above rooftop height, including Dunnock, Robin, a few Blue Tits and several flocks of Goldfinch.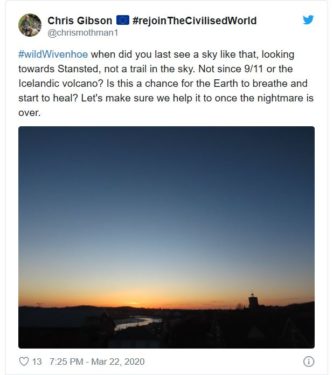 March 23
March 25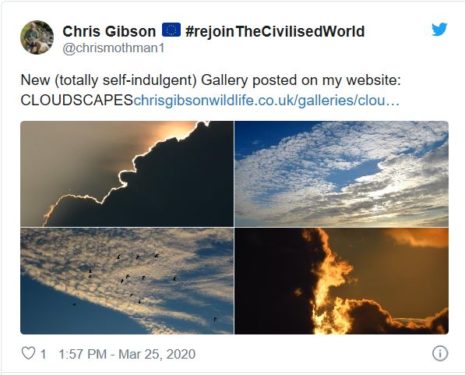 March 26
March 27
March 28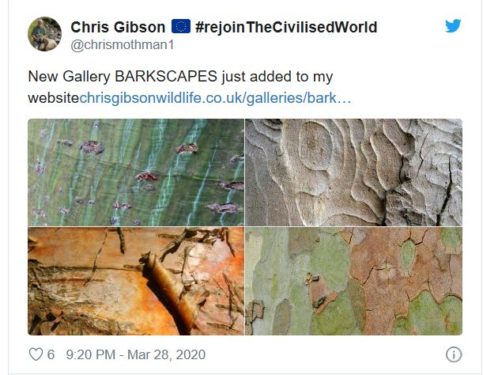 March 29
March 30
March 31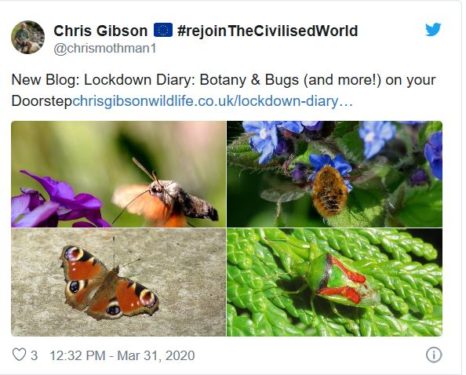 April 1
April 2
April 3
No photos from me today, but just an observation: have you noticed the huge increase in Buzzards over town since lockdown. Now, looking out of our Shipyard flat windows, it is the exception to see a sky without buzzards, and not just single birds but groups of five or six not uncommonly. Case in point, just ten minutes ago, three circling directly over the church (with a Heron). To some extent these are likely to be migrant birds, but it really does seem that our praeternaturally silent streets with barely a whiff of hydrocarbons may be encouraging them in.
April 4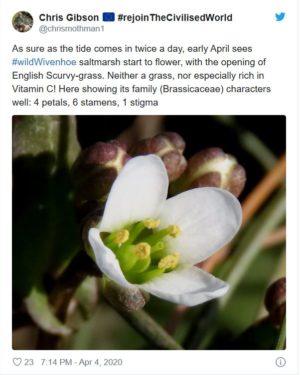 April 5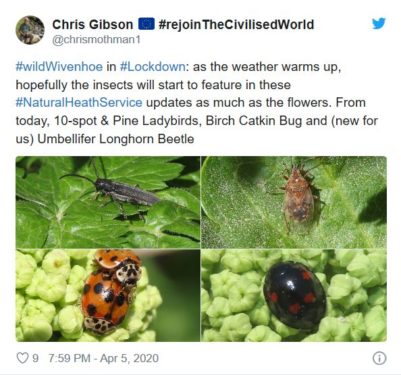 April 6
The best bird watchers are the bird listeners: hear that something potentially interesting is around and that gives you a few seconds head start in the race to see it before it flies away. You don't even need to know what the sound is, maybe just a non-specific tic or seep, it serves your purpose in raising your alert levels. And now, with so little traffic noise and plane noise and human chatter, is the ideal time to be on the listen – there's relatively little else to filter out in your brain.
So it was ten minutes ago on Anglesea Road. A flurry of mewling calls, which so often mean 'birds of prey overhead' especially when displaying. And there was a pair of buzzards in rising and falling, butterfly-flapping display flight, followed by a similarly noisy pair of sparrowhawks, soaring wingtip to wingtip in tight circles, followed again by ponderous deep wing flaps. Hopefully both pairs will establish breeding territories around that edge of town.
April 7
And how right he was…Buzzards moving through all morning, in one case maybe 12 or more birds in a flock. And then at lunchtime, we heard the news that a White-tailed Eagle has been seen heading south over Ipswich. Then over Cattawade and Lawford. Then Ardleigh. On a direct track for Wivenhoe – Richard Allen picked it up over his house (his third record of the species in 5 years), and a couple of others in mid-Wivenhoe likewise, and Rowhedge, then finally I saw it heading away over Fingringhoe Mill. But something didn't quite add up – in the morning there had been reports from the Walton area, and some of the sightings over town were out of kilter time wise. Could it have been that two birds actually came over us within a few minutes of each other? Not as far fetched as it seems – this/these are likely to be young birds from the recent release (prior to hopeful re-establishment) on the Isle of Wight. Some of those birds have been tracked over wide swathes of the south this winter.
And then today there were Swallows coming through, and also 3 Cranes, although so far as I know none of us Wivenhoe skywatchers got on to those (Rowhedge only…)
Quite a day in the clear blue Wivenhoe skies, and who knows what the next few days will bring ….Nightingale and Cuckoo should soon be with us, and both have been heard in the past couple of days around Maldon and Colchester respectively!
April 8
To be continued…