Mid-September and coastal Essex is well into its third drought of a worryingly bizarre summer. At least at this time of year, some moisture is available, if only in the form of morning dew:
While summer blooms still cling on, autumn flowers are reaching their best, creating a rainbow of colour…
… including bulbs celebrating the 'second Spring', one of the special features of Mediterranean climate zones worldwide. Instant transport to places one might like to be after a lockdown summer…
Now is the time also to take in the immense variety of fruiting and seeding flowers, some sculptural, others attractive, and almost all one of the resources which make good gardens a haven for wildlife.
Often overlooked, ornamental grasses should form a key part of any garden, again for wildlife, shelter and food, and especially in late summer, as many of the flower spikes mature, a whispering soundtrack to the garden in even the lightest breeze.
And of course, always the foliage. Emerging from the limelight of summer flowers, noticing the shapes and colours again feels like a rediscovery, while new colour bleeding into leaves and fanning the seasonal flames is the epitome of autumn.
But it's not just about colour. Light and shadow on a sunny day provide a transient lift, one given added potency at this time of year, as the canopy thins and the lower angle of the sun illuminates with sidelight.
Insects and other invertebrates are rapidly becoming fewer and further between…
… but any concentration of the right resources, nectar and pollen especially, can pull in large numbers. Witness the bushes of Ivy, the newly opened flowers teeming with Ivy Bees, a recent arrival in the UK which has been numerous in this part of Essex for only the past four or five years.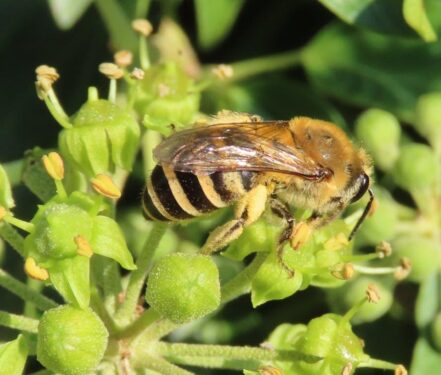 And most exciting of all, a small(ish), black(ish), hairy ladybird which flashed bright orange when it flew: Rhyzobius forestieri. Also new to the UK (in 2014), and now well known in parts of the far south-west of Essex, we have never come across it, nor even heard if it occurring round here. As a predator of scale insects, rather endearing (to some!) shelled bugs which can build up to damaging proportions on some plants, this is one new arrival the gardens should welcome.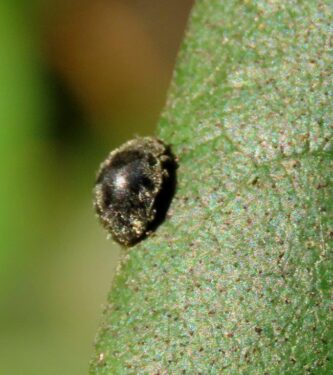 #BringingNatureToYOU: for more information about our new campaign, please look through the website chrisgibsonwildlife.co.uk, or contact us via the Contacts page.